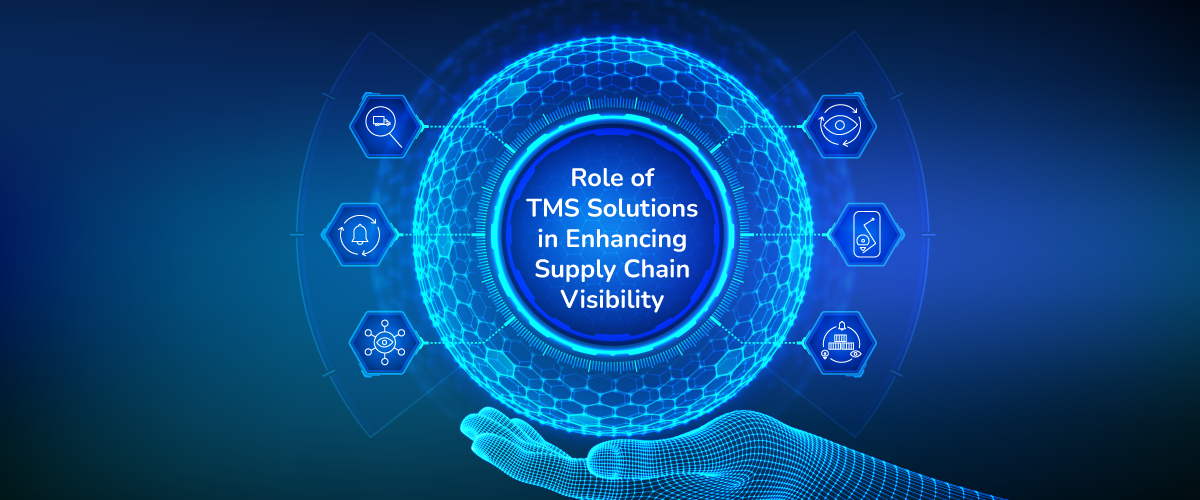 The supply chain is volatile and subjected to frequent fluctuations, trend shifts, and unpredictable changes. Professionals across the logistics and supply chain industry need to be future-ready, resilient, and agile to tackle this dynamicity awaiting at every step. An industry-recognized strategy to improve agility is to empower logistics managers with valuable insights into operations. These insights are, in fact, a fundamental pillar of the supply chain- Visibility. 
Supply chain visibility helps organizations monitor and optimize their processes with the right strategies. They can map the nature of a problem, its origin, and suitable approaches to overcome it, preventing losses. This visibility empowers a large network of stakeholders- logistics, transporters, customers, and many more. 
However, 'visibility' often overlaps with 'transparency,' and a thorough understanding can help businesses leverage their benefits.
Visibility VS. Transparency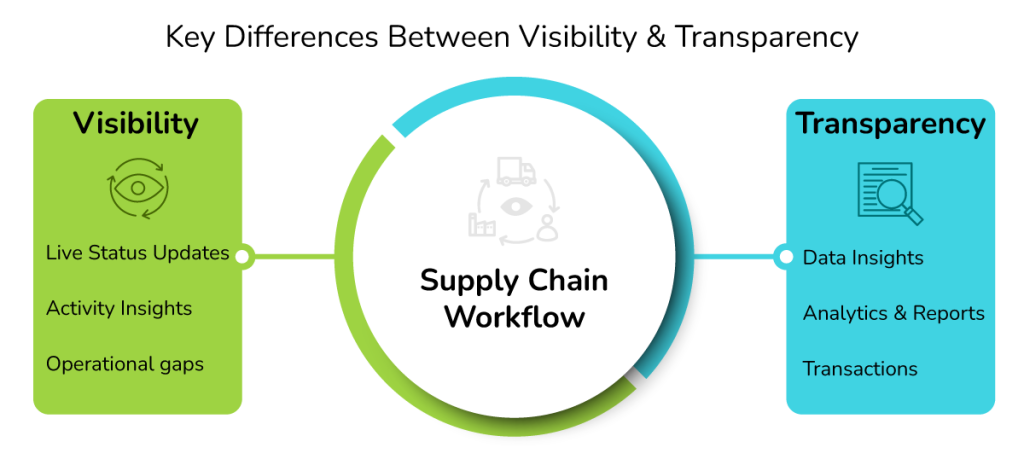 Visibility and transparency can be perceived as two sides of the same coin and are vital pillars in logistics management. Let's understand how they differ from each other.
Transparency refers to stakeholders' access to information and data insights across the supply chain network. In a volatile industrial space, all stakeholders, including transporters, multi-tiered suppliers, distributors, drivers, and internal teams, expect supply chain transparency for improved relationships and trust building. 
Visibility refers to insights into operations, process status, resources, transactions, and stakeholder communications. This visibility empowers supply chain managers with strategic planning, control, risk management, cost management, gap redressals, and performance optimization. This visibility is critical to the modern supply chain vulnerable to unforeseen changes. 
Adopting digital logistics management solutions with real-time visibility is a transformational leap in ensuring a seamless supply chain.
How does TMS Optimize Logistics Visibility?
Integrating a competent TMS solution empowers business logistics with 360-degree visibility into process planning, execution, and management dynamics- from freight procurement to freight settlements.

Let's unfold how it offers valuable insights into the following operations.
Route planning
Real-time visibility into freight lanes allows logistics managers to understand the status of freight transporters and identify existing or forthcoming discrepancies that can lead to shipment delays or reduce customer satisfaction.
They can monitor the traffic status of a particular freight lane and prevent transportation delays. Transporters and freight managers can divert the shipment to a more convenient lane during heavy traffic.
Poor route conditions like blockages, infrastructural work, etc., can significantly affect shipments and increase operating costs. Real-time visibility enables strategic route optimization. 
In plant operations
Supply chains with multiple plants require optimum visibility into simultaneous operations. TMS solutions enable visibility into each plant to help logistics managers ensure sleek operations.
These solutions offer holistic visibility into gate-in/gate-out operations for each shipment, allowing managers to monitor TAT and ensure on-time delivery.
Real-time visibility into loading operations allows dock managers to improve their loading strategies, ensuring faster processes, data-driven loading to the right vehicle, and optimum vehicle allocation.
Shipment tracking
TMS-driven tracking solutions allow stakeholders- logistics teams, transporters, and customers- to monitor the real-time shipment status, vehicle movements across geographies, and unforeseen halts.
This information allows them to communicate with the drivers and address unforeseen events like vehicle breakdowns and delayed ETAs. Live monitoring also enables quicker data sharing on the reasons for delays, such as extreme weather or natural calamities, which helps prevent losses.
Transporters can send substitute vehicles and manage drivers' performance with actionable strategies.
Freight accounting
TMS solutions offer optimum visibility into all transactional activities and records, empowering finance, logistics, and transporters operations. Data insights on critical stages like invoice generation, reconciliation, and freight settlements improve stakeholder trust.
Transparent accounting processes help internal and external stakeholders stay at par with the current status, preventing discrepancies, miscommunications, and unjustified penalties. These soft benefits improve long-term relationships across the supply chain.
Operational transparency enhances audit cycles and efficiency tracking.
Collaboration
TMS-driven visibility improves collaboration dynamics across a complex supply chain web. It facilitates faster and more reliable data interchanges and improves escalation management, eliminating the need for prolonged communication modules.
It strengthens logistics planning and execution with a holistic collaboration channel where all stakeholders gain live updates on a centralized platform, speeding up process execution.
It reduces dependence on manual communication, prone to errors and delays. It eliminates the need for frequent follow-ups.
A Future-ready Supply Chain
Visibility and real-time traceability is an excellent step towards building long-term resilience and sustainability in a dynamic environment. Businesses investing in these sustainability efforts with digital implementations are more likely to leverage better performance than their counterparts.
They have embraced openness and trust-building measures, ensuring faster response to sudden changes, risks, and uncertainties. Technology-backed visibility with bird's eye monitoring provides better access to perspectives, analytics, and roadmaps. In turn, they enjoy a competitive edge by unlocking a digital panel with live updates on multi-tiered activities.