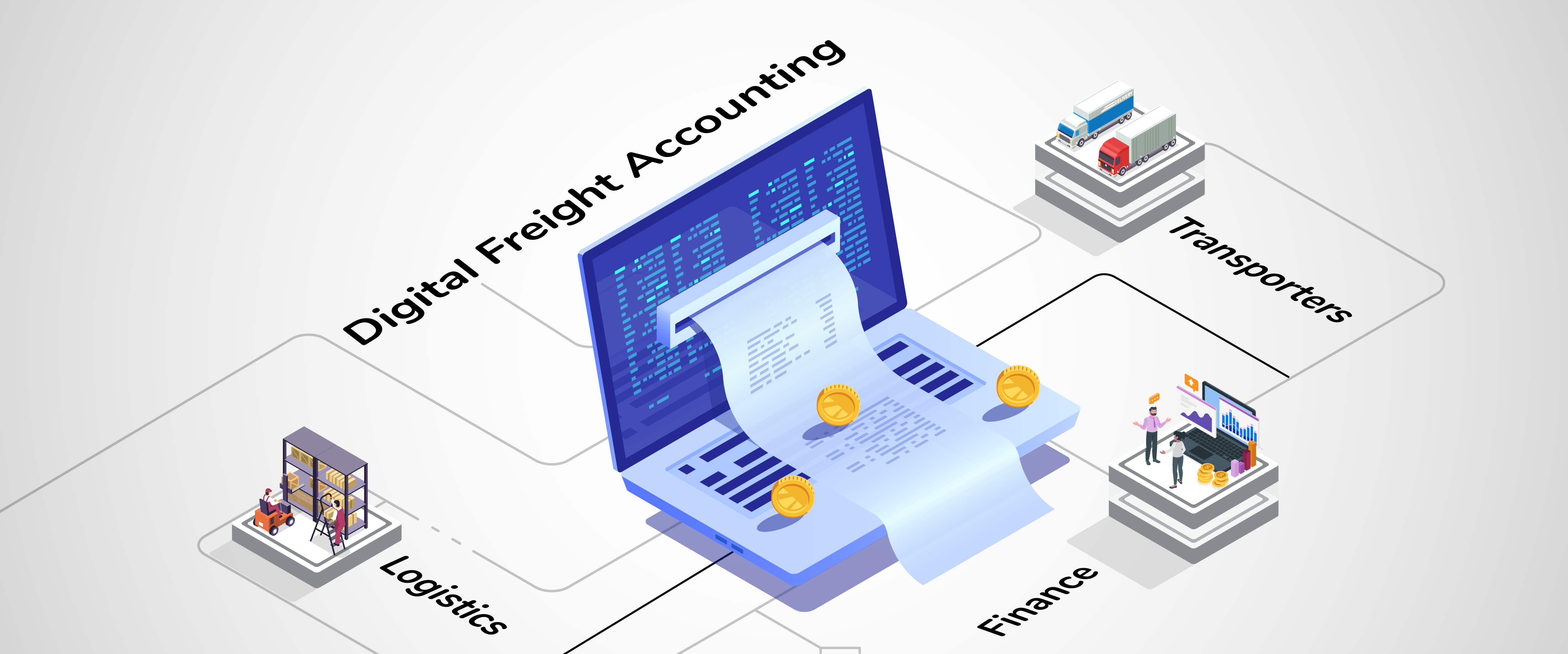 A successful logistics cycle is no longer restricted to a seamless delivery; instead, it ends at ensuring optimum freight invoicing operations. Crucial processes like invoice generation, reconciliation, freight invoice auditing and freight evaluation jointly contribute to efficient bill settlements. Leading industry players aim for consistent strategies to optimize this process stage to improve logistics performance.
The wave of digitalization across the logistics sector is set to reform the freight bill payment dynamics. Transport management Systems (TMS) automate these stages to empower various stakeholders within and beyond the organization- from logistics to finance to carrier partners.
How does digital freight accounting provide an upper edge over the primitive modules?
Freight Invoices are substantial to both shipper and transporter satisfaction and bill settlement efficiencies infuse trust in the freighter-carrier relationships. Traditionally, when invoices were generated and reconciled manually, bill payments were a tedious task. Businesses eventually switched to a digital-driven workflow to simplify operations.
Freight Invoice Processing: Manual Vs. Digital
Freight invoicing workflow requires maximum data accuracy and seamless execution, which a technologically advanced solution ensures. Let's explore the underlying differences between a manual and automated module: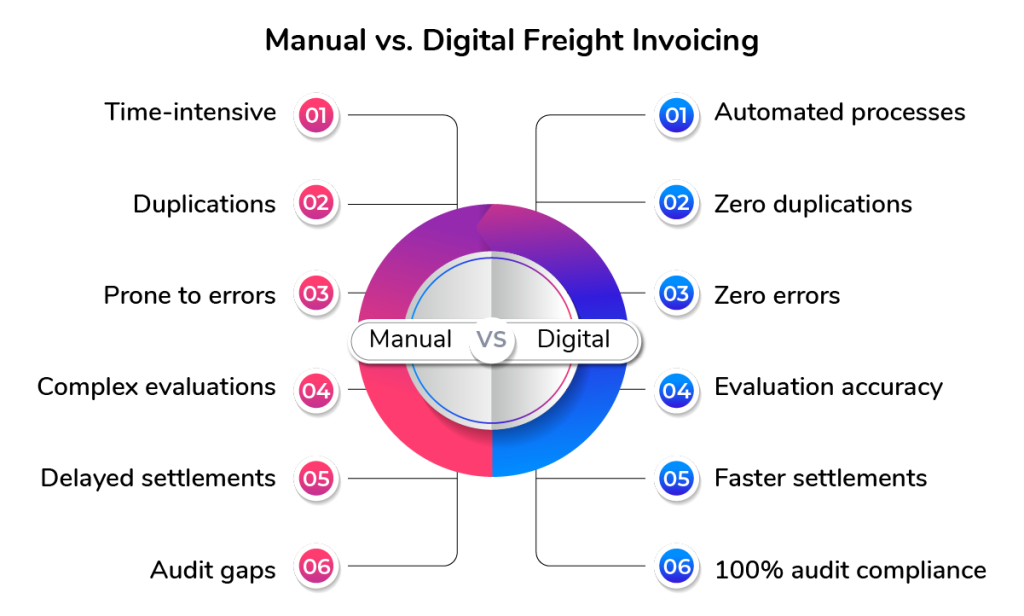 Activity
Manual
Digital
Invoice Generation

Transporters determine the invoice dynamics via manual estimations
Unidentifiable reasons for escalations
Prone to human errors
Time-consuming
High chances of duplications

Automation-driven invoice generation in compliance with contract rates
Insights into reasons for escalations
Power of automation technology to eliminate errors
Faster cycles
Zero duplications with automated cycles

Submission

Lack of real-time invoice transfer via emails, Whatsapp, etc.
Coordination gaps leading to delays

Real-time submission to the finance teams via EDI
Seamless coordination across the stakeholder units

Reconciliation

Time-intensive reconciliation increasing the TAT
Prone to errors and miscalculations
Sub-par operations leading to financial losses

Automated reconciliation as per the contract terms
Technology-driven accuracy
Efficient and faster reconciliation cycles

Compliance tracking

Sub-par tracing of deviations from contract policies/ rate escalations
Time-intensive manual follow-ups
Inefficient insights into penalties affect transparency & lead to losses

Automated capturing of any deviation/ rate escalations from the contracted terms
Data insights into penalty causes to enable easy justification
Data insights into deviations from contract terms and pre-defined rates
Auto-debits on non-compliances

Approvals

Delayed approvals due to absence of real-time coordination platform
Siloed communication affecting management efficiency

Real-time confirmation and approvals across finance, logistics, operations and carrier partners
Digital alerts for pending approvals
One-window collaboration platform

Payments

Prone to payment disputes
Delayed and inefficient freight invoice settlements affecting shipper-transporter relationships

Faster and error-free freight e-payments linked with ERP, resulting in higher transporters' satisfaction
No disputes with digital settlements and faster redressal (if any)

Audit

Sub-par freight auditing cycles affecting performance tracking

100% audit compliance enabling efficient tracking of team performances

Data security

Paper trails are vulnerable to unauthorized access, damage and misplacement

High data confidentiality
Cloud-based documentation of contracts and invoices
Customizable user rights management
Automate your freight invoicing for effortless reconciliation eliminating
invoice discrepancies and ensuring 100% audit compliance with SP Freight Accounting
Benefits of e-invoicing: Logistics, Finance & Transporters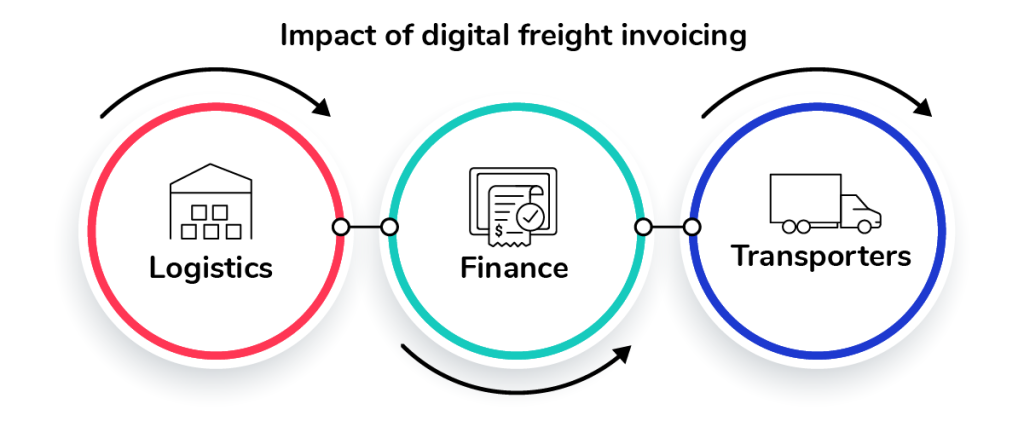 A digital freight invoicing module empowers the teams within the organization (logistics and finance) and carrier partners with:
Simplified processes and
Reduced operational costs
Error-free evaluations
Operational transparency
Faster payment cycles
Improved team performance
Processing freight invoices is a complex operation involving myriads of approvals, data exchanges and freight evaluations. A minute discrepancy can result in significant delays, detention, monetary losses and a lack of trust among the stakeholders.
Freight accounting solutions facilitate advanced functionalities to assist the stakeholder units in daily operations, improving team productivity and logistics performance.
Logistics
Automation technology builds transparency at every process stage in the logistics workflow. It encourages transporters' participation for faster payments, enhancing the overall experience. Improved shipper-carrier relationships provide long-term advantages, increase vehicle availability and reduce freight costs. Insightful reports of the transporters' compliances enable logistics managers to assess and optimize the supply chain efficiency in compliance with the industry-wide standards.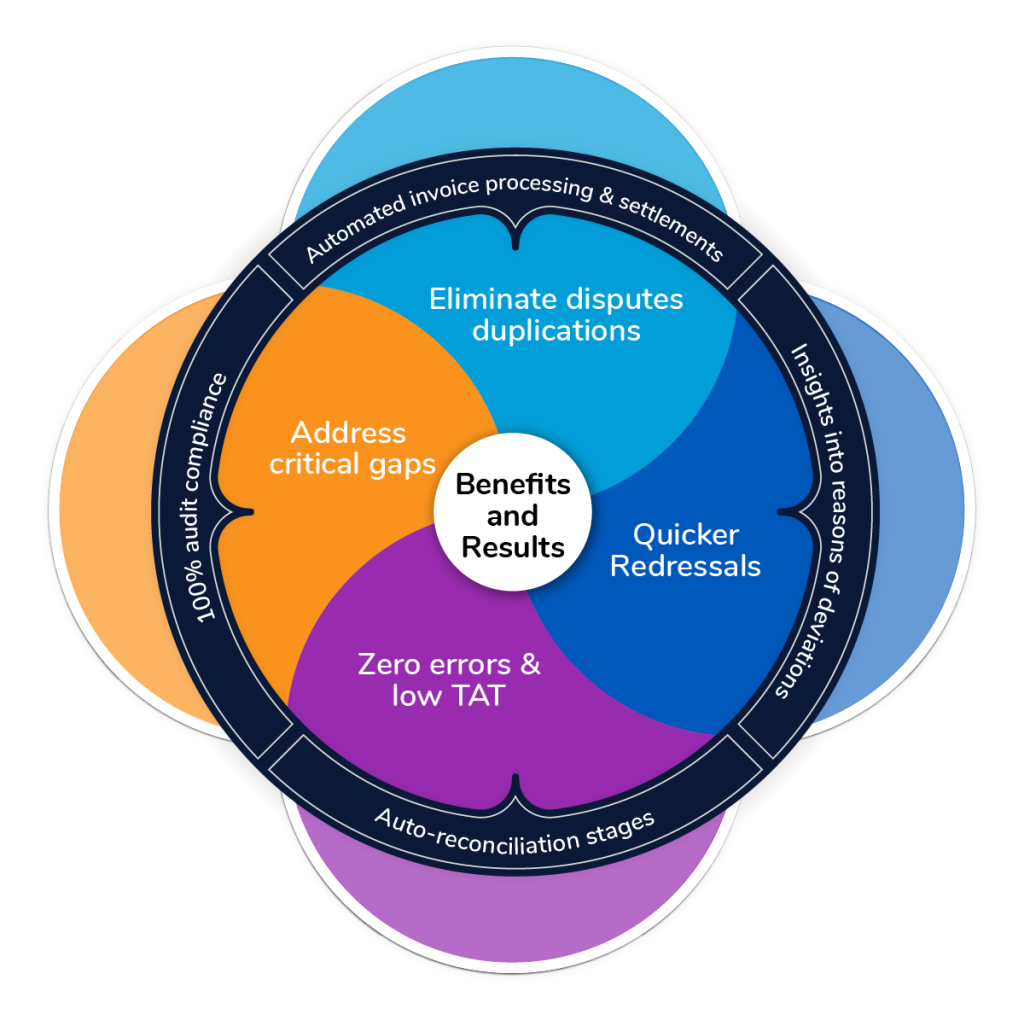 Finance
Digital invoices are easier to manage and process. Automation-driven freight settlements eliminate disputes and duplications, preventing loss incurrences. Data and insights into the justified reasons for deviations assist the finance team with quicker redressal. Digital modules expedite the complex evaluation stages, eliminate human errors and speed up payment cycles. Digital freight reconciliation processes streamline the payment stages. 100% audit compliance ensures operational transparency and allows the teams to bridge prevalent gaps.
Transporters
Digital freight invoice processing solutions automate the invoice generation stages for faster bill settlements. Transporters can digitally submit invoices in real time, preventing delays and coordination discrepancies. It allows them to participate in these transparent operations and strengthens trust in shippers' activities. TMS-driven invoices and payment cycles provide valuable insights into the terms and reasons of disputes, improving transporters' satisfaction. Penalty reports enable them to identify and address critical pain points.
Choosing the right invoicing solution
The multi-facet advantages of freight invoicing must be addressed in an industry set-up as competitive as the current one. As more enterprises are switching to a digital freight invoicing and payment model, TMS solutions are gaining popularity. A competent technological solution can optimize the workflow with state-of-art features, improving the stakeholder experiences across the supply chain network. It eventually helps manufacturers leverage the better scope of growth and profitability via collaborative efforts.