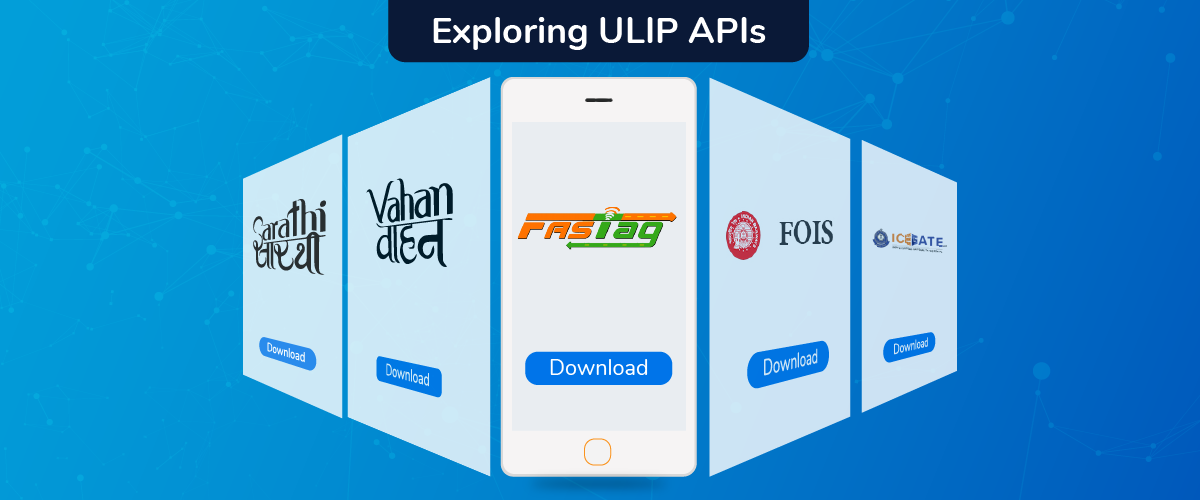 Breaking the barriers of high logistics costs and unstreamlined operations, the Indian logistics sector has been witnessing a transformational surge towards a growth-focused future.
What has spurred this game-changing approach in Indian logistics and what changes will it introduce in the upcoming years?
The Unified Logistics Interface Platform (ULIP) initiative was introduced to build efficiency in the logistics ecosystem with the power of digitalization. A robust logistics sector that supports the livelihood of 22+ million people requires an API-driven performance to gain a competitive advantage in the global market, with digital adoptions, data-backed strategies and one-window management.
What is the Unified Logistics Interface Platform (ULIP)?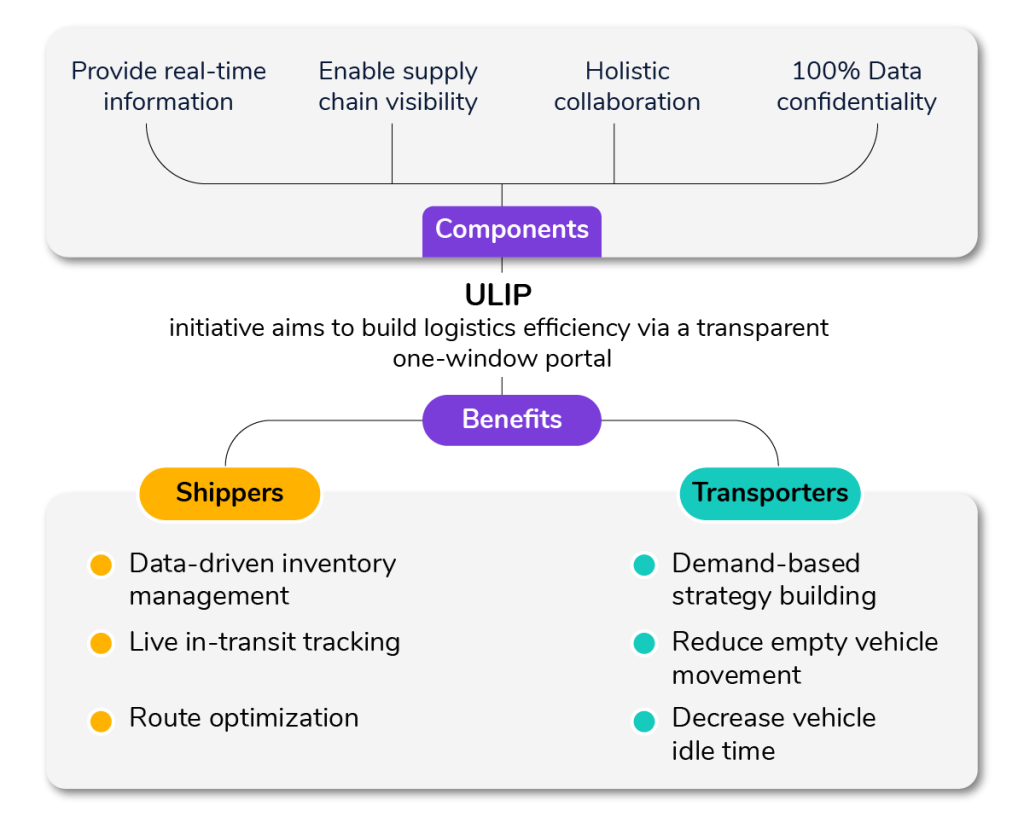 ULIP was launched as an extended part of the National Logistics Policy to empower the country-wide logistics sphere with strategic inventory management, supply chain visibility, operational efficiencies and reduced costs. It aims to facilitate live monitoring of freight and 100% data confidentiality with end-to-end encryption. Three features of the ULIP portal are:
Integrates with ministerial data sources
Holistic data interchanges with private players
One-window data insights
ULIP is built to empower all stakeholders across the supply chain dynamics.
Shippers Benefits
Data-driven decision making and strategic inventory management
Real-time tracking of vehicle status across geographies
Route optimization
Transporters Benefits
Data insights into current industry demands
Data visibility enables proactive strategies to reduce empty movements, vehicle idle time and costs.
ULIP APIs: A detailed overview
The portal has been developed on 100 Application Programming Interfaces (APIs) that covers over 1600 fields. It acts as a response platform that fetches data from multi-channel systems. These APIs drive optimum logistics performance with end-to-end visibility, real-time tracking of in-transit operations and seamless collaboration.
In a growth-focused economy, which strives to reduce the logistics spent to a single digit of the GDP, five crucial APIs are dominating the logistics sector.
Vahan & Sarathi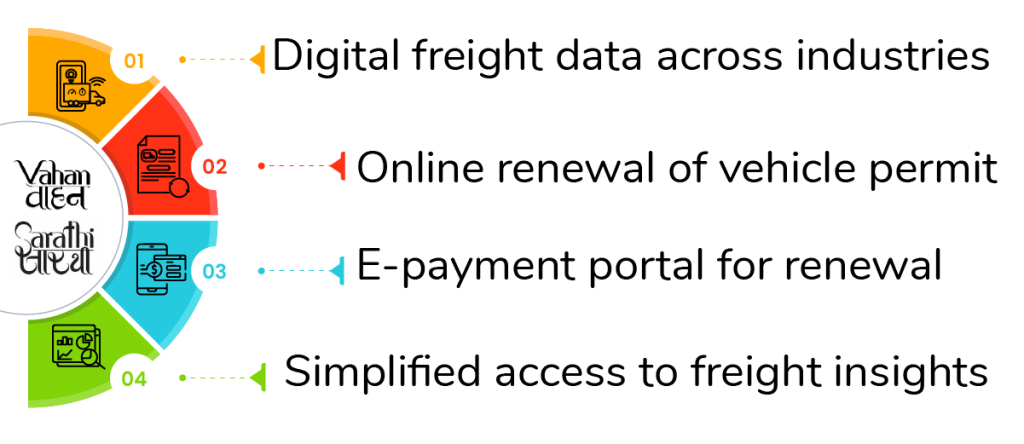 Vahan and Sarathi is an automation-driven application that achieved pan-india implementation in 2006. The ULIP initiative integrates the new version (4.0) of the interface to streamline the logistics and transport activities with the smart card technology. The primary objective was to eliminate the hassle of primitive transport management, infusing digital security, cost-efficiency and user-friendliness.
Advantages
Online portal to access freight transport data
Allows transporters to renew their vehicle permit digitally, saving time and money
E-payment portal for the renewal and downloadable permits
Easy access to information to concerned parties for efficient operations
FOIS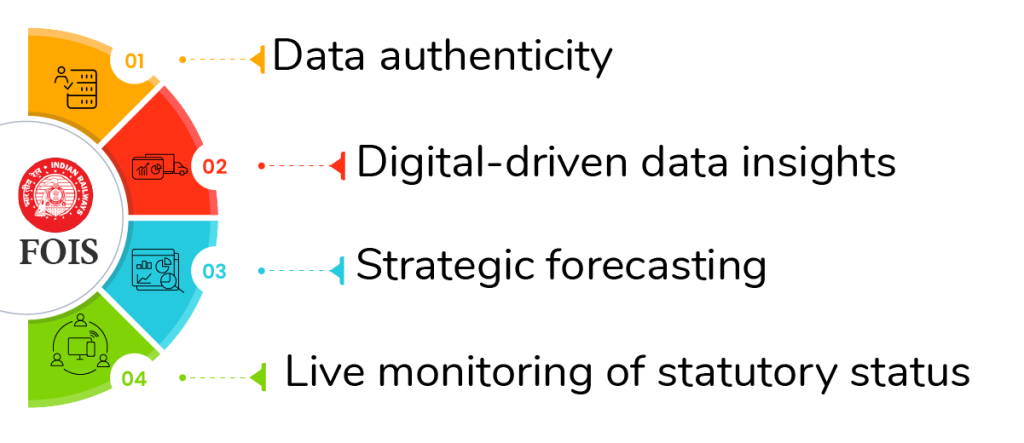 Freight Operations Information System is a digital real-time platform for improving freight efficiency and tracking via rail. It is built on the current state-of-art technologies, facilitating online collaboration, live freight visibility and business insights into current inventory consignments and route status. The system was developed to serve as an optimization tool for efficient asset utilization, strategic load distribution and freight planning.
Advantages
Authentic information fetched from source
Reduces manual dependence on obtaining data
Accurate forecasting to enable better control, coordination and coordination
Real-time monitoring of statutory limits and pending payments
ICEGATE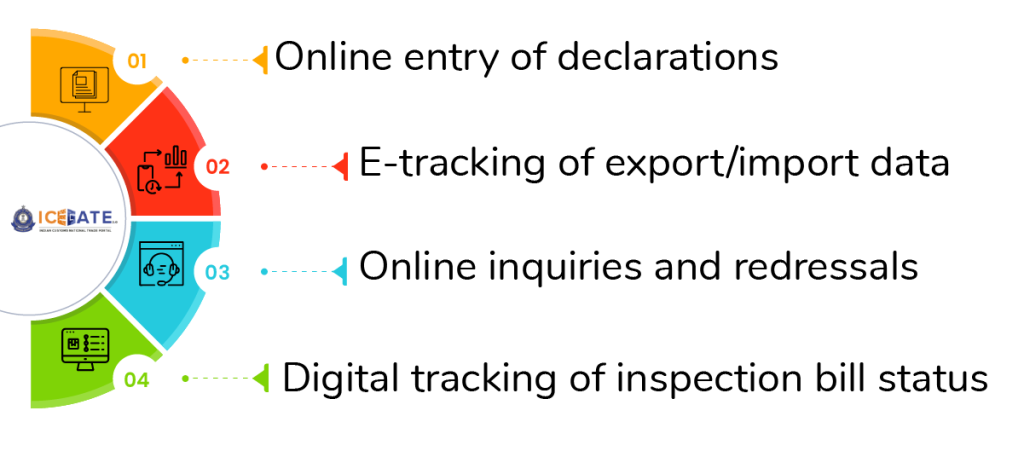 The Indian Customs Electronic Data Interchange Gateway (ICEGATE) API was conceived as an infrastructure project to empower the supply chains with digital data sharing or electronic communication. It assists over 6 lakhs exporters/importers and is associated with latest custom EDI tools to transmit information across the custom departments. It facilitates digital services like online filling of Bill of Entry and Shipping bills.
Advantages
Online filling of export/import declarations
Digital monitoring and tracking of export/import data
Enquiries and online redressal of claims/ complaints
Holistic tracing of the status and updates of inspection bills
FASTag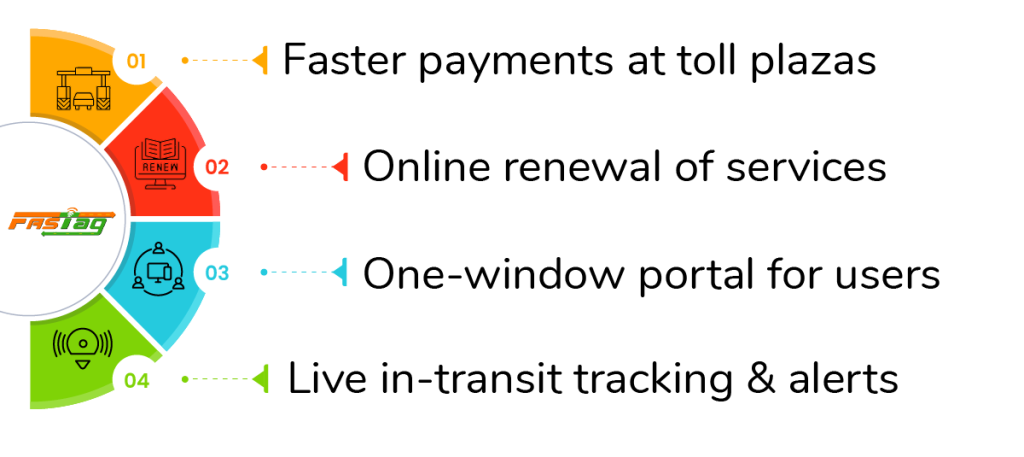 FASTag is a readable RFID tag that is used at toll plaza. This has been implemented at over 400 toll plazas across the country which enable automatic deduction of toll fees, without involving cash transactions. The windscreen at the tolls read the unique RFID tag for each vehicle. The FASTag API enables a plethora of functional capabilities like data insights into historical transactions, FASTag wallets for e-payments, toll fee payments for 3PL fleet, live in-transit tracking and integration with TMS/ FMS solutions.
Advantages
Ease-of-payment and faster transactions at toll plazas
Online renewal of FASTag services via internet banking, credit and debit cards
One-window portal access to users with 5 years validity
Live monitoring of shipment status and alerts
GPS vs. SIM vs. FASTag tracking – A complete 360° overview
Unfolding the impact of real-time tracking on Indian logistics Know more
Towards prospective growth
India's asset-oriented logistics sector envisions a net worth of $380 billion in 2025 and digital adoption is a prime catalyst for its inclusive growth. Digital logistics management SaaS is a gamechanger in this regard, empowering the supply chain with ULIP-based APIs for providing better value-added services.
SuperProcure aims to maximize these efficiencies and save 1% of India's GDP spending on logistics with ULIP-powered functionalities. In association with ULIP, it is now live with real-time FASTag tracking across geographies ensuring a 360° visibility.