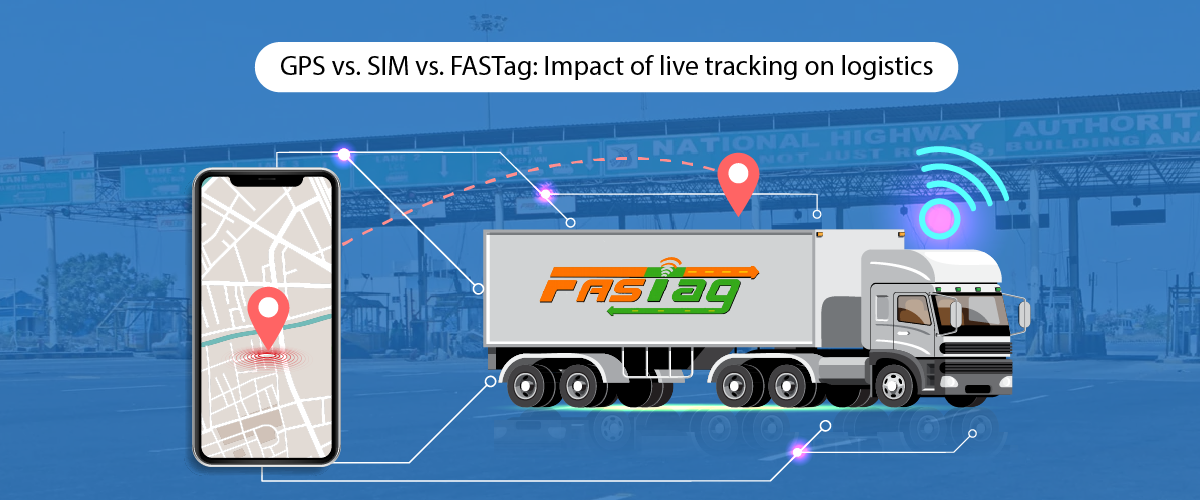 The logistics management ecosystem is no longer limited to ensuring a seamless order dispatch. Instead, today's consumer expectations call for efficient tracking operations for every in-transit cycle. Real-time visibility is a crucial parameter of customer satisfaction and technology-driven tracking is redefining it. It infuses transparency across the supply chain and helps businesses identify and bridge critical gaps, justify reasons for deviations/delays and improve customer experiences. With the new FASTag implementation in India, the logistics space is witnessing a massive change with its online tracking portal.
With rising competitiveness, businesses aim for TMS SaaS with live vehicle tracking technologies- GPS, SIM and FASTag, that can be jointly utilized for optimum data accuracy and logistics performance. Data-driven analysis and comparison on each tracking solution's features can help organizations understand their scope and impact on their logistics.
GPS Tracking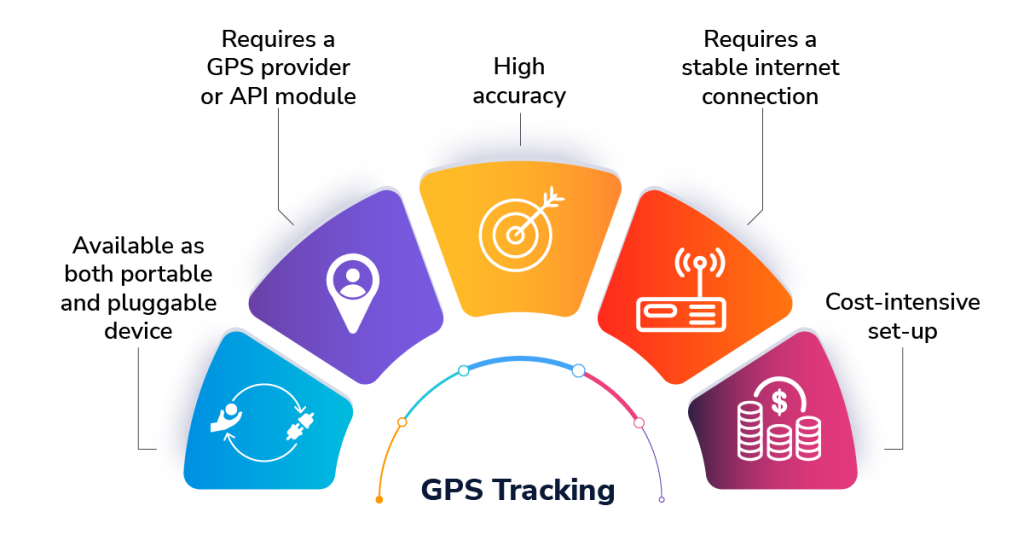 The Global Positioning System (GPS) is a satellite-based tracking service that offers insights into real-time location, direction, stoppages and speed via an automation-driven GPS tracker. This tracker or device is installed in the vehicle and uses satellite signals. It is typified by:
Available as both portable and pluggable device
Requires a GPS provider or API module
High accuracy
Requires a stable internet connection
Cost-intensive set-up
SIM Tracking
SIM-based tracking relies on the driver's SIM network and the cellular towers to track vehicle movements across the supply chain. When the driver consents to the tracking, the SIM connects to the nearest cellular towers to provide real-time vehicle status. It includes the following dynamics: 
Does not require an internet connection
Pay per use, no term payments
The user consents to being tracked via an IVR or SMS
Freighters can adjust the frequency of updates
Geographical accuracy
Requires a third-party (driver) intervention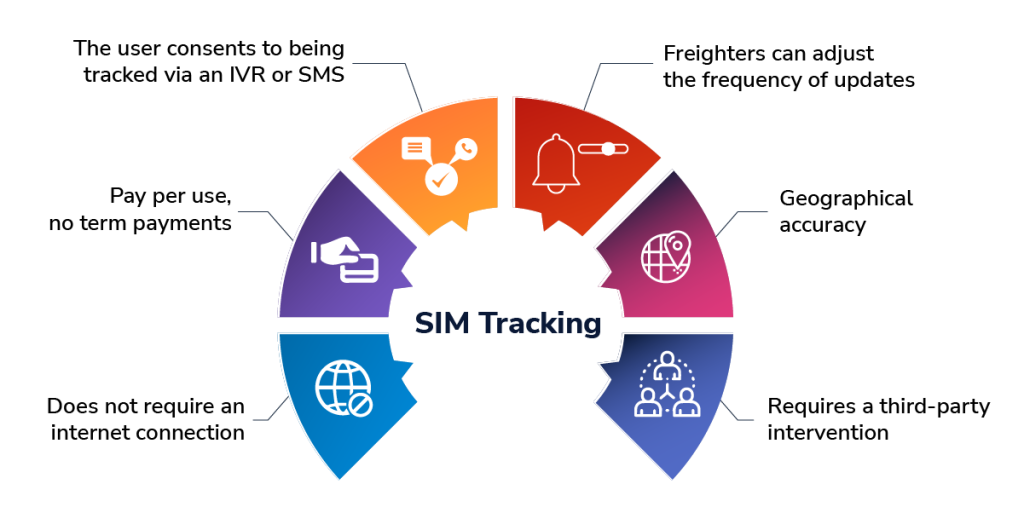 FASTag Tracking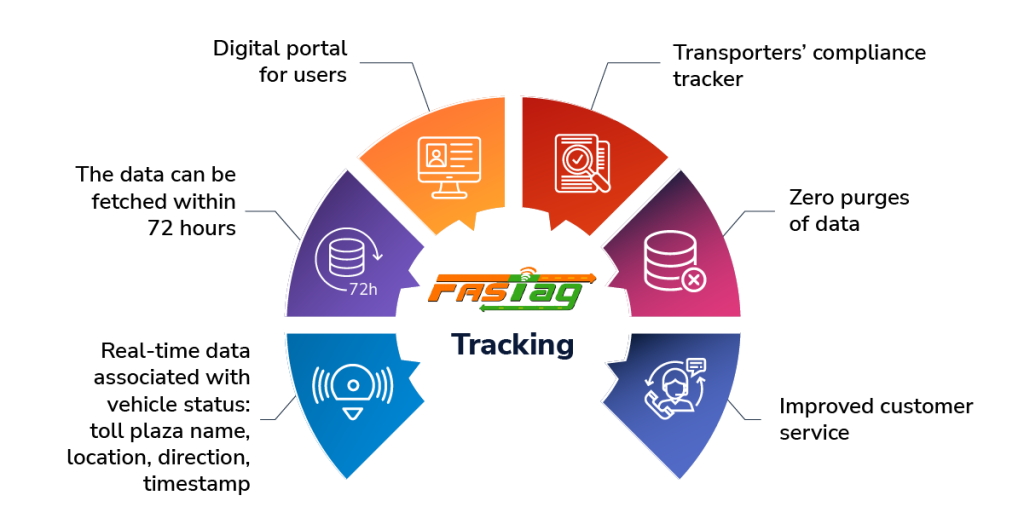 FASTag vehicle tracking solution uses an RFID tag to track the vehicle's real-time locations as it enters/ passes a toll plaza. When the tag is registered with the organization, the supply chain managers can digitally gain insights into the in-transit shipments. It allows the organization to set up alerts upon vehicle entry/exit. 
Real-time data associated with the vehicle status – toll plaza name, location, direction, timestamp
The data can be fetched within 72 hours (3 days)
Digital portal for users
Transporters' compliance tracker
Zero purges of data
Improved customer service
GPS vs. SIM vs. FASTag tracking- A detailed comparison
An in-depth comparison between the three modes of vehicle tracking across all industry verticals across 9 key functionalities is given below.
| Sl. No | Functionality | GPS | SIM | FASTAG |
| --- | --- | --- | --- | --- |
| 1 | Reliability | Tracking linked satellite signals | Tracking linked with driver's SIM network | Tracking linked with vehicle number |
| 2 | Data visibility | Real-time status of vehicle movements | Real-time status of vehicle movements | Real-time status of vehicle movements |
| 3 | Connectivity | Relies on a strong internet connection | Relies on SIM network connectivity with the nearest cellular tower | Relies on advanced RFID technology |
| 4 | Tracking Costs | Negligible | Rs. 5 to 15 per day, pay-as-use feature | Cost efficient, Re. 1 / call |
| 5 | Mechanism | Satellite acquires data > data transfer to nearest cellular tower > data transfer to GPS servers > data visibility via internet connection | Register driver's number> Tracking request > Send tracking request > Driver's approval > Live tracking via coordinates of nearest tower the SIM connects to | At the toll plaza gate, the RFID antenna scans the vehicle's unique identification tag > The businesses receive a holistic overview of vehicle status and deviations |
| 6 | Update Frequency | Varies from one GPS provider to another | 15 minutes- 2 hours | Hourly (can be configured) |
| 7 | Authenticity | Can be unplugged or tampered (Low) | Can alter with manual activity (Low) | Cannot be altered and purged (High) |
| 8 | Minimum distance | NA | Less than 50 kms | 100 kms |
| 9 | Initiation | At trip creation | Reports at loading | At trip creation |
Scope of data visibility
A primary objective of efficient tracking technology is to gain reliable insights for strategic operations. Below, we assess the scope of business insights across GPS vs. SIM vs. FASTag tracking.
| Theme | GPS | SIM | FASTAG |
| --- | --- | --- | --- |
| Geofence data- Origin | Entry & Exit | Exit (optional) | N/A |
| Geofence data- Destination | Entry & Exit | Entry & Exit (Approx) | N/A |
| ETA | Evaluated data | Evaluated data | Evaluated data |
| Delays | Evaluated data | Evaluated data | Evaluated data |
| In-transit deviation | Yes | Yes (for major events) | Yes (in case of predefined milestones) |
| Distance/ day | Yes | Approximate | N/A |
| Planned vs actual | Yes | Yes | Yes |
The impact of strategic comparison
Comparing the features and data transparency of all three technologies can help businesses with informed planning, implementation and execution of their tracking solutions. GPS, SIM and FASTag-based offer 360-degree overview, ensuring: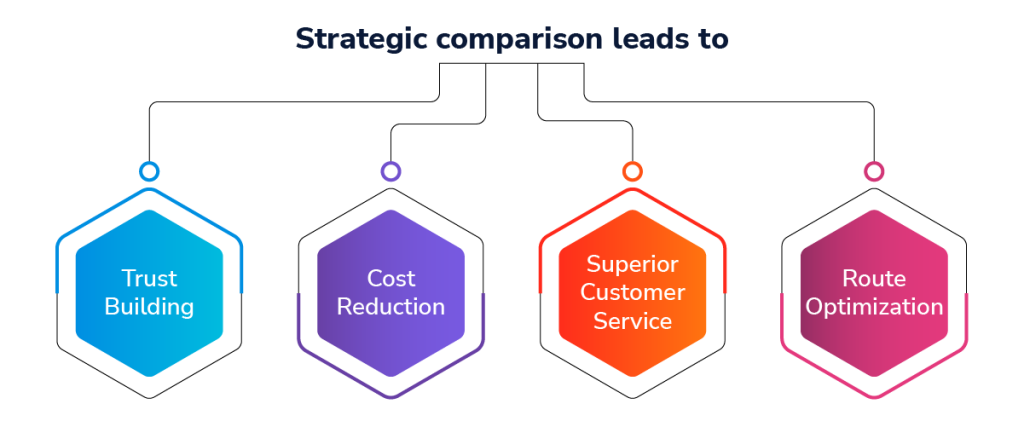 Trust Building
Transparency is critical in building trust across the supply chain and live vehicle tracking strengthens it. GPS/SIM/ toll plaza FASTag tracking offers end-to-end visibility into the in-transit vehicle movements, location, reasons for delays, discrepancies and penalty clauses, ensuring transparent process execution.
Cost Reduction
Tracking technology enables insights into various shipment dynamics to derive cost management strategies- fuel costs, vehicle insurance, maintenance costs, detention charges, etc. These insights indicate the company's current cost-savings and profitability status, helping manufacturers optimize them as per industry standards.
Superior Customer Service
Utilizing the technology-driven tracking efficiencies can improve customer satisfaction with better OTIF, ETA-based unloading strategies and real-time updates for in-transit shipments (from pickup to drop). Customers no longer need to indulge in extensive manual follow-ups to get updates on the scheduled delivery.
Route Optimization
Digital tracking empowers businesses with a bird's-eye-view over freight routes, meaning businesses can now observe and choose the shortest and most convenient ones. It simplifies freight management operations, reducing misrouted shipments, fuel usage and delays. With tracking technologies, supply chain managers can respond to unforeseen events faster.
Logistics management SaaS with real-time tracking
Real-time tracking solutions are significantly dominating industries. GPS/SIM/FASTag-driven TMS solutions ignites logistics efficiency with multiple cost-savings, data-backed tracking operations, timely vehicle maintenance, higher team productivity and real-time updates at every stage.