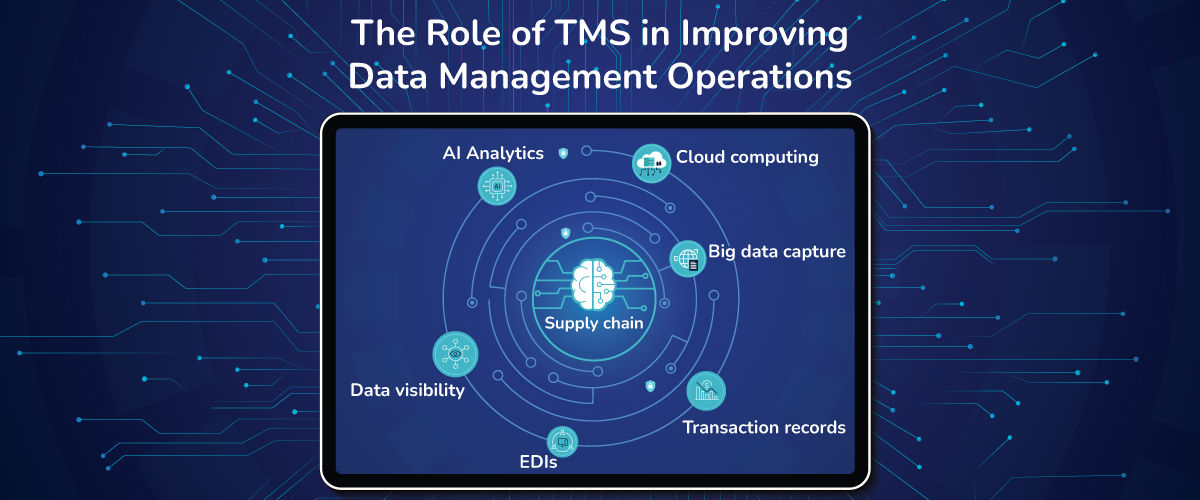 Let's discuss why the current industry setup is set to enhance the face of supply chain data and the role of TMS solutions in simplifying data management.
The supply chain is driven by extensive data generation and management at every step. Logistics data is strategically aligned with operations for their seamless execution. It helps logistics managers predict the forthcoming risks, demand volatility, consumer behavior and trend shifts. 
As the focus shifts to a more sustainable and future-ready SCM module, industry experts are advancing towards a more digital-driven data management module to cope with a dynamic and competitive industrial environment. 

AI and cloud technology dominate the logistics sector, and TMS is a powerful data management and analysis tool. It unlocks seamless data capture and interpretation, enabling 360-degree visibility, transparency, quicker access and improved information sharing across stakeholder networks.
Role of Data Management in SCM
Data management drives logistics efficiency with suitable approaches, strategies and informed decisions. The logistics sphere thrives on myriads of information, documents, SCM reports, analytical figures, invoices, contracts, PODs, and many more. This data needs to be stored and organized, ensuring ease–of access, faster interpretation and information flows. Efficient data management empowers the supply chain with:
Accurate forecasting of future trends, risks and consumer demands
Improved agility, responsiveness and gap redressal roadmaps
Data-backed decisions around freight selection and resource utilization
Actionable roadmaps for the end-to-end execution workflow
5 Parameters of Efficient Data Management
Streamlining the data capture and management processes is crucial to leverage the benefits of a growth-centric logistics model. Supply chain experts believe that these 5 proven parameters can help businesses evaluate their data management efficiency and understand the scope of improvement.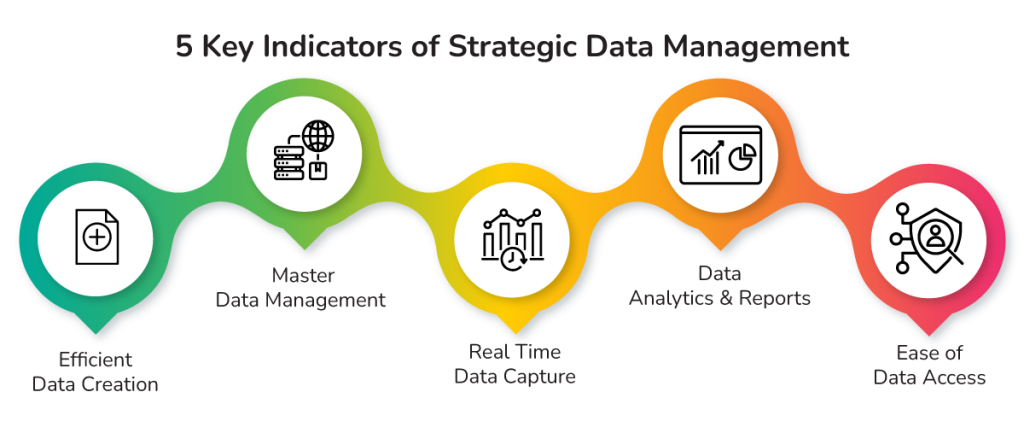 Strategic Data Creation
The supply chain is driven by myriads of operational, contractual and transactional data; thus, logistics managers aim for optimum data creation plans. These plans help them store and manage information around transportation requirements, freight contracts, pricing data, asset reports, inventory data, freight invoices, etc. Strategic data creation saves supply chain professionals time, manual workload, and costs.
Master Data Management
Master Data Management (MDM) is a strategic approach ensuring data-driven decisions, ease-of-access and holistic control. It helps logistics managers synchronize crucial data across the operational units and improves transparency. It simplifies the management of voluminous data across multiple plants and business units, preventing time-intensive siloed processes. It strengthens control and makes the data readily available for predictive analysis.
Live Data Capture
Data visibility is a critical KPI in the current supply chain scenario. All stakeholders across the network demand 100% transparency, thus driving the need for real-time data capture. It centrally stores crucial transactional and collaboration information, allowing data-driven justification of escalations or operational gaps. This, in turn, prevents significant financial and opportunity losses. Moreover, real-time insights empower audit and performance assessment cycles. 
Real-time Analytics
Supply chain analytics and historical reports are imperative to decision-making, planning, forecasting and optimization. Live data points must offer maximum accuracy and actionability for better risk mitigation roadmaps. It enhances supply chain efficiency with strategic carrier selection, load allocation, route planning, stakeholder performance optimization, trend analysis, demand forecasting, inventory regulation, etc., ascertaining a competitive edge.
Data accessibility
The SCM network involves multi-stakeholder operations and accessibility rights for each differ. For example, procurement teams rely on transporters' analytics, contracts, etc., whereas the finance teams refer to invoices, contracts, audit reports and penalty clauses for seamless process execution. Thus, data confidentiality, secured accessibility and customizable user rights are essential to prevent data breaches and loss of information.
How can TMS Simplify Data Management?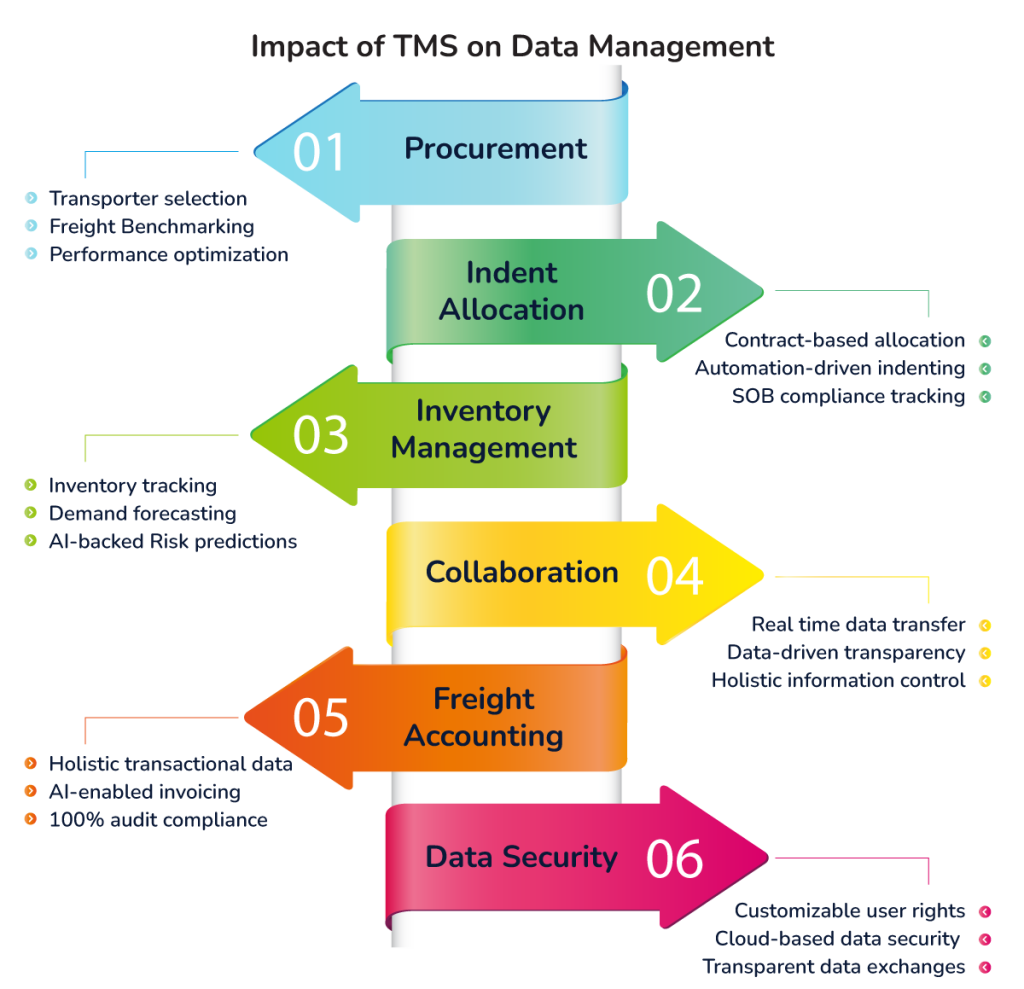 Transport Management Systems (TMS) centralize and simplify big data, helping businesses utilize them to build a sustainable supply chain. A competent TMS solution enables a cloud-based platform with holistic data capture, transparency, real-time visibility and instant data transfers, ensuring the following benefits:
Procurement Analytics
Real-time insights into historical performance facilitate informed carrier selection.
Freight Index Tool provides data on freight rates across geographies, ensuring cost optimization. 
Driver performance & OTIF analytics help transporters improve efficiency by bridging critical gaps.
Indent Allocation
Data-driven load allocation to the right vehicle ensures optimum vehicle utilization.
Automation-driven indenting as per the contract policies saves time, manual follow-ups and workload. 
Real-time visibility into any deviation from the Share of Business (SOB) prevents significant losses to the supply chain.
Inventory Regulation
Data insights into the current inventory levels allow businesses to prevent overstocking or stockouts. 
AI-backed trend & predictive analytics enable strategic forecasting of demand dynamicity.Foresight analytics around future risks & recessions ensure better risk management strategies and supply chain agility.
Collaboration
Digital data handling enables seamless collaboration and information exchanges across a complex stakeholder network. 
Real-time data capture allows stakeholders to trace the cause of discrepancies, detention and process deviations.
Holistic data management provides transparency to multi-stakeholder processes, ensuring better control and joint strategic planning.
Freight Accounting
Centralized storage of transaction records, invoices, contracted rates and penalty clauses improves visibility across teams, improving stakeholder relationships.
AI-driven capture of freight invoices and bills empowers finance teams with faster, more accurate and error-free reconciliation and settlements.
Real-time visibility and 100% audit compliance improve audit cycles, gap redressal strategies and optimization roadmaps.
Data Security
Customizable user rights management allows organizations to change accessibility rights granted to each stakeholder. 
A secured Cloud-based platform provides optimum safety to confidential information around transactions, consignments, etc., preventing third-party breaches, cyber threats and intruders. 
A holistic EDI platform enables secure information transfer and 100% transparency throughout the end-to-end data lifecycle.
Boosting Business Growth with Data Quality
Efficient data management not only simplifies SCM operations but improves data quality. Organizations that have acknowledged the underlying impact of strategic data management and invested in improving it tend to leverage a more agile supply chain in the long run. 
Integrating automation technology and AI into the logistics model drives businesses across all industry verticals towards sustainable growth and compliance with the set objectives. These advantages empower them in a dynamic environment, helping them retain/ expand their market share even during a prolonged recession. 
Therefore, data management is one of the primary keys to an organization's supply chain efficiency and, in turn, growth-centricity.