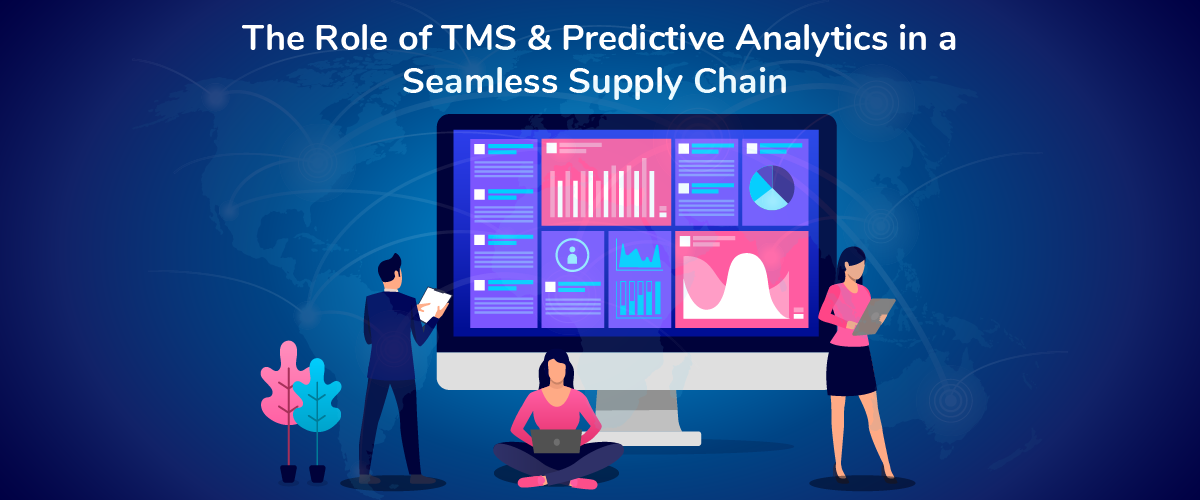 As more businesses rely on the supply chain to maximize their growth and profit dynamics, they seek new strategies to improve their resilience and operational efficiency. One such data-driven strategy dominating the logistics and supply chain vertical is predictive analytics.
Reports state that the predictive data analytics market is expected to expand to 41.52 Billion USD by 2028, implying its unavoidable impact on the supply chain. This branch of analytics is driven by big data, Artificial Intelligence, IoT, Machine Learning, and robotics that offer insights into current and future algorithms.
This blog unfolds the basics of predictive analytics, its significance, and the role of Transport Management Solutions in the supply chain.
Predictive Analytics & Its Significance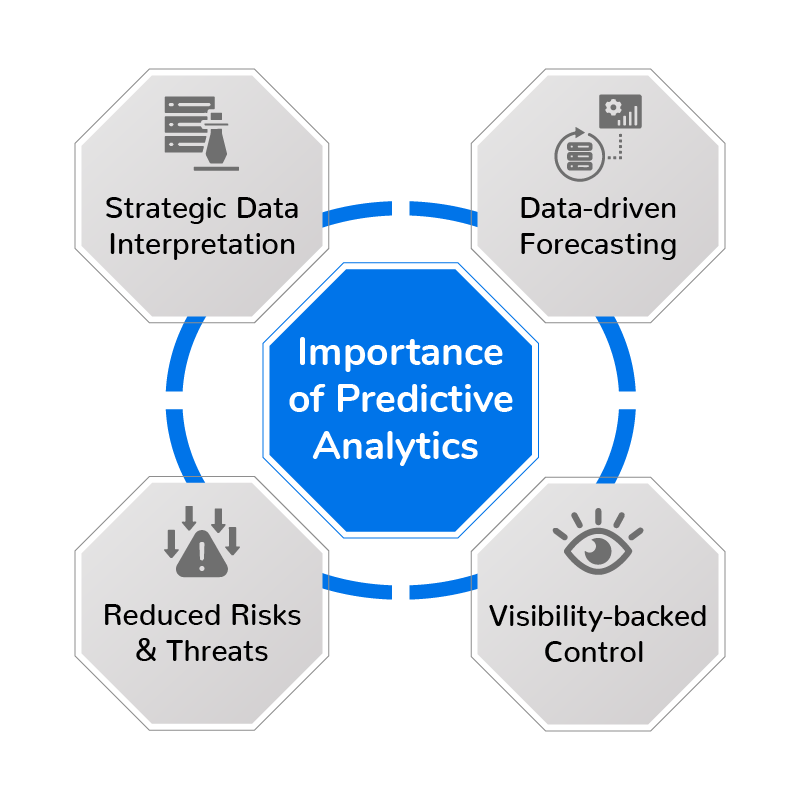 Predictive analytics is the sub-branch of advanced analytics driven by statistical ML-based algorithms to assess historical reports and trend patterns to predict future events, consumer behavior, industry trends, risks, and opportunities. Businesses rely on these insights to ensure supply chain sustainability in an unpredictable industry setup.
In other words, it prepares organizations with a more future-ready roadmap and operational model to tackle unforeseen events without hindering their competitive edge. Organizations with efficient analytical infrastructure, workflow, and plans will likely leverage more significant benefits with a growth-focused logistics and transportation model.
In turn, it empowers manufacturers with quality data interpretation, forecasting accuracy, strategic decision-making, minimized risks, better control, and many more.
Industry experts are resorting to a more strategic and AI-driven SCM workflow to improve their analytics generation and interpretation. One such technological tool is a Transport Management System (TMS).
How does TMS Enhance Predictive Analytics?
Adopting technologically competent TMS solutions in logistics operations enables AI analytics and dashboards with multi-facet advantages. These solutions unlock advanced features, enabling faster decisions and actionable roadmaps- from procurement to Proof of Deliveries- yielding long-term benefits.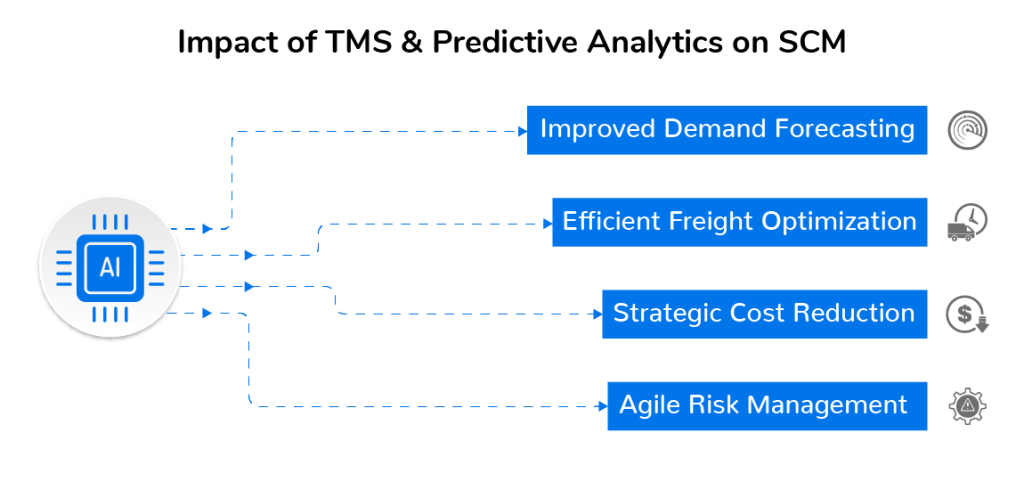 Demand Forecasting
The dynamic nature of demand requires organizations to stay ahead in the forecasting game to cater to customer expectations. TMS solutions consider historical and current reports on demand trends, consumer behavior patterns, seasonal fluctuations, etc to build algorithms to predict the demand scenario,
Based on these reports, supply chain managers can find suitable models to forecast demand for specific test cases, variables, and circumstances. Such forecasts empower businesses with better inventory management, reduced stock-outs and overstocking, strategic resource planning, and an upper edge in times of crisis.
Freight Optimization
Logistics management aims to ensure the right product is delivered to the right place, within the right time, and best condition. The quality of final deliveries determines the overall logistics performance. Industries dealing in time-bound products, such as FMCG and pharma, rely on seamless logistics operations to meet consumer expectations.
TMS solutions refer to advanced predictive data and analytics with data on freight lanes, current pricing across geographies, forecasted weather conditions and extremities, transporter performance, distance/ hour, empty miles, ETAs, and vehicle allocation dynamics. This data matrix helps logistics managers gain insights and adjust freight transportation processes accordingly, preventing critical disruptions, penalties, losses, and delays.
Maximize your RoI with freight cost reduction, real-time visibility, better
business insights and trade compliance. Book a Demo
Cost Optimization
Logistics costs are crucial indicators of supply chain efficiency, and organizations across all industry verticals are aiming to proactively reduce them and leverage more cost savings. Research reveals that a manual-driven logistics analytics module with inefficient forecasting results in poor resource utilization, delays, discrepancies, sub-par visibility, and human errors, increasing cost heads. Hence, leading businesses are switching to a TMS-driven, efficient, fast module to reduce cost heads.
TMS solutions streamline all inbound and outbound logistics stages across a large stakeholder network, reducing gaps with AI analytics. Data-driven forecasting reduces the chances of discrepancies, equips logistics teams with actionable strategies, improves management visibility to tackle forthcoming challenges, and predicts future fluctuations to prevent opportunity losses. In turn, the organization enjoys more cost savings and higher profitability.
Risk Control
The volatile nature of the supply chain requires manufacturers to keep updating their management strategies for a more agile and responsive module. It is vulnerable to being drastically affected by unpredictable economic escalations, pandemics, and natural and man-made disasters. Supply chain leaders are adopting improved risk management strategies to cater to this dynamicity.
TMS-based predictive analytics enabled logistics management professionals to identify possible risks and threats that might hinder performance. It utilizes accounts of historical recessions and offers insights into current operational patterns to reflect proactive methods to reduce, eliminate or prevent critical risks. A responsive supply chain is more likely to perform in a competitive setup.
The Future of AI & Predictive Analytics
When AI and Predictive Analytics are applied to supply chain functionalities, the company experiences flourishing profits and long-term sustainability. These technology-driven algorithms pave the way for more intelligent decisions, resilient maintenance, data-driven plans, and strategic inventory regulation. Transport Management Systems and cloud technology are remarkable tools in this regard.
As more organizations adopt these solutions to utilize the power of predictive analytics, the supply chain shall advance towards a more performance-oriented model, empowering the global industry verticals. They are rapidly advancing towards a more promising future of commerce amidst unavoidable fluctuations.