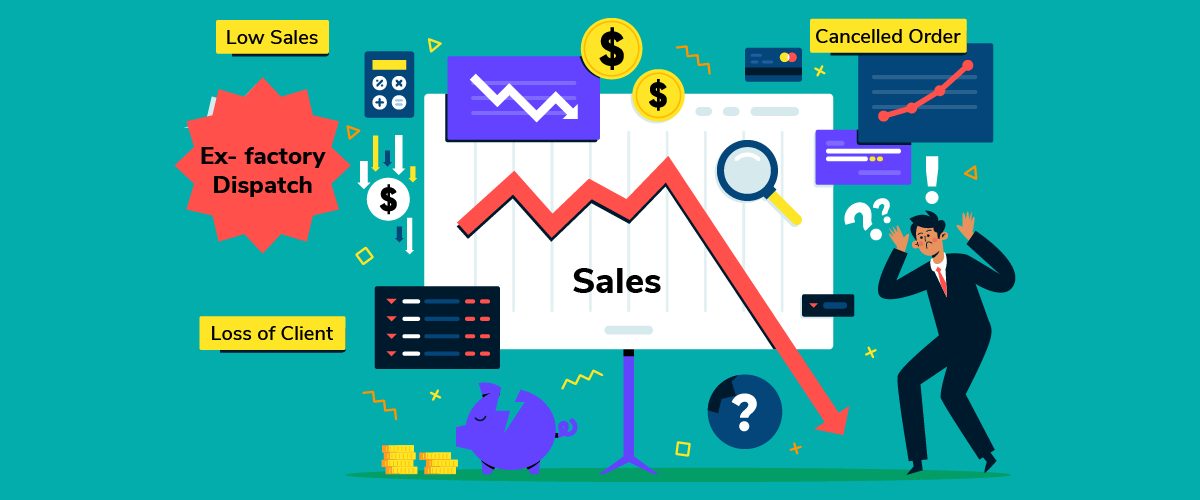 Does it feel risk-free & cost-effective to sell your products on an ex-work/ex-factory basis?
Think again!
First, answer these questions for yourself:
Does ex-factory / ex-works sales comprise more than 50% of your sales?
Do you operate in a commodity market such as metal, plastic pipes, sugar, oil, agriculture, polymers, or cement?
Do your customers have access to other competing suppliers – manufacturing the same product as yours?
If your answer to the above questions is a YES, this article is for you.
We all know what ex-works/ex-factory means – But what does it mean for your customer?
In ex-works/ex-factory, transportation and transit risk scope fall on the buyer or your customer. Each time your customer decides to buy your product, they have to call transporters and arrange for trucks to move the purchased products.
In many cases, your customer cannot do this independently; hence, they have to rely on a mediator, often an agent/broker, to help them source vehicles.
This means this becomes part of your customer's "Landed Cost."
Let us break down the components of your customer's "Landed Cost":
The Landed Cost can be broken down into two parts
Direct Cost
Cost of the products purchased from the seller (ex-factory)
Freight cost paid for the transportation of the products
Commission/brokerage paid to agents/brokers
Hidden Cost
Risk in transportation (damage, shortage, theft, and delay)
The distance from your factory to the place he wants it (Transit Time)
The ability to find a reliable transporter
Ease of getting a vehicle & the effort required to arrange that vehicle
Commodity price fluctuation between the date of purchase and delivery
Keeping this in mind, now let us understand –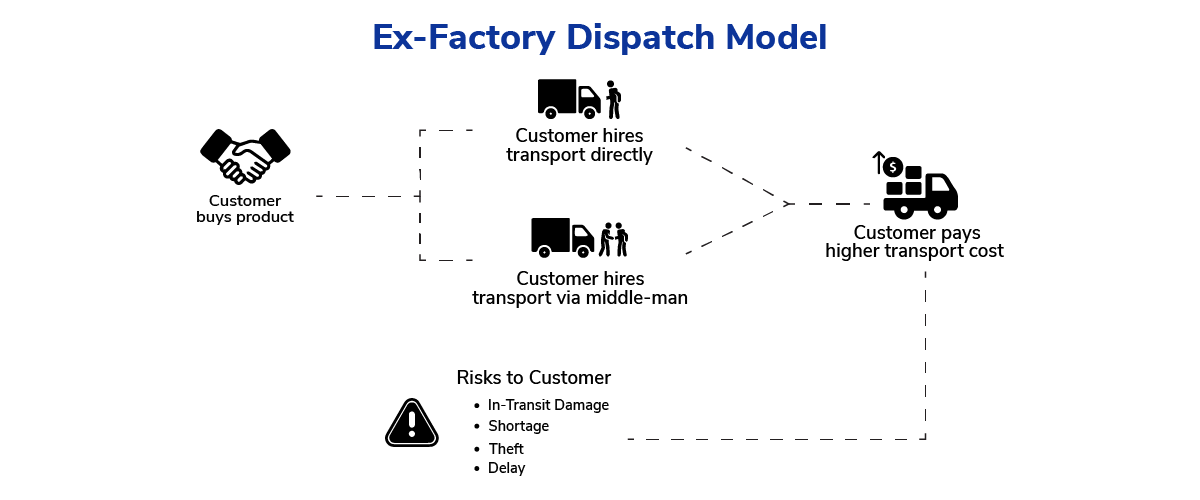 What is your customer's thought process for making that buying decision?
In the commodities market, most buyers work with multiple suppliers.
Each time a buying decision is made, the buyer evaluates the Landed Cost he has to bear for each supplier.
For instance:
If a buyer wants sugar in Bijnor, UP, he will check the landed cost of sugar from all possible sugar suppliers to Bijnor. In this case, it may be Dhampur Sugar, Dwarikesh Sugar, Chandpur Sugar, and other potential suppliers.
Most often than not – the decision is very close and directly tied to the following:
Freight cost
Vehicle availability
Also,
Being small and medium buyers, they have to rely on brokers/agents to provide this information.
Adding to your buyer's owes, many brokers and agents do not have the infrastructure to discover the freight cost transparently.
But how does this all affect your sales?
Remember, at the end of the day, your customer is human.
Any product he buys is out of a need – the product will solve his problems or aid his business to flourish.
But is having a good product and a low commodity price enough to make a sale?
No.
Think about it, and walk a mile in your customer's shoes.
While your product is good and you are offering a low commodity price, the buying process has many hurdles that create problems and negative feelings for your customer.
Problem 1: He has to find a transporter at a fair freight price – even though you know this is easier said than done
Problem 2: As a small/medium buyer, he might rely on brokers or agents. These agents don't have the infrastructure or process to discover fair freight prices.
If you don't provide it, some other supplier who does will get the order.
Initially, it will be one lost customer, but your customer's behavior and expectations are changing, and before you know it – you could be losing more such customers to your competitors.
Evolve with them, and rise to their expectations – the customer is king at the end of the day.
How can you increase sales with door delivery as a manufacturer/supplier?
Many manufacturers have already taken control of the situation and completely removed the variable factors & external dependencies by supporting buyers by facilitating transportation & logistics.
Only some have gone ahead and created this as a profit center for strategic advantage in case of tough times. They add a markup to the cost paid to the transporter.
Creating a competitive edge and winning at the same time – you can do it too.
Start providing logistics support today!
Other advantages of providing logistics support
Remember, the buyer or your customer is in the digital world, and he is used to convenience – on-time and quick door delivery and is willing to pay extra for the same.
Tap on this need.
To top it all, you are in an advantageous position. You know the transporters better and can take control of so many variables which otherwise you had no control over.
For instance:
You can consolidate requirements
You can negotiate freight prices better by aggregating demand
You can push for early placement of truck
Eliminate /reduce the transit risk with insurance & tracking services
Make logistics a profit center & help survive during competitive commodity prices
Add this as a new add on customer service and better your freight negotiations
Want proof?
Examples of a few companies that are in the commodities market but are helping their customers with truck sourcing for smooth delivery:
Iron & Steel: Tata Steel, Shyam Metallic, Captain Steel, and others
Plastic Pipes: Astral pipes, Prince Pipes, and others
Plywood: Century Ply, Green Ply, and others
Polymer: Reliance Petro, Haldia Petro, and others
Agriculture & animal feed: Godrej Agrovet and others
Cement: most of the prominent players and others
Are you interested in shifting from ex-works/ex-factory to door delivery?
Then stay tuned for our next article, or to get early bird access, you can contact us directly here or write to us at [email protected].