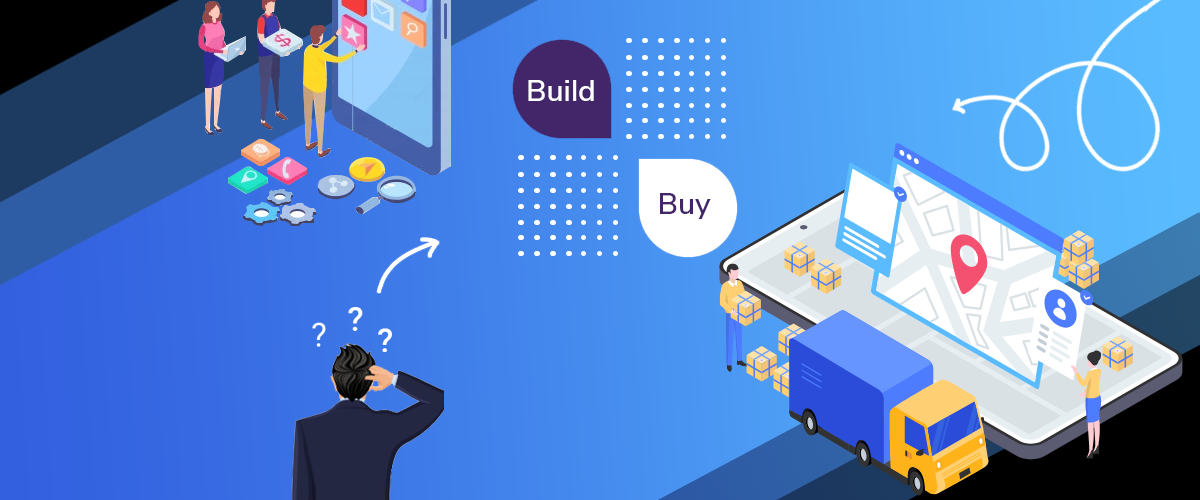 If you are still reading this blog and have understood more than 50% of what is written in the disclaimer, then thank you for making our job a lot easier. We said it was easier because you are well aware of the problems existing in the logistics industry, and we don't have to explain that to you.
Our genuine concern here is with the solution.
Logistics today demands a focus on automation and digitization, which allows the stakeholders to access the information they need for decision-making and gives a single view of the logistics workflow data, especially in an organizational structure where every stakeholder in the department works in silos and their views of the logistics are confined to their judgment.
Basing our discussion on this, we have divided the organizations into three groups:
Now that the need for automated and digitized software is established, we move to a bigger question
1. Do you recognize automation of logistics as a solution?
2. Hesitation in adopting logistics automation.
3. Aware of the logistics automation benefits but need to know how to bring this change?
Should you build or buy logistics automation software to better serve your customers?
Being a leading logistics solutions provider, we believe there are five factors that you need to consider before making that decision: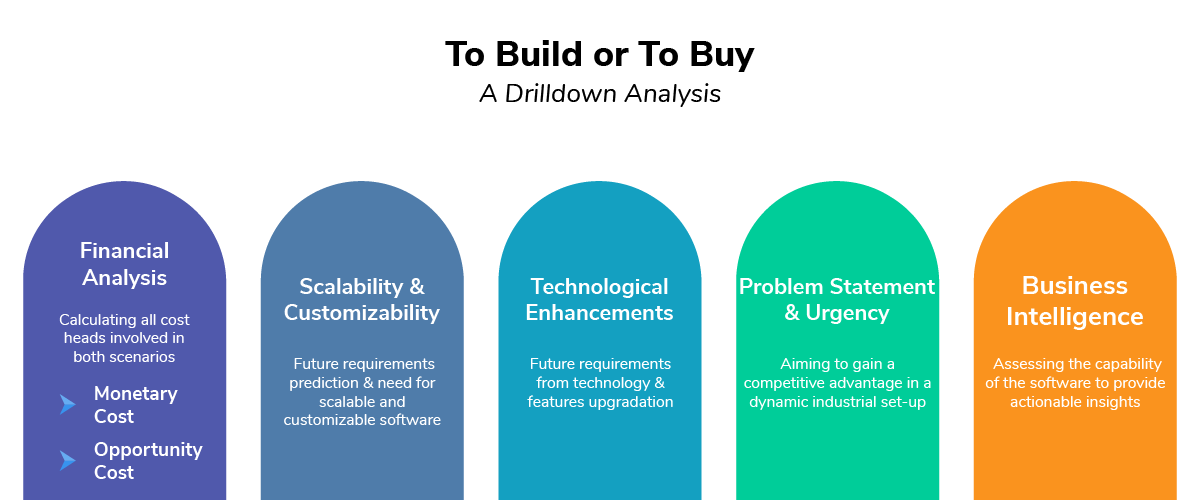 Cost & Maintenance
When we calculate the cost, we take a holistic approach:-
You believe building your proprietary software is more accessible and more customizable but is it the actual goal of every organization? In reality, it is only possible to build software by spending a fortune and taking years to develop.
Let's do the math!
Monetary Cost
Salaries of developers (at least five developers)
+
The hardware cost for five developers
+
software licensing cost for five developers
Opportunity Cost
Freight savings lost during the development phase
+
Time spent on Research
+
Time spent on building
+
Time spent on constant upgradations & maintenance
+
Risk of developers leaving the organization
+
Time & money spent on looking for new developers
+
Time & money spent on training the new developers
Now, imagine having ten plants and ten different versions of software for each of these plants because the process varies from plant to plant. If it still doesn't scare you and you feel you have enough resources, and this is a one-time expense, then what will you do in case of a technological upgradation or feature enhancement?
And all of this to build out a Minimum Viable Product, and next thing you know, you've spent literally hundreds of hours building a tool that is not core to your business.
Whereas, if you buy it from a third-party service provider, they already have professionals working for them and are serving multiple customers at once, because of which they have a better understanding of your needs resulting in a much more developed product that is flexible and can be applied across various industries and across various plants of the same industry.
Just to give you an estimate, building it in-house can cost you roughly $270,000 in talent acquisition alone.
Scalability & Customizability
As the needs change over time, there is a perpetual requirement to evolve and customize your software. It means that you cannot just set and forget it. You need to ensure that your support team and developers are always available in-house, and as an organization, you should only build a solution if you can ensure scalability with the increase in the magnitude of operations.
On the other hand, buying a solution from an external vendor will save you time to focus on your primary goal, and you will end up with a tailor-made solution that has passed scalability tests in terms of user expansion.
At SuperProcure, we can customize the product to solve key industry problems as per your business rules and help you boost your customer serviceability with cutting-edge technology and solutions.
Building a custom-made solution in-house that is also scalable is going to be a monstrous task for which you may not always have the budget and management bandwidth.
Take charge today, and get your own custom-built solution!
Technological, Feature & Functional Enhancements
How will you feel if your customers switch to competitors due to a broken experience resulting from outdated technology in the workplace?
You either end up losing your customers or reconfigure your software from scratch for each plant and bear the humongous cost associated with it.
Also, on the company front, studies show working with outdated technology has a negative impact on the job satisfaction of the employees. It can limit their productivity and lead to frustration, whereas if you are buying from an external vendor, your tool functionality can be improved via a larger user base's feedback, meaning you might end up with cool new features you wouldn't have thought of on your own.
Sourcing it from an external vendor gives you access to all the upgradations and new features by default
Problem Statement & Urgency
If you are looking for a solution right away, you cannot afford to waste years on building software, especially in a competitive world where time is equivalent to money. In that case, it may be best to find something that's already on the market with close enough functionality to meet your requirements.
Moreover, if the problem at hand is common to all and there are competitors who are using third-party software to solve a similar kind of problem, then choosing third-party software is a wiser option.
By partnering with a third-party vendor, you can efficiently speed up your automation journey.
In SuperProcure, you just need 3 hours for decision-making. The process of implementation is very simple, and 100% of account setup, configuration, master creation, and training of the transporters and internal users are done by the SuperProcure team in under 48 hours.
Business Intelligence / Market Intelligence:
Detailed intelligence about the best business practices in logistics and the industry can be attained by using a third-party service provider's product which gives access to dashboard-generated reports that offer a way to examine data to understand historic trends better.
An external vendor has a deep-down understanding of the problems common to the industry, and the same is reflected in the performance of the product, whereas in-house software is at a very nascent stage due to its limited reach and narrow vision of the company.
Business intelligence(BI) tools give a sense of the current state of the company, and this can further be used for making informed decisions about the business.
We at SuperProcure serve various customers from different industries across the country, with our leaders having a combined experience of over 50 years in the logistics sector which has resulted in a much more mature product after a detailed SWOT analysis of the industry.
To Sum it up
Before we discovered accounting software, we all will agree that the job role of an accountant was manual and tedious bookkeeping whereas, today, it has moved to strategic roles like analyzing financial performance, assessing risks, building mergers, etc.
There are so many big and small companies in the market that use third-party accounting software to record and report a firm's financial transaction rather than building one in-house because it doesn't directly contribute to the revenue, and it diverts their attention from the primary goal of their business.
Likewise, avoid wasting time, effort, money, and, most important of all, i.e., your peace of mind on building software that already exists in the market.
External vendors bring a solution at a justifiable price to the table and help you cross the finishing line by giving you a leg up over your competitors.
We at SuperProcure take ownership of your KPIs and work closely beside you to deliver freight cost savings of up to 9% and increase employee productivity by 67%.
Annual Freight cost saved from using SuperProcure = 4 years' worth of subscription SuperProcure
Make sure to evaluate relevant factors like cost, scalability, customizability, product & feature enhancements, problem statement, and Market Intelligence to make an informed decision for your business.
To digitize and automate your logistics workflow, get in touch today!