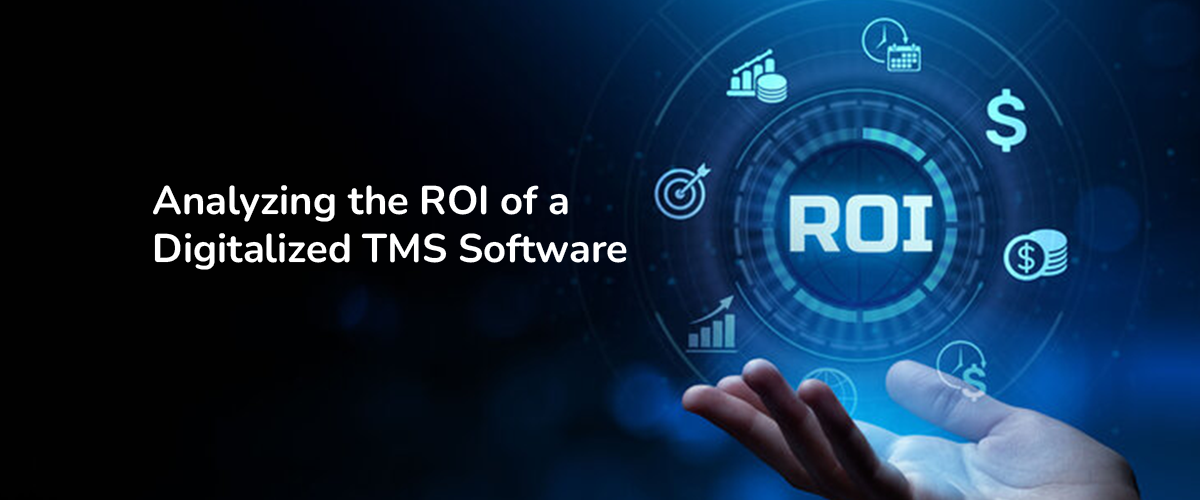 Summary: This article aims to provide insight into the factors and dynamics to be considered at the time of evaluating the ROI of implementing a TMS solution.
The returns on investment drive critical business decisions. As industry leaders invest in Transport Management Systems (TMS) to achieve better value additions to business logistics, considering the ROI dynamics is the first step to ensure an advantageous adoption. These dynamics reflect the scope and post-implementation effect of the TMS on the organization under both financial and non-financial factors, which eventually contribute to the business's monetary gains.
Determining the ROI of a TMS solution involves evaluating crucial elements like cost reductions, savings, profitability, detention cost optimizations, and many more. Also, organizations need to assess the cost of the logistics management software, post-integration change requests, and maintenance costs to understand that the digitalized workflow ensures optimum financial gains via AI-driven benefits.
Benefits of a Transport Management System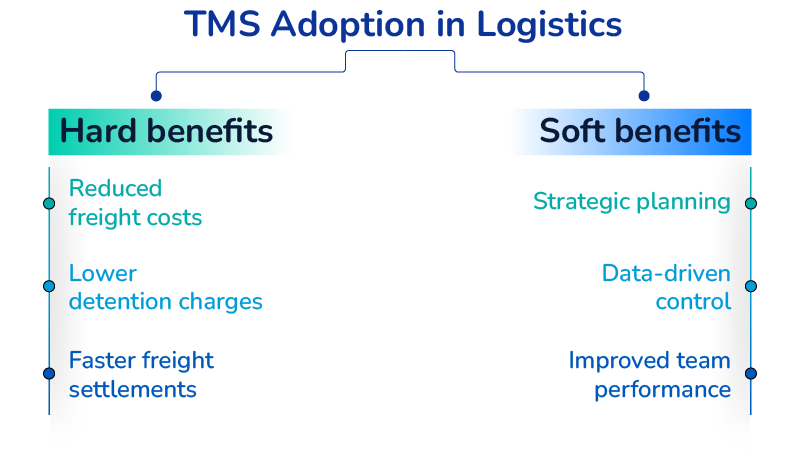 Implementing TMS software can empower logistics with AI-driven benefits at every process stage. A technologically competent digital solution empowers logistics management with up to:
3-9%
reduction in transportation costs
50%
increase in efficiency and order fulfillment
7-15%
improvement in OTIF performance
20%
increase in billing and documentation accuracy
The benefits can broadly be grouped into two substantial variants- hard and soft.
Hard benefits
It includes the cost-savings and cost-optimization metrics across three significant areas:
Freight cost reduction
TMS-driven procurement solutions facilitate cost optimization with transparent e-negotiations, cheapest freight rates for shippers, and optimum freight savings.
Reduced detention charges
System automation captures data on critical discrepancies and delays, allowing organizations to reduce detention charges with data-driven justification of penalty clauses.
Faster Bill settlements
Digital freight accounting software facilitates auto-invoicing, eliminates evaluation discrepancies in the procedure, enabling faster and error-free bill settlements.
Soft benefits
The soft benefits of a TMS solution refer to the non-financial gains like the quality of delivery, time saved, and operational efficiencies.
Strategic planning
Transport management solutions enable AI-backed forecasting and trend analysis, ensuring strategic operational roadmaps. It improves overall supply chain performance.
Gap redressal
The cloud-based platform offers insights into reasons for delays, prevalent loopholes and potential risks to the supply chain, enabling better control and responsiveness.
Performance optimization
AI-backed performance analytics allow logistics teams to track stakeholder performances, identify critical gaps and optimize them accordingly.
Maximize your RoI with freight cost reduction, real-time visibility, better
business insights and trade compliance Talk to our Experts
How to evaluate the ROI of a TMS?
TMS adoption aims to reduce costs and streamline the logistics workflow. Shippers tend to maximize the returns on the TMS investment via myriads of optimizations that eventually contribute to supply chain efficiency. Digital adoption in logistics involves data-backed evaluation of the implementation costs and comparison against the expected returns as per :

Cost of Investment
Enterprises can unfold the cost of investment across the following dynamics:
01
One-time implementation costs
It covers the one-time price of Transport Management Software, which complies with the unique business requirements. Solutions can be custom-made for any process stage to ensure an end-to-end supply chain model as per individual enterprise requirements. Before choosing the right TMS, manufacturers must analyze and compare this cost for profitable digital adoption.
02
Variable costs
The variable costs may differ per unique industry demands, business requirements, and SOB. Businesses opt for advanced features like personalized, around-the-clock support, customizable security, digital reports, freight auction, control, and more to cater to industry volatility and gain a competitive advantage. This builds their supply chain resilience and agility.
03
Operating costs
The operating costs of a TMS solution rely on day-to-day workflow requirements. A competent TMS software provides the pay-as-use feature, allowing better cost savings at every step- from finding the right transporter PODs. These costs vary from one business to another according to the operational setup, industry requirements and customer expectations.
04
Maintenance Costs
Software maintenance is critical to ensure a seamless digitalized workflow. Businesses must allocate a strategic budget for TMS maintenance. Supply chain experts aim for solutions with nominal change request costs for a strategic digital implementation. These solutions accommodate dynamic business needs and technological advancements.
ROI dynamics for a TMS solution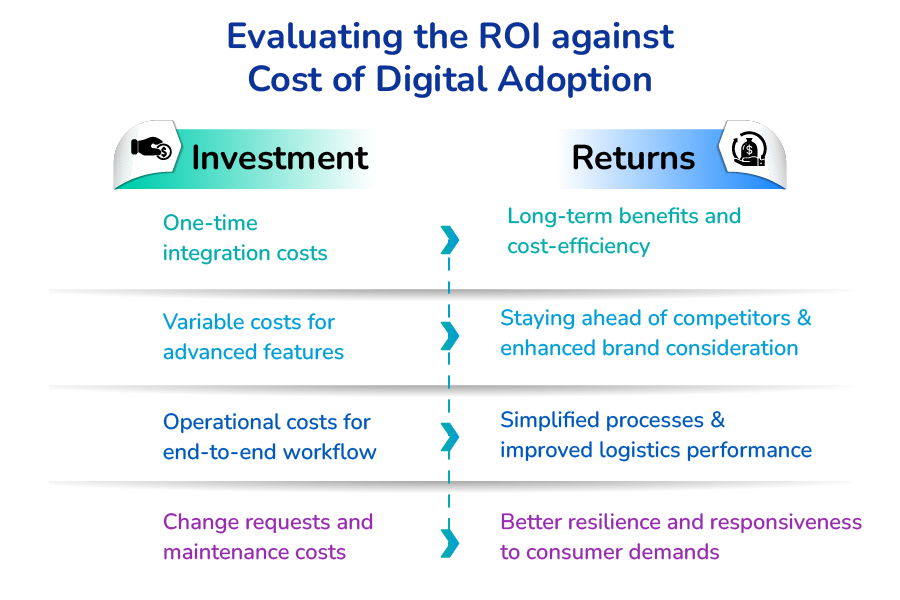 Enterprises can trace the area of Return on investment for a TMS integration across the following crucial areas:
01
Customer Experience
TMS solutions improve customer satisfaction with faster deliveries, greater process visibility, higher participation, strategic unloading operations, and speedier claim settlements. It helps businesses cater to ad-hoc consumer demands, ensuring better growth opportunities, a higher scope of profit increment, optimal expansion strategies and improved relationships.
02
Brand consideration
Brand consideration is shaped by consumer relationships and the ability to meet their expectations. An efficient TMS solution provides a seamless operational module with faster deliveries, higher delivery quality, and increased customer participation in the supply chain. It empowers logistics with data-driven claim redressals, improving transparency and trust.
03
Competitive advantage
The competitive industry setup calls for businesses to offer better value additions. Enterprises aim for advanced TMS functionalities to improve supply chain agility, responsive control, execution strategies, visibility, and in-transit traceability. These benefits facilitate more significant profit dynamics and scope of expansion by ensuring a substantial advantage to the company.
04
Asset Utilization
TMS-driven processes enable e-indent allocation with data-driven load distribution as per freighters' requirements. System automation allocates the load to the best-matching vehicle, ensuring better utilization. It simplifies complex operations and reduces manual workload, facilitating performance optimization and higher employee productivity.
Cost of Adoption VS. Scope of ROI
Digital adoption in logistics involves data-backed evaluation of the implementation costs and comparison against the expected returns. Supply chain experts opt for solutions with zero lock-ins for cost-efficient adoption.
Summing these substantial monetary investments can help enterprises understand the scope of post-integration ROI. Evaluation allows them to choose the best solution in compliance with their impact on the logistics costs and long-term benefits.