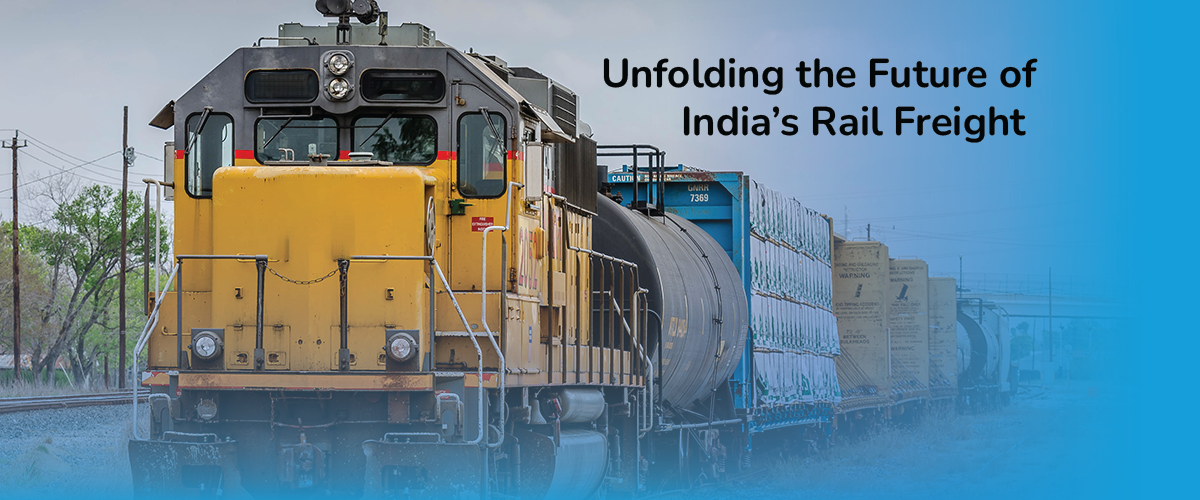 Road vs Rail Freight – Introduction
Nowadays, you click to buy from your favorite e-commerce app on your phone and a few days later, the item appears at your doorstep. It almost sounds like Genie from Aladin is fulfilling your wish, leaving aside the little fact that your credit card got charged. Only very few of us think about the complex web of logistics involved in traversing the item's journey from the manufacturing facility to you. And if you ever wonder how that item got prepared from its primary raw materials, plastic (i.e., petrochemicals) or minerals, the logistics are almost mind-boggling.
We simply see a two-wheeler man delivering to our doorstep with a large backpack. This is from the consumer's point of view. The logistics are quite different and often more complex for industrial goods shipped in large bulks. Most consumers are happy that the items somehow got transported by Road, Rail, or Air in a timely fashion and turn back to their favorite App to order more essentials.
Should we delve deeper into the logistics mode, then almost everywhere, road transportation is advantageous for last-mile delivery and difficult-to-reach areas. That is the status while we are waiting for the world of drone delivery. Rail transportation is advantageous for longer distances, and it is often a combination of the two. It includes maritime for intercontinental logistics and coastal/inland waterways transportation wherever available. Air Cargo is also there for time-sensitive or highly-priced materials. We will reserve a discussion on maritime, waterways, and air cargo for a future date.
Leaving aside last-mile delivery and difficult-to-reach areas, when making a decision between Rail vs. Road, the Logistics or Supply Chain decision makers of the world consider the following factors.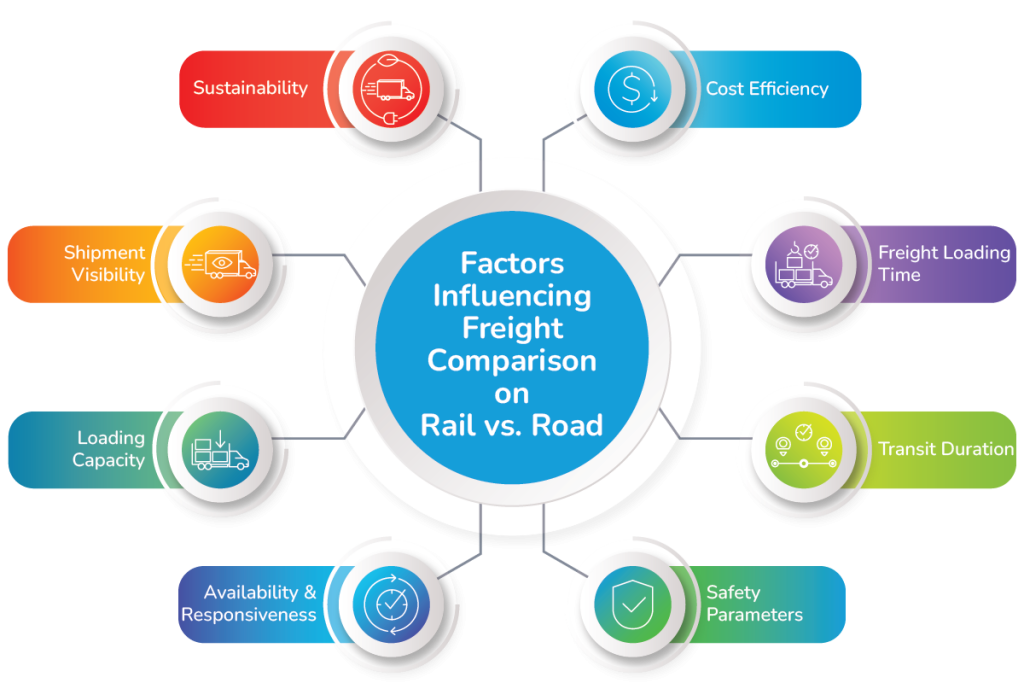 Cost
The cost of moving cargo is one of the prime differences between rail vs. road transportation. Rail transportation is more affordable than road transportation for long distances due to the capacity these freight trains can handle. Distance remains a significant decision-making factor as Rail Transport is cheaper for longer routes. Road Transportation will be cheaper and more convenient for shorter courses.
Loading Time
Loading time is another decisive factor in Rail Transport. Production facilities have dedicated rail tracks to load directly into the wagons. Leaving such facilities aside, loading freight into rail involves loading into a truck at the facility and then unloading at the rail head. Further unloading and loading into the truck is required once the goods reach the other end. As a result, rail freight almost always involves multi-modal transport and additional loading-unloading cost/time.
Transit Time
Speed of Transportation is an essential factor when comparing rail and road transport. Trucks can be loaded and unloaded promptly and, in many cases, can deliver to their destination promptly. However, the on-road transit time may vary depending on the traffic congestion, road construction, driver and vehicle status, etc.
Rail transportation usually has a longer transit time. Typically, time-sensitive goods are not sent by rail. However, it is less affected by external factors as in the case of roads. In India, since freight and human traffic move on the same tracks, freight trains often get the second priority, sometimes resulting in inordinate delays.
Safety of Goods
Road Transport is prone to accidents as compared to railroads. Due to the limited number of stoppages, the chances of pilferage are also lower in rail transport. However, the additional loading/unloading does add to damages or loss.
Flexibility and Availability
Road transports can be dispatched when required, and trucks can be procured efficiently through various systems (e.g., SuperProcure). However, planning transportation over rail requires advanced planning. In India, the availability of wagons also poses a challenge.
Capacity
A single freight train can move about 150 to 300 times the capacity of a truck.
Visibility
Advancements in digital solutions now allow tracking a truck using GPS devices and driver SIM cards, and very recently, the availability of data from toll plazas also allows efficient tracking of a truck. This helps in better planning and scheduling for the end users. Similar visibility is not available for rail freight.
Environment Friendly
Protecting our environment and reducing pollution is a significant drive across all industries. Electric freight trains pollute less than trucks, and even diesel locomotives pollute a lot less per ton of goods moved than trucks.
All that being said, how are things in India now and what is changing?
The rail freight scenario in India is rapidly advancing towards a more growth-focused operational model with shifting business modules, proactive roadmaps, shared approaches, and strategic value additions. Technological implementation across rail freight operations will catalyze supply chain efficiency and holistic growth opportunities. The optimized picture is expected to affect other modes of transportation like road, air significantly, and many more.
Assess the far-reaching impact of government-led initiatives and digitalization on the freight ecosystem in the following blog post.
Rail Freight in India
Rail freight infrastructure plays an active role across India's Logistics and supply chain. Being one of the busiest freight transport modes, private and public sectors are investing substantially to ensure a seamless network across geographies. Industry leaders are integrating multimodal strategies to enhance freight efficiency in compliance with global industry trends and economic objectives.
With close to 108,000 km of rail track, India has the 4th (arguably the 3rd) largest railway network in the world after the US and China. However, all the others in the top 4 are far larger countries too. Suppose you consider the density of the network, i.e., the Length of the network divided by the country's area. In that case, India comes up at the top.
| | | | |
| --- | --- | --- | --- |
| | Geographical Area (sq km) | Rail track (km) | Network Density |
| India | 32,87,263 | 108,706 | 3.3% |
| USA | 98,26,675 | 225,308 | 2.3% |
| China | 95,96,960 | 1,55,000 | 1.6% |
| Russia | 1,71,25,192 | 85,500 | 0.5% |
However, from the point of view of the goods transported, India's logistics sector amounts to only 5% of the GDP. It handles around 4.6 billion tons of goods a year. Indian roadways handle 70% of freight compared to about 18% by railways. In the US, railway freight accounts for about 40%. Though the dynamics of the industry in the USA are quite different from India, with low primary manufacturing and more finished goods, there is ample opportunity for growth for rail freight in India.
Prevalent roadblocks in the Rail freight scenario
The challenges so far in Indian Rail Freight include:
Lack of wagon availability
Inordinate delays during transportation
Low penetration of technology
Growth Opportunities & Government Push
How is that all going to change?

Railway Electrification
Indian Railways aims to achieve net zero carbon emission through railway electrification, enhancing energy efficiency of locomotives and trains, green certification for stations, and shifting towards renewable energy sources. It is estimated to ensure savings on fuel/energy bills, amounting to around Rs. 14,500 crores per annum; from an environmental protection perspective, that is a big step in the right direction. Also, Electric locomotives are faster, lighter, cheaper, and easier to maintain, leading to reduced track maintenance costs. Not only is it pollution free, but it also produces less noise and heat compared to a diesel locomotive. Only under very inclement weather and in far-flung areas where electric overhead lines are harder to maintain do diesel locomotives make sense. Over 24000 km of Indian Railways' route has been electrified in the last seven years. Besides, development work on the line doubling and laying new rail lines is progressing quickly. 85% of the electrification is already complete and the plan is to complete 100% electrification by the end of the current financial year 2023.
Semi-Speed and High-Speed Rail
With these projects being of considerable size and scale, the outlays will naturally be high. Even for the two projects currently under construction, viz. the MAHSR and NCR-RRTS, the cumulative project award will easily exceed Rs. 1 trillion.
Station Redevelopment Program
Improving the facilities of existing and new railway stations. Indian Railways has an ambitious plan to redevelop 123 stations to convert them into Railopolis or 24×7 multimodal hubs. The first phase of redevelopment covers 50 stations at an estimated cost of Rs 50,000 crore.
Dedicated Freight Corridor (DFC)
The DFC project aims to construct six freight corridors across the country to provide safe and efficient freight transportation. Two are under construction and 4 under planning. The dedicated freight corridors avoid unnecessary delays during transit, which will significantly boost rail freight. Between 2006 and 2014, the national transporter engaged in projects of about 4.16 kilometers in a day, while between 2014 and 2022, the projects increased to 7 kilometers per day. It has increased to 12 km per day in the current year. Dedicated Freight Corridor Corporation of India Limited (DFCCIL) is 61 percent commissioned.
Wagon Availability
The Indian Railways have placed an order for 84,000 wagons, the highest in the national transporter's history. Railways have been mainly used to carry bulk goods. However, it has also started transporting various consumer goods in the past few years. Containers can easily transport these goods.
First-Mile and Last Mile Connectivity
Railways have announced the launch of a new product, allowing customers to receive door-to-door services by collaborating with India Post. Both the railways and the postal service will provide middle-mile and first-mile services.
The goal is that building more terminals under the Gati Shakti policy, investing in special types of wagons, and sending goods by rail as aggregators, especially consumer goods, will further improve the freight services of India Railways. Special Wagons are designed to help carry vehicles, SUVs, etc., thus helping automakers. One can also hope that Railways will start working on Cold Chain since a few pilot projects were done.
Smarter, Lighter & Safer Wagons
Railways planning to deploy more than one lakh aluminum wagons in the coming years. Due to its lighter weight, the lifetime carbon saving is eight to 10 tonnes, which means savings of more than 14,500 tonnes of carbon for a single rake. This is a notable contribution to the country's sustainability goals.
Indian railways will reportedly initiate Global Positioning System (GPS) tracking for 30,000 wagons to prevent pilferages under its Wagon GPS Project. The Centre for Railway Information Systems (CRIS) has invited expressions of interest for participating in a knowledge-gathering exercise on freight wagons.
In the meantime, the Eastern Railway is set to introduce a GPS-based electronic lock system for the safety and security of parcel vans and freight wagons. This GPS electronic lock system has been introduced in the Eastern Railways' Howrah railway division as a pilot project.
Digital Future of Physical Freight
Tracking and Visibility
FOIS (under the government's ULIP (United Logistics Interface Platform) initiative) aims to track and monitor the movement of wagons, locomotives, and unit trains and use the information to improve productivity, customer service, and meet the needs of a rapidly growing economy. It offers various tools and information to get Freight Calculator, PNR inquiry, Real-time tracking, etc.
As part of the digitization and monetization efforts, the government (and other agencies & businesses) is heavily promoting it to increase adoption. FOIS began as an application to track and monitor the movement of wagons, locomotives and unit trains. Now it is a complete management module for freight trains handling the billing and revenue collections. It has played a significant role in the improved wagon productivity of Indian Railways. The objective is to use the information to improve further productivity, customer service and thus meet the needs of a rapidly growing economy.
So, it is almost evident that the next giant leap in transportation in India will be through Rail Freight. It is cost-effective and eco-friendly. With speed, availability, and track being taken care of, rail freight will undoubtedly bring down your logistics cost to a great extent. In addition to Mining and Materials majors who have traditionally used Rail Freight, it is about to become an excellent opportunity for Automakers, Consumer Goods manufacturers, and Large and small industrial goods manufacturers to use this cost-effective mode of transport, hopefully very shortly. Now is an excellent time to look at your organization's supply chain cost, challenges, and growth plan and perform a data-driven analysis of how your organization can benefit from the prospects of India's rail freight, the scope of expansion, and growth initiatives.
About to Explore Next in this series
Some Common Use Cases related to Multi-modal Transport using Rail Freight:
Check availability of Wagons
Book Wagons (Part/Full)
Plan for truck pickup
Monitor Arrival of Truck
Maintain and monitor Truck and Driver Documents
Monitor Loading
Manage Gate-outs
Track the Truck
Track Shipment arrivals at terminal
Track Wagon
Track Proof of Unloading at receiving terminal
Final Delivery
Proof of Delivery
Receive Invoices from Transportation partners
Freight Accounting
Seamless integration with your ERP of choice
Transportation partner feedback and rating
Transportation Spot Procurement
Transportation Yearly Contract
Transportation Bid Management
Overall measurement of TAT at every point
Detailed Analytics
Some of these are already developed and deployed by SuperProcure and some are in our development roadmap. More use cases are being added and growing as SuperProcure continues its journey to work as a Logistics Solution Partner of choice for some of the leading companies in India.
Let us know if you have any specific Use Case in Logistics and Supply Chain which you want us to research further. We will be happy to solve it with you and, if not, at least show you the way to the solution.
---