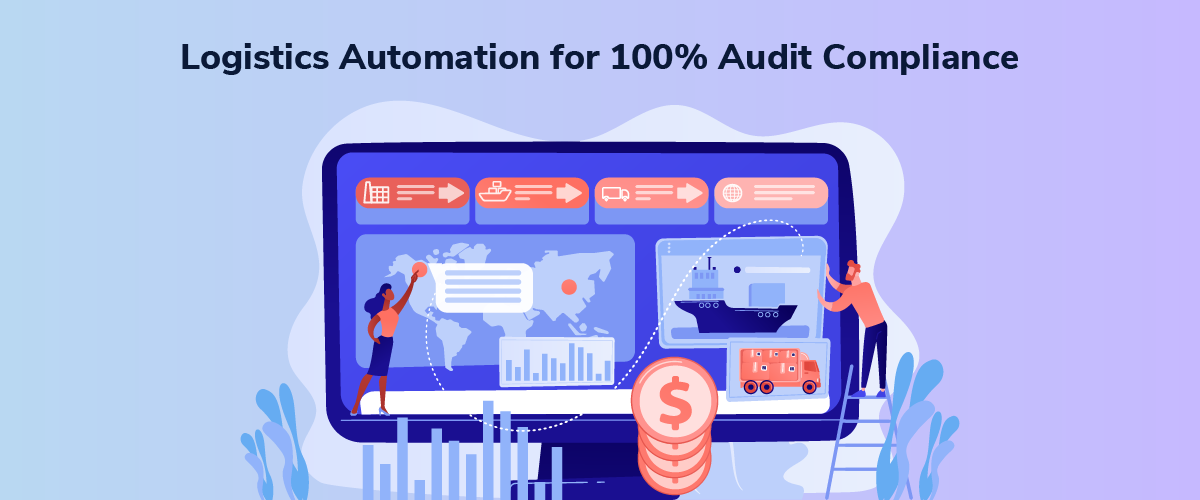 The purpose of a logistics audit is righteous. To assist organizations in transparent and fair freight negotiations, vendor selection and identifying areas where efficiency can be improved with Logistics Automation or process optimization. The righteousness of the purpose is, however, directly proportional to the ruthlessness of the process.
How often do these queries hit your mailbox?
"Sir, out of 21688 shipments dispatched last year, 9834 were not dispatched at the lowest quotes. Reports stating the market quotations received for these shipments, methods of negotiation adopted and dispatch reasons at higher quotes would be expected by Monday morning."
Quite often! Isn't it? Hence, Who likes audits? No One Except the Auditors!
All the objectives of the logistics audit dissolve to become a high voltage grilling for the internal logistics team in the absence of any Logistics Automation. More so if the company operates in the Spot Procurement market. In such a case, for each inquiry, one deals with several vendors, takes quotes, and negotiates for the best rate over emails, WhatsApp and phone calls.
Moreover, the maintenance of several rate sheets, rate comparison sheets, a compilation of approval documents, etc., makes it a riddle-like task to review with a limited audit trail.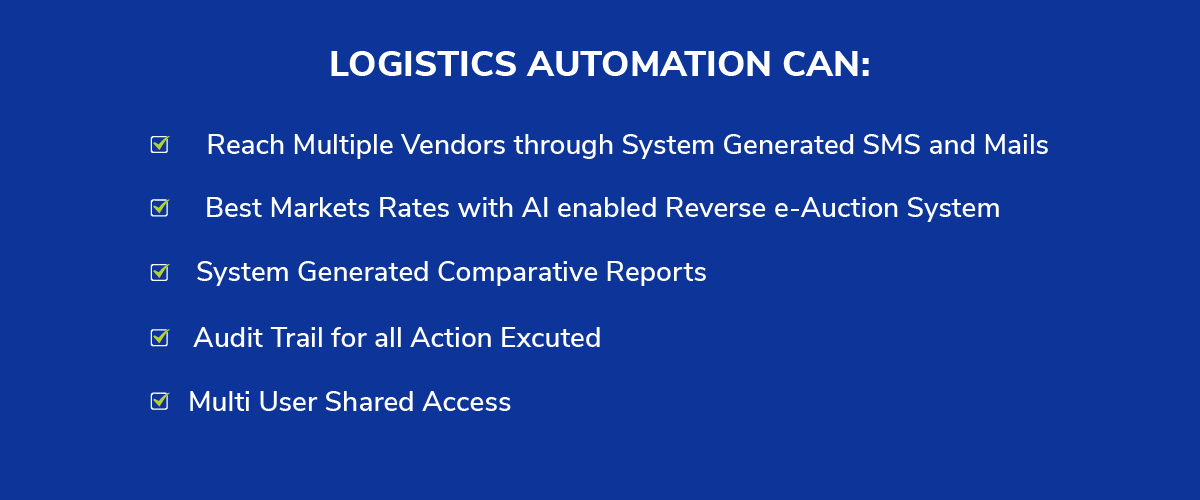 Recollecting the same matrix of sheets, documents, email trails, WhatsApp and phone calls after 6-12 months for audit consumes a mammoth volume of mind, space and man hours. The process brings many uncomfortable questions for the logistics team, which only logistics automation can address.
In most cases, even though it's an ordinary course of business, explaining it becomes ridiculously difficult. Hence 100% logistics audit completion becomes near to impossible. The auditors always seek data that is nowhere to be found! All credit to the constant pressure on the logistics teams to decide quickly and dispatch fast and the manual bottlenecks around recording and reporting.
Digitalization & automation impact on logistics audit
Digitalization & Logistics Automation have made logistics management simpler and 100% transparent freight negotiations (including Spot) a reality for manufacturers. With plug-and-play AI-enabled freight negotiation and transport management systems, operations are executed in a controlled and transparent environment. So it can bridge most gaps in manual logistics processes and improve employee productivity. With Logistics Automation, the struggle to achieve 100% logistics audit compliance vanishes as the system discovers and delivers all the answers.
SuperProcure is an automated freight negotiation platform that maintains a complete audit trail and makes logistics operations and audit compliance super-efficient with features like:
Equal opportunity for all registered vendors to participate in programs and zero communication gaps ensured with email, SMS & mobile notification.
Direct quotes from the transporters through the system, overcoming the need for emails, phone calls, WhatsApp, etc. Hence, a 100% trail is maintained, unlike the errors or gaps that occurred over emails/ phone bids.
Get the best rates in a given time frame with a psychologically designed automated rank-based reverse auction.
Instant recording of reasons for deviations during allocation or bidding, such as allocation to L2 or cancellation, for future records.
System Generated comparative reports with zero typographical error and for a smooth verification at any time.
Audit trail with a log of every action taken by any user on the platform.
Multi-user Shared Access for real-time or periodic audits.
So, implement SuperProcure and next time when such queries hit your mailbox, write back-
"Sir, for each case, the audit report captures the reasons for not allocating the program to the lowest bidder. I am sharing the access credentials of our freight management platform, SuperProcure. You can see the audit trail and resolve all queries with a few clicks."