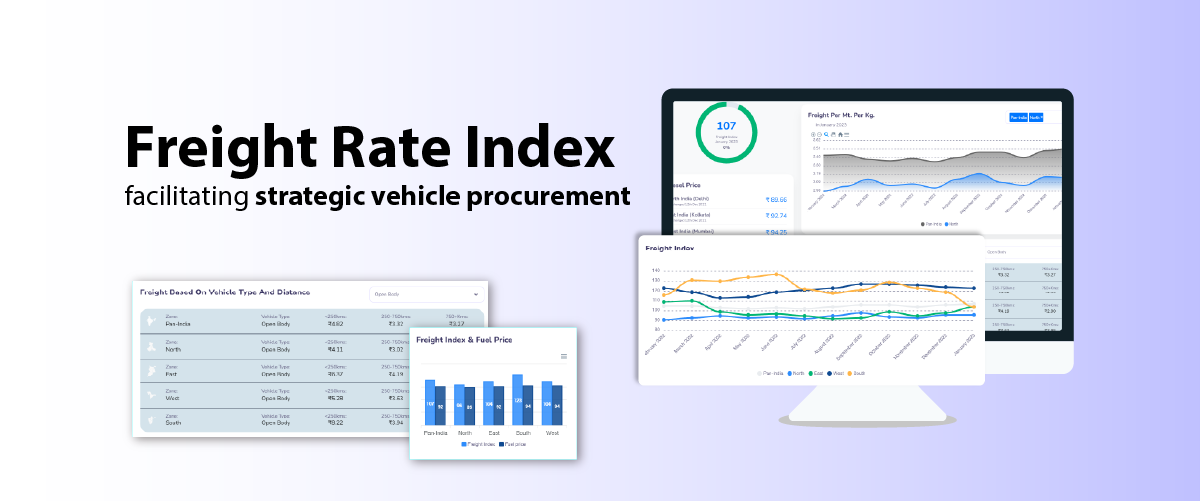 The dynamic industrial environment calls for strategic assessment and comparison to regulate freight cost control and management dynamics. Calculation of freight charges for each lane helps shippers understand the prevailing rates, stabilize their current freight spending and reduce them at set intervals.
The competitive industry setups require practices beyond historical freight costs and freight bill reviews. Thus, freight benchmarking is influential in maximizing logistics profit with effective freight cost management.
The purpose of freight benchmarking

Freight benchmarking typically refers to comparing the freight charges incurred by an organization to the prevailing market rates for each shipment. The primary goal is to gain insights into the freight costs of other market players for strategic negotiations.
Regardless of the number of shipments, the benchmarking practices empower businesses with optimum cost management and, therefore, help them yield operational cost savings. Today, leading enterprises recognize Freight Rate Index as a data-driven benchmarking tool across all industry verticals.
Freight Rate Index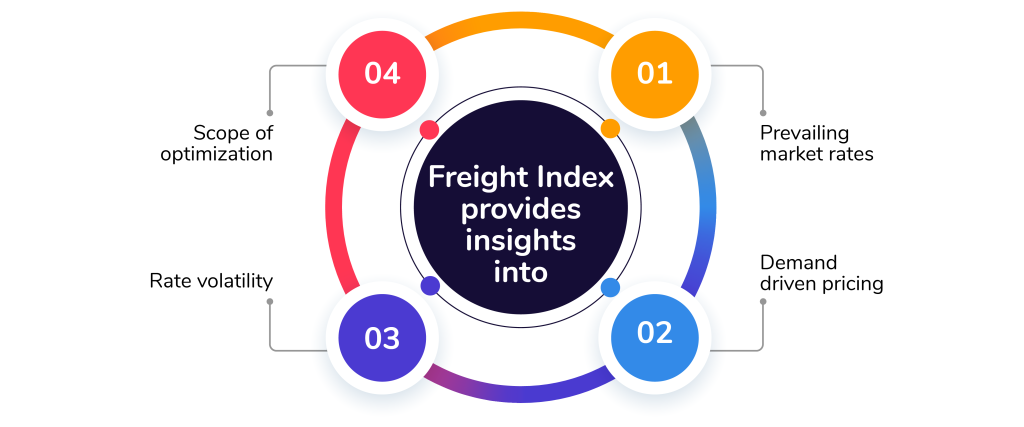 A Freight Index is based on the current industry freight calculation data from all trading parties, including carriers, shippers and brokers. This data determines the benchmark rates for individual freight routes. It reflects informational consistency, data value, demand-based pricing, rate volatility and the scope of optimization.
Besides, it enables transparency into the movement of the freight market and helps freighters identify the peaks and troughs.
The role of Freight Index in logistics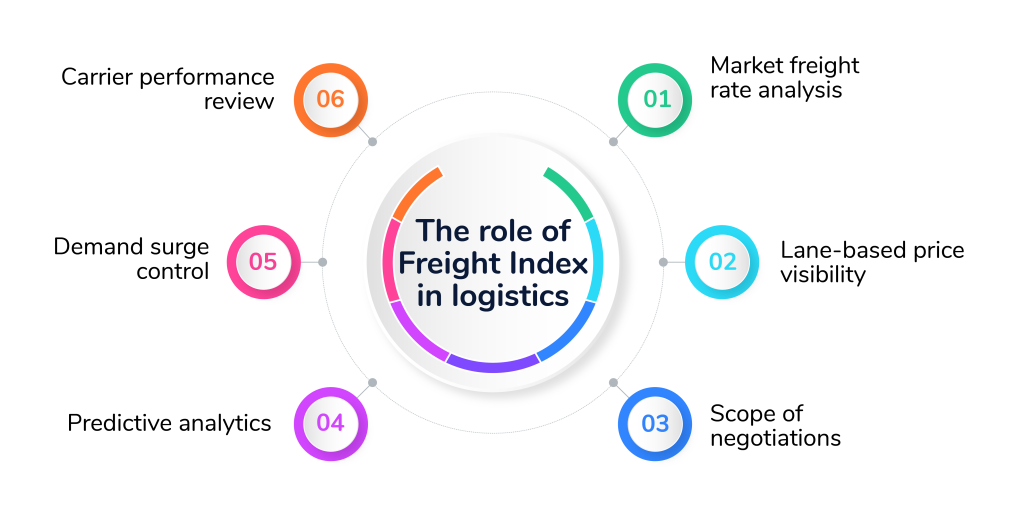 The Freight Rate Index compiles real-time data to help businesses assess freight procurement costs and strategies and improve them per industry standards. The Index equips freighters to benchmark their freight costs with:
The market freight rate analysis
Evaluating the average shipping freight rates allow shippers to justify their freight spending. The difference between the average and the company's contracted rates helps the freighters assess their savings/ losses. This data is used to plan, adjust or optimize their freight spending to gain a competitive advantage.
Lane-based price visibility
Visibility into a particular lane's current and historical freight pricing is critical to cost control. The freight cost calculator for unique geographic regions, vehicle types, zone and distances enables shippers to set target rates for each vendor. Evaluating the predefined pricing prevents unreasonable cost incurrences for a given lane.
Scope of negotiations
In a volatile freight market, rates tend to escalate unexpectedly. The freight lane Index enables shippers to evaluate the transporters' quotes to map the scope of negotiations at a given time. Access to the benchmarked rates helps shippers negotiate effectively to get deals with competitive freight rates.
Predictive analytics
Insights into the real-time market rates empower logistics with forecasting accuracy. This data is used to derive future trends, escalations and rate fluctuations to respond to unforeseen events or crises. It indicates the flow of standard pricing, helping organizations adjust their procurement targets and budget as per the prevalent benchmark.
Demand surge control
Freight Rate Indexing improves cost control over demand surges. Data points and historical freight insights enable shippers to analyze and predict the peak seasons that affect industrial shipping freight rates. The benchmarking strategy improves cost management, ensuring the organization does not incur critical monetary losses in the near future.
Carrier performance review
Freight Index focuses on freight history, current pricing and carrier performances. These reports highlight whether to opt for contract rates over spot rates for the shipment. Benchmarked analytics enable shippers to build optimum vendor selection strategies, enhancing freight procurement efficiency.
Freight Indexing Tool
Today, freight costs are an influential KPI in logistics dictating its profit metrics. In the era of digital adoption, SaaS TMS-driven Rate Index with shipping cost calculator catalyze freight procurement efficiency with data-driven decision-making, competitive freight rates, reduced transportation costs and budget compliances. It enables multi-facet competitive advantages, helping shippers leverage accurate data analytics and automation-driven comparisons, optimizing the overall logistics performance.