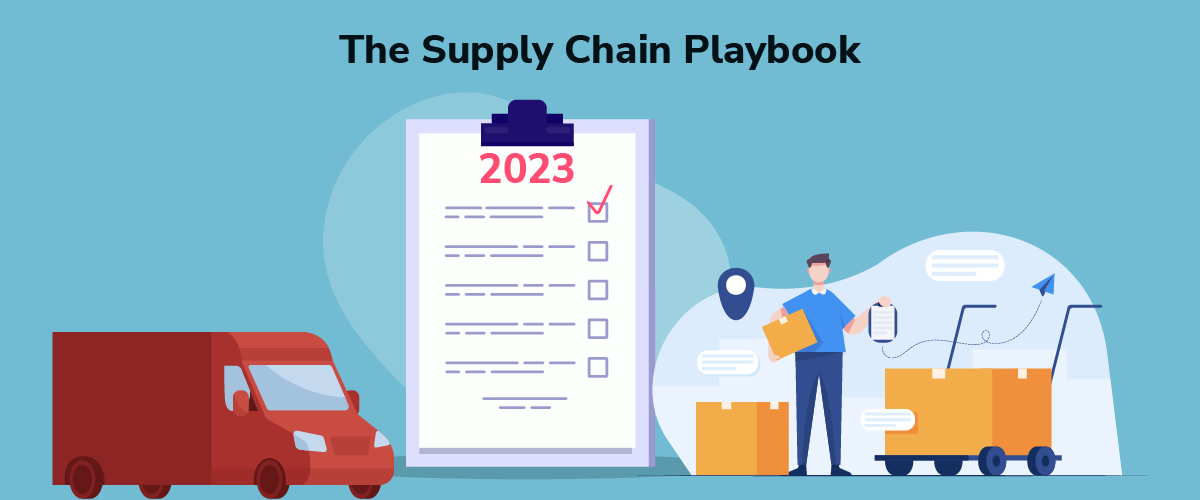 The global supply chain has been evolving rapidly and will continue to do so in the upcoming years. The supply chain has witnessed a surge in threats and disruptions in the last five years, pushing businesses to redefine their logistics strategies. These strategies rely on the rise of technology across warehousing, inventory management, transportation and supply chain networking.
Experts have predicted that 2023 logistics will continue to see an upsurge in digitization and sustainability. This supply chain Playbook highlights some notable logistics trends to consider in the upcoming year.
Trends in global supply chain 2023
A resilient supply chain is a significant milestone for businesses, and logistics strategies for 2023 should comply with it. After analyzing the past and future reports, logistics leaders have foreseen the following trends to prevail in the upcoming year.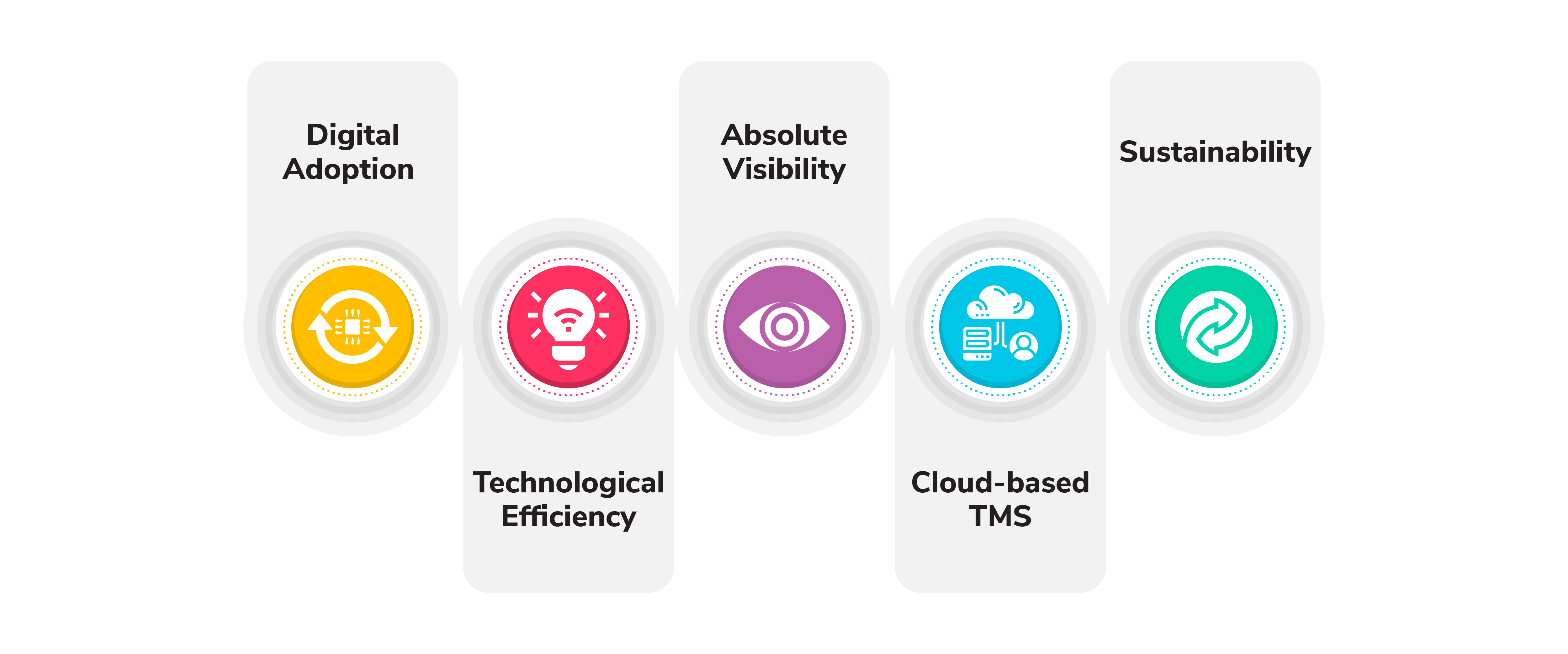 Digital adoption
Leading enterprises are adopting digital logistics solutions to improve logistics performance. These solutions transform the supply chain workflow with benefits like:
Paperless data and reports
Digital data storage and management are replacing the traditional modes of physical documenting. Logistics managers can digitally store crucial data like transporters' contracts, POD, eLR reports, driver's licenses, freight invoices, etc. Paperless data ensures seamless exchange, centralized control and easy access.
Real-time collaboration
Digital collaboration in logistics bridges critical gaps and ensures resilience across a vast network of stakeholders. Modern businesses opt for holistic collaboration with better SCM networking, real-time communication, instant data exchanges and zero manual follow-ups.
Digital analytics and dashboards
Digital logistics platforms enable real-time analysis and dashboards, preventing human errors. Digitizing crucial data analysis like transporters' performance, historic freight logs and indent allocation drives strategic decision-making.
Automation-driven processes
Digitizing adoption automates the entire workflow, reducing manual workload and time consumption. Digitized process stages provide a competitive edge with better TAT, higher employee productivity, faster claim redressals, zero human error and SOB compliance.
Technological efficiency
Reports published by McKinsey Global Institute, the transportation and warehousing industry has the third-highest potential for end-to-end automation. Technological breakthroughs like AI and ML are substantially impacting the current logistics landscape. This impact can be traced across all logistics units:
Transportation planning
AI/ML-powered supply chains enable businesses to map their future shipping needs, freight lane indexes and expected freight price fluctuations. It allows the enterprise to pre-plan the transportation demands, ensuring a competitive advantage.
Resource utilization
AI-driven models enable predictive capacity matching, enabling efficient resource planning. It helps logistics experts position their human and physical assets strategically across the distribution network.
Inventory management
This management vertical involves strategic evaluations and data visualization. AI algorithms analyze multiple variables and provide precise instructions on the supply-demand scenario, preventing overstocking.
Demand forecasting
AI/ML platforms align real-time data with past trends for predicting the yet-to-come demand picture. It ensures low operational and warehousing costs and improved customer experiences.
Absolute Visibility
Supply chain visibility (SCV) refers to the operational transparency in the entire logistics workflow- from procurement to delivery. It allows all stakeholders to stay on par with the in-process activity, ensuring better control and management. Improving the SCV will empower organizations with the following:
Risk mitigation
Visibility into the supply chain operations allows the logistics teams to identify the existing and potential risks. They can trace the source of the bottlenecks and resolve them accordingly, preventing significant losses.
Data-backed control
Data and analytics are critical to supply chain visibility. Real-time data insights on escalations and deviations in the workflow ensure strategic control. Data-backed incident management improves customer satisfaction and reduces detention.
Better agility
Visibility is a significant contributor to logistics agility. It helps the organization to map the industrial standards, assess their logistics workflow and improve the processes accordingly. An agile supply chain unfolds various competitive advantages.
Faster cycles
Visibility helps the organization stay at par with the subsequent operations. Stakeholders do not need instructions to move to the following process stage, reducing process redundancies and follow-ups. As a result, the execution cycles are faster.
Cloud-based TMS
Cloud-based TMS solutions are dominating the logistics sector and shall continue to do so in the near future. They are a powerful catalyst for logistics growth, efficiency and profitability. A technologically competent SaaS TMS can empower business logistics with:
Data management
Cloud-based documentation ensures simplified data access and holistic management. Customizable access rights enable secure business insights with real-time analysis and dashboards.
360-degree visibility
Efficient TMS solutions capture all activities in real time. Stakeholders across the logistics network can use these insights to improve efficiency. Instant digital alerts upon deviations help the logistics team address them, ensuring better control.
One-window collaboration
Digital TMS enables real-time collaboration across the supply chain network. A single-window platform for communication and data exchanges improves process execution, reduces manual follow-ups and streamlines the workflow.
Scalability
Logistics TMS solutions are scalable in nature, meaning they can adjust their performance per the dynamic requirements. An efficient solution allows the enterprise to stay at par with new industry trends, demand shifts and rising competitiveness without losing logistics efficiency.
Sustainability 
Supply chain sustainability refers to its ability to transport shipments while upholding environmental and societal values. Today, all leading businesses aim for a sustainable supply chain with financial, social and environmental responsibilities. Four effective strategies for sustainable chain management are:
Carbon footprint control
Reports state that a consumer company's supply chain accounts for 80% of the greenhouse emissions. Proactive strategies are to be implemented to reduce the percentage of carbon footprints- space utilization, reusable packaging, cutting CO2 emissions, etc.
Route optimization
Industry leaders are opting for AI-driven route optimization strategies to reduce fuel usage. It helps organizations map the shortest routes for shipping with minimal congestion. This results in low fuel consumption, carbon emissions, and better vehicle utilization.
Technological initiatives
Intelligent technologies like ML, IoT and Blockchain add value to the supply chain sustainability in multifold. Its intelligent, collaborative and predictive features enable process optimization, waste reduction, paperless data flow and better resource management.
Electric fleet
Electronic vehicles (EVs) are a powerful alternative to the traditional fleet in logistics. Global industrialists are purchasing electric fleets or collaborating with EV vendors, ensuring a greener, eco-friendly, fuel-free and responsible supply chain.
Meeting the upcoming goals
In summary, the upcoming year calls for proactive roadmaps and better value additions to the supply chain. Organizations shall be prepared to fulfill their short-term and long-term goals in a competitive and fast-paced industry. This requires functional strategies, collaborative approaches and expert-led initiatives.