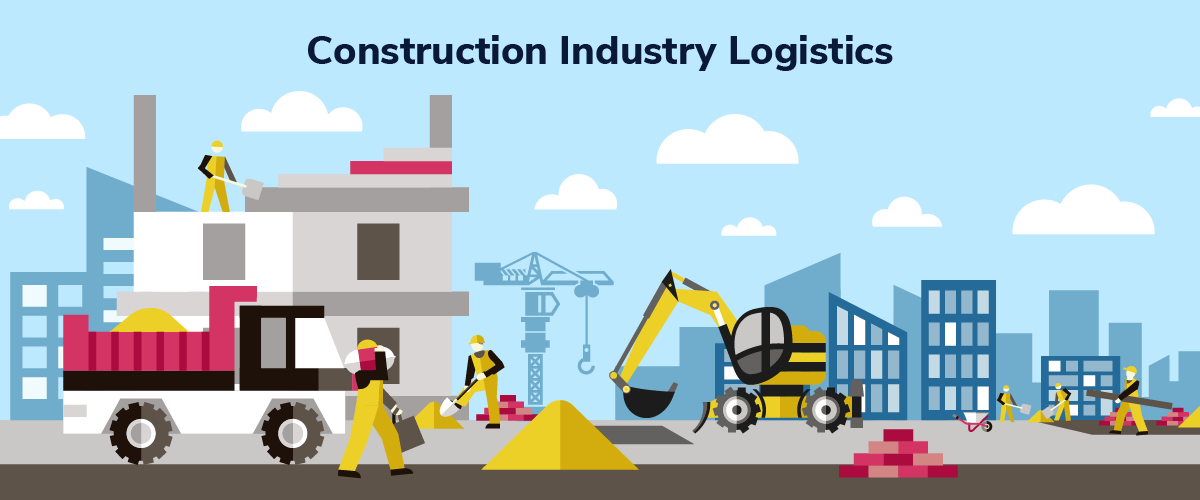 Material procurement, planning and collaboration have been one of the most challenging tasks for construction site managers. A delay in material delivery leads to overall project delay. The significant challenges leading to project delays are from last-moment delivery delays to a need for more transparency, visibility, and collaboration in the procurement process. However, a construction project manager can easily overcome them with an excellent construction-site logistic plan. Advanced digital logistic management solutions play an essential role in the on-time completion of a construction project.
Here in this article, we will discuss the top 5 challenges the construction industry faces. Find how an efficient TMS solution can help counter them, ensuring on-time project completion.
How does logistics play an instrumental role in Construction project management?
Logistic management in construction involves controlling, planning, and executing material procurement and transparent resource management. There are various materials and numerous suppliers involved in a construction project.
Material procurement consists of purchasing and getting timely delivery of the materials required for a construction project. Inefficient collaboration on specialized equipment and loading and unloading arrangements often leads to increased TAT and delays.
Every project manager needs a well-coordinated delivery timeline to keep the construction projects running. A construction site manager is also responsible for creating an efficient work environment with overall visibility and approval processes. There should be complete clarity on the movement of vehicles, materials, and people management in and outside the construction site.
According to a report by Mckinsey & Company, 98% of construction megaprojects experience cost overrun and a total of 80% of average cost increase over the original project budget. Inefficient logistic planning has to take a significant share of the problem regarding cost overrun or average cost increase in construction projects.
Construction sites need heavy-duty and valuable equipment, materials, and tools to be delivered on schedule. If there is a lack of collaboration or you cannot track your freight to your construction sites, it can lead to several problems. Just because of delayed delivery, often the whole work gets delayed. And suppose your organization is handling multiple projects on several sites. These minor delays and the cost incubation may take a toll on the business's overall profit.

However, logistic management software like SuperProcure TMS solutions helps you digitize the process providing 100% visibility and user management control with complete data management making it 100% audit compliant.
What are the top 5 logistics challenges faced by the construction industry?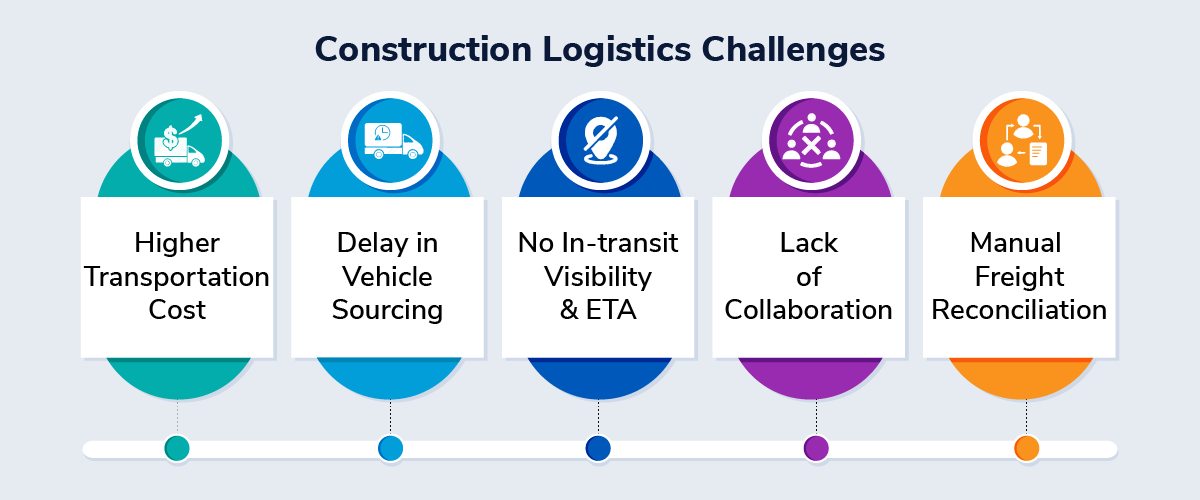 Logistic management is an integral part of a construction site. The challenges construction industries face majorly related to poor logistic management affecting the project differently. Here is a glimpse of the significant logistic-related problems the construction industry faces.
Higher Transportation Cost
Material sourcing on short notice in construction businesses becomes a challenge for procurement heads. When there is an urgent need for replacing equipment on site or specific material requirements or machinery requirements, the unavailability of vehicles results in a loss of labor productivity on site. Often the problem is not the unavailability of the material but the unavailability of the right vehicle to source the material. Issues such as driver shortages for spontaneous movements or a remote site location add up to higher transportation costs.
Vehicle Sourcing Delay
On-time vehicle sourcing is crucial for Adhoc material movement and thus directly contributes to timely project completion. Vehicle sourcing delays can impact the delivery time resulting in poor human resource management. E.g., if a construction site does not have the material or equipment to work with, the workers won't be able to perform to their best potential. However, the contractor and the business need to pay the contracted wages no matter what. That's how a delay in vehicle sourcing contributes to the loss of employee productivity and incur higher cost.
Lack of in-transit visibility and Inappropriate ETA
Constructions sites without a digitalized logistics management system lack visibility of materials while in transit. Lack of in-transit vehicle visibility leads to stakeholders' confusion, approval delays, and unprepared site arrangements. Reasons may be intentional or unintentional driver delay, improper driving behavior, and ideal time at loading and unloading points.
In the complete process from procurement, inspection, space, unloading equipment and human resources, there are numerous coordinations that site managers need to take care of at a granular level. A well-maintained ETA(estimated time of arrival) helps construction managers stay sorted with their operation management.
An inappropriate ETA increases labor idle time, thereby raising project costs. Moreover, big construction sites receive materials in large freights with multiple trucks. Thus, managing in-plant vehicle movement becomes difficult with inappropriate ETA.
Lack of Collaboration
Maintaining a healthy relationship with the vendors and all the stakeholders related to the project is crucial for the on-time completion of a construction project. However, a lack of collaboration often leads to better communication, clarity, and understanding between the vendors and stakeholders.
From freight sourcing to indent allocation, miscommunication between the on-site logistic team, central procurement team, supplier, and transporter can ruin the whole process. That's why construction businesses need to establish practical communication modules and eliminate the lack of collaboration in the system.
Manual Freight Reconciliation
A construction business has to maintain much paperwork, from vendor quotes and procurement invoices to waybills and fuel invoices. Construction managers, procurement heads, and accounts audit teams often need to opt for manual account reconciliation. The manual storing and reconciling of all these bills need more standardization and transparency. Manual invoice reconciliation depends heavily on human efficiency. It, therefore, is prone to errors that can lead to incorrect, duplicate invoices leading to overpayments. In fact, as per a research published in Global Trade Magazine, an estimated 5-6% of freight invoices are incorrectly calculated.
Learn more about how SuperProcure is helping in Improving Indent to placement Stakeholder Collaboration
How to improve logistic management for the construction industry?

The easiest way to improve logistic management for construction companies is to use transport management software (TMS). A logistics management system empowered with automated digital tools for freight sourcing, indent allocation, unified collaboration channels, real-time ETA calculation, in-plant vehicle management, automated account reconciliation, and more.
Digital transformation empowers construction project managers by automating the whole process of logistics management, making the process more efficient and hassle-free.
Reduce Freight Cost
Digitalizing your logistics operations will enable logistics team to digitally float their load requirements, reach multiple transporters with one click, and conduct transparent negotiations with carriers. This will help you save freight costs. Moreover, with the right data analytics, you can identify vendors, routes and carriers that help you save money.
Faster vehicle sourcing
A futuristic logistic management solution offers spot freight sourcing features where you can float e-inquiry for vehicles within minutes and receive quotes in real-time. Hence, on-spot vehicle sourcing becomes easy and convenient.
24×7 In-transit vehicle tracking
Gone are the days when procurement heads had to depend on manual updates from the driver and other transportation stakeholders to know about vehicle positioning while in transit. Transport management software uses both GPS-based and SIM-based tracking systems to update you on the in-transit vehicle movement.
Real-time collaboration
A state-of-the-art logistic management system comes with a unified communication channel that improves stakeholders' collaboration. Not only that, but TMS sends automated updates through email notifications, texts, and push notifications to keep all parties informed about the delivery status.
Cloud ledger
A cloud ledger where you can keep track of all your expenses helps you to manage the project better. Also, you can stay aligned with the budget. LMS offers e-ledgers with admin-based access mapping to store essential logistics documents. Also, it has automatic indent allocation and invoice reconciliation tools to make the logistic operations in construction sites transparent.
Conclusion
That's all. Now that you know what top logistic-related challenges the construction industry face and how to bypass them, you can ensure on-time project completion with better ROI.
With SuperProcure, stakeholders at EPC and construction projects can have a one-stop window for scheduling, execution, proof of delivery, data management, dashboards, reports and more.

'Want to know more about the SuperProcure transport management platform?' Book a Demo with Us!