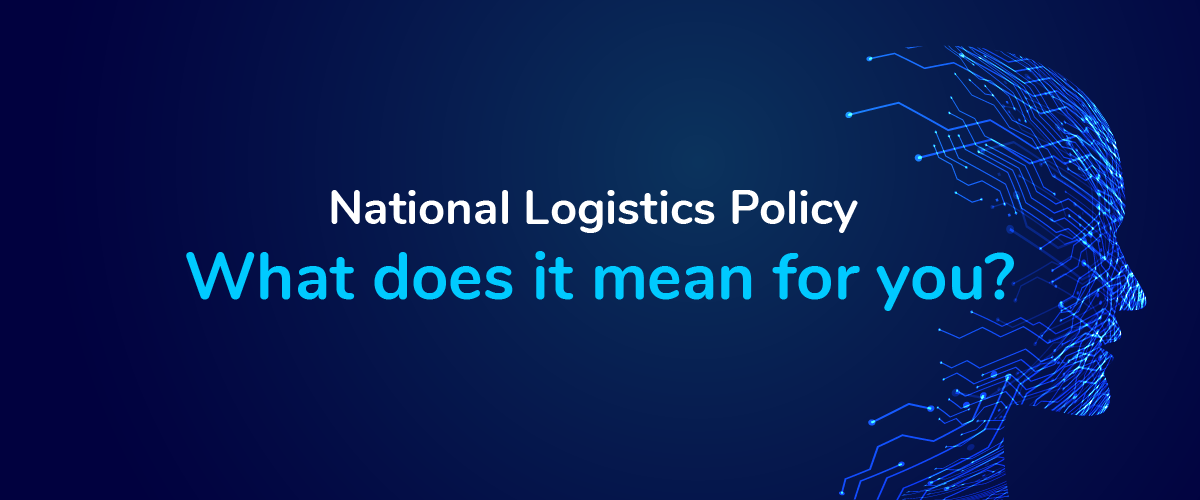 The Indian logistics industry is proliferating after the Covid-19 breakout and is expected to reach USD 330 billion by 2025, per a report. The sector in India employs more than 22 million people and has been ranked 44th in the World Bank's logistics performance index in 2018, which was 54th in 2014, which shows its promising journey over the last couple of years.
Noting that logistics costs in relation to GDP are an indicator of how efficiently businesses can operate and how competitive India is in terms of transportation infrastructure and freight management, the report stated that logistics spending contributes to 14% of India's overall GDP, which is significantly higher than the average logistics costs of 8%-10% of GDP in most other comparable economies. The largely unorganized and fragmented sector has contributed to the country's growth, but its structural fragmentation has been neglected for far too long.
The release of the National Logistics Policy (NLP) on 17th September 2022 is the right step at this point in removing those inefficiencies. It comes with a particular emphasis on streamlining processes for seamless coordination and reduction in overall logistics cost, besides pushing employment generation, skilling the workforce, and moving towards making it an organized sector.
Along with the PM Gati Shakti National Master Plan, the policy is expected to encourage greater collaboration among ministries and departments.
The National Logistics Policy -Vision
The National logistics framework seeks to address challenges facing the transport sector, lower the logistics cost for businesses and promote a seamless movement of goods across the country. It caters to the key stakeholders across the country's vast yet fragmented logistics landscape and provides a comprehensive agenda to develop the entire logistics ecosystem with two significant visions:
To reduce the logistics cost in India to be comparable to global benchmarks by 2030 by lowering logistics cost in India by 5% of GDP
To improve the Logistics Performance Index ranking, to be among the top 25 countries by 2030
To create a data-driven decision support mechanism for an efficient logistics ecosystem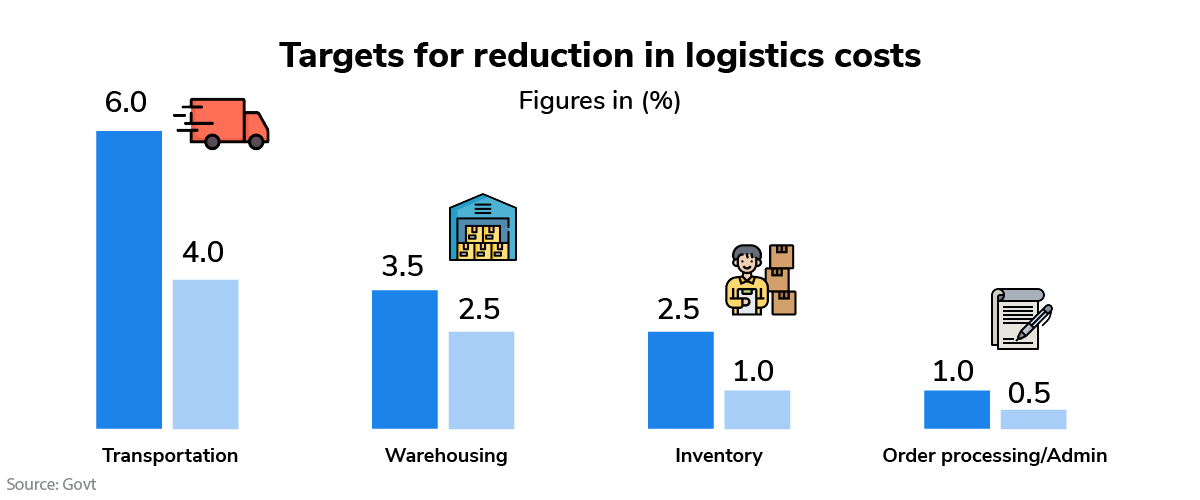 The policy focuses on critical areas such as process restructuring, digitization, and multimodal transportation. The mega policy vision was a necessity and a crucial decision in the sector, as high logistical costs were impacting the competitiveness of domestic products in the international marketplace. Reports suggest that higher logistics cost is leading to a competitiveness gap of $180 billion for India, and the difference will increase to $500 billion by 2030.
"Reduced logistics cost and increased logistic efficiencies will energize the economy across sectors in multiple ways and take us many steps closer to emerging as a global manufacturing powerhouse," Chandrajit Banerjee, Director General of CII.
The policy includes four features that will be implemented through the Comprehensive Logistics Action Plan (CLAP):
Integration of Digital System (IDS)
It will integrate digital data belonging to various ministries on one platform, helping in smooth cargo movement. This will cover 30 systems of seven departments, including road transport, railways, customs, aviation, foreign trade, and commerce.
Unified Logistics Interface Platform (ULIP)
The ULIP will bring all the transportation-related digital services to a single portal and provide high visibility across the whole ecosystem. There are three key components which are defining the ULIP platform:
Integration with existing data sources of ministries
As authorization, compliance and clearance are some of the critical logistics activities, the integration with data points of ministries shall enable a holistic view and interlink the handshaking points.
Data exchange with private players
To enable the private players, logistics service providers, and industries to utilize the data available with ULIP and at the same time share their data (transportation, dispatch, and delivery) with ULIP, thereby streamlining the processes to bring better efficiency through data exchange.
Unified document reference in the supply chain
To enable a single digitized document reference number for all the documentation processes in a single platform.
Ease of Logistics (ELOG)
ELOG is a digital dashboard that the industry department is developing for registering, coordinating, and monitoring time-bound issue resolution. It will include timelines and the status of the solution.
System Improvement Group (SIG)
This policy feature will monitor all logistics-related projects regularly and help businesses tackle obstacles.
How will the transporters & manufacturers benefit from the policy?
The policy will be largely beneficial for the transporters and manufacturers in the logistics industry. It will provide a much-needed flip to export growth, allowing the Indian logistics economy to expand its footprints globally. Here are a few benefits, keeping the industry stakeholders in mind-
The policy covers access to FastTAG data for truck movement, railway movement data, and Exim container movement data will bring comprehensive visibility of the materials on the wheels. This will help better the planning of inventory and improve customer service.
The NLP will include the Unified Logistics Interface Platform, which would unify online transportation services into one unified platform, saving exporters time and resources and providing them with end-to-end visibility for the efficient movement of goods in the logistics life cycle.
The Government, both at the center and state, would prepare a master plan for logistics that will cover projects planned by different ministries to ensure multi-modality, optimal modal mix, and address first and last-mile connectivity. This will help improve the penetration of multimodal transportation, which will help reduce costs and save time in transshipments.
Using a single platform for the shippers and transporters to validate credentials for trucks and drivers using integration. This will help reduce theft and misrepresentations and improve trust in the ecosystem.
As an extension, it would pave the way for smaller fleet owners to work seamlessly with other stakeholders. The trucks which earlier used to return empty due to poor visibility of orders have also started finding loads for the back trip. The industry would also benefit from lower freight costs.
The policy also makes way for a framework to set up Multimodal Logistics Parks (MMLPs), which states and central ministries will adopt. This aims at the seamless integration of various modes of transport.
A framework will also be put in place for accelerated warehousing development, which will address critical aspects, such as–standards, benchmarking and rating, and adoption of technology-enabled solutions. This will improve the ease of doing business and reduce operating costs.
E-Log will enable stakeholders to reach out to the Government directly through a single window and help reduce issues resolution time.
Conclusion
In the past few years, there has been a paradigm shift in the logistics industry with the use of technology. The National Logistics Policy is one of those transformative approaches for the country's logistics sector, which includes 20 primary and 40 subordinate government agencies. 50 IT centers, banks, insurance firms, 37 export promotion committees, 200 shipping companies, 36 logistics services, 129 inland container depots, and 168 container freight terminals. The policy will bring ease of logistics and enable businesses to immediately contact government agencies to ask questions and complain.
The response from stakeholders has been positive, and the policy will play a crucial role in enhancing visibility for customers and enabling logistics companies to adopt digitization on a much larger scale. More notably, the policy will spur investment across the logistics sector.
SuperProcure, designed to create a seamless logistics process in the country, envisions creating its mark in the world of Supply Chain Management and looks forward to adding value to the Government's initiative to welcome end-to-end technological advancements in logistics. Our focus on digitizing and automating processes will help all stakeholders in the logistics life cycle to achieve business objectives and help them make informed decisions, paving the way together for a brighter future. To encourage more and more manufacturers and industries to adopt technology without having to worry about the budget, SuperProcure has launched the #Freedom75 offer to encourage shippers to embrace digitization. SuperProcure will provide a 75% discount to the first 750 Manufacturing, Engineering & Construction Companies for the "Spot Freight Sourcing Starter Plan" to help you reduce your freight costs, boost employee productivity, fasten decision-making cycles and improve transparency across multiple layers. Learn more about Freedom 75