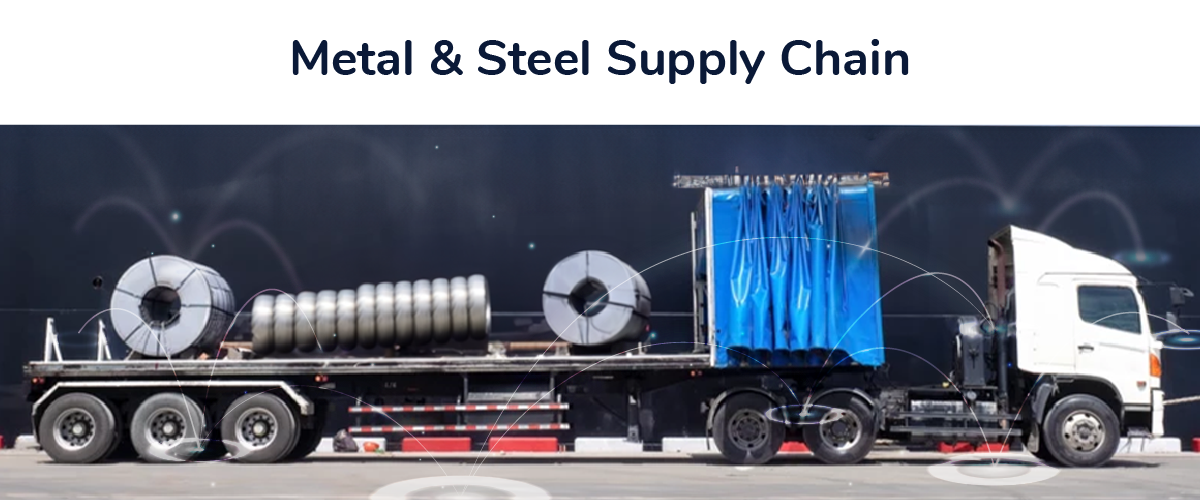 The metal and steel industry is the backbone of the economy, laying the foundation for developing other sectors. Contributing significantly to a nation's GDP, the global steel industry is expected to expand to 2.3 Billion Metric Tons by 2030 at a CAGR of 3%. Thus, manufacturers across this industrial space are trying to strengthen a critical operational area that determines their growth & performance- the supply chain ecosystem.
A strategic logistics agenda is imperative to the metal industry for the sleek transportation of raw materials, manufacturing equipment, and finished products across fragmented geographical regions. Today, digitalization is catalyzing the metal supply chain with automation technology, AI-driven TMS, Machine Learning, and many more.
Let's dive into the underlying reasons that drove metal and steel companies to invest extensively in logistics management technologies.
The current face of the Metal & Steel Industry's logistics
The metal industry's supply chain is volatile, thus requiring businesses to be future-ready with an agile, responsive workflow. Reports reveal that India aims to manufacture 300 million tonnes of steel by 2030, and a seamless logistics module shall play a fundamental role in its journey. Besides, the current industrial space can be identified by the following factors.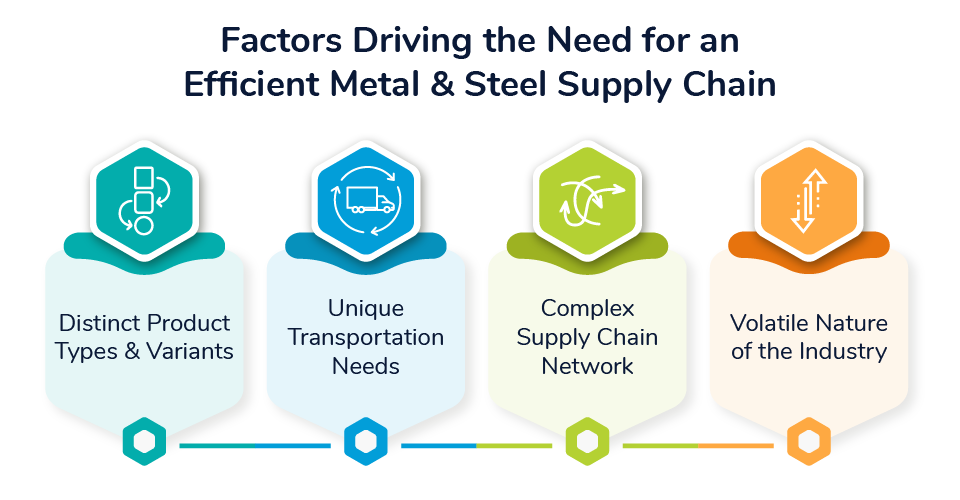 A diverse range of products
The metal industry deals in an inclusive range of products like wires, TMT, sheets, coils, pipes and many more. These products are usually bulky and vary in size, shape, thickness, material, and pricing. They require a lot of storage space, strategic unloading, a distinct mode of transportation,reliable shipping and safety guidelines to prevent critical losses to the company.
Specific transport requirements
The metal industry logistics mainly involves transporting two types of products- heavy and non-heavy. These products can be further classified into raw materials, semi-finished and finished goods. Each category has unique characteristics, thus having distinct freight requirements. For example, heavy ones must be transported in specialized trailers, while non-heavy ones should be in general vehicles.
Complex stakeholder network
The metal and steel supply chain relies on a complex network of stakeholder operations. The network includes suppliers (domestic and international), producers/ manufacturers, carrier partners, customers and end-users. These stakeholders collaborate at every step to ensure seamless process execution and management. Any gap in the collaboration module can result in the collapse of the entire workflow.
Industrial fluctuations
The metal industry is volatile, meaning it undergoes various shifts in trends, demand dynamics, consumer expectations and unforeseen crisis. It implies that the supply chain needs to be agile and responsive to accommodate upcoming fluctuations without hindering business dynamics. Market competitiveness demands strategic forecasting and predictive analysis of forthcoming events.
Challenges facing the Metal & Steel supply chain
Although the current metal and steel supply chain has a promising future, it is still vulnerable to various operational loopholes, mainly due to a primitive workflow.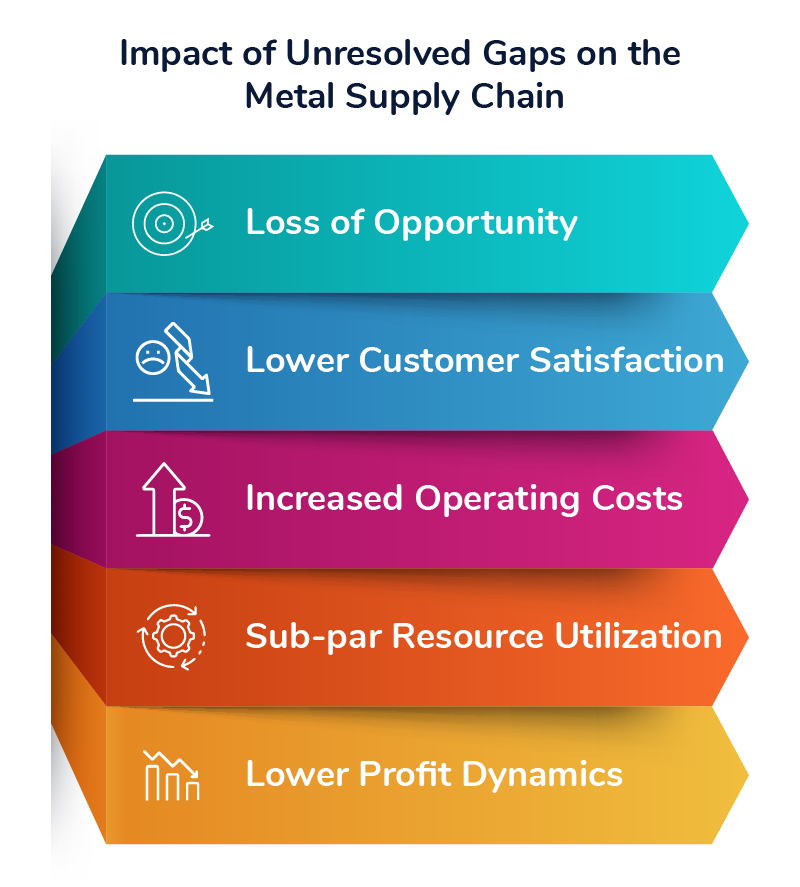 However, the rise of digital SCM across the industry helps businesses overcome these challenges with AI-driven benefits and holistic management. Let's dive into how it is achieved.
Operation
Challenges
Technology-driven solution
Freight procurement

Time-intensive analysis of vehicle requirements for each product shipment
Higher freight rates for ad-hoc spot purchases

Digital procurement platform with auto-load analysis & posting
E-auctions ensure the best freight rates for each lane & special freight requirements

Indenting

Last-minute cancellation result in delays & higher costs
Time-consuming compliance tracking with contract terms

Automated re-allocation to transporters, in case of last-minute cancellations, ensure on-time vehicle placement
Rule-based automatic Order allocation as per contract policies

Multi-plant management

It is challenging to manage multiple plants and BUs
Lack of visibility hinders process transparency & audit trails

On-window management for all BUs & plants enables seamless processes
100% visibility & audit compliance into each operation improve efficiency

Forecasting & route planning

Manual forecasting makes it challenging to predict forthcoming disruptions
Primitive transportation planning results in delays & infrastructural discrepancies

AI-driven predictive analytics provide insights into past and future trends, ensuring data-backed forecasting
Digital route planning & optimization facilitates data across the fastest and most convenient freight routes

In-transit traceability

Lack of in-transit visibility hinders shipment safety & transparency of expensive goods
Manual in-transit monitoring results in delays & increased manual follow-ups

ULIP-based in-transit tracking with accurate data & ETA visibility
Real-time shipment monitoring & vehicle status ensures strategic unloading

Freight settlements

Manual freight billing & settlements are prone-to errors & delays
Time-intensive reconciliation hinders shipper-transporter relationships

AI-driven freight accounting eliminates discrepancies & speeds up the settlement process
Auto-invoice generation & submission improves transporter satisfaction

Collaboration

Fragmented collaboration channels affect operational transparency
Time-consuming communication leads to recurring processes, inefficiencies & gaps

One-window collaboration across all stakeholders improves supply chain transparency & trust
Real-time communication & electronic data interchanges reduce gaps & manual follow-ups
Building an efficient supply chain with SuperProcue
SuperProcure's cloud-based Transport Management System digitalizes the end-to-end logistics workflow, empowering metal companies with an agile, sustainable and efficient supply chain model. It simplifies complex inbound and outbound logistics processes with an array of AI-driven solutions, ensuring transparency as per the following flowchart.
SP logistics management solutions have catalyzed a competitive edge for leading metal & steel manufacturers with transformational benefits like:
Data-driven forecasting
Strategic procurement logistics
AI-backed route optimization and resource management
Freight evaluation accuracy
End-to-end visibility
100% audit compliance and many more
What does the digital future look like?
The metal and steel industry is a hub of growth opportunities and flowing profits and building resilience across its supply chain operations can empower the economy. Integrating digital TMS solutions unlocks myriads of soft and hard benefits for the company, empowering them with a resilient workflow and competitive advantages. Industry experts believe that as more and more businesses across the industry vertical resort to more technology-driven SCM strategies, they shall be set to drive the growth of other significant industries.