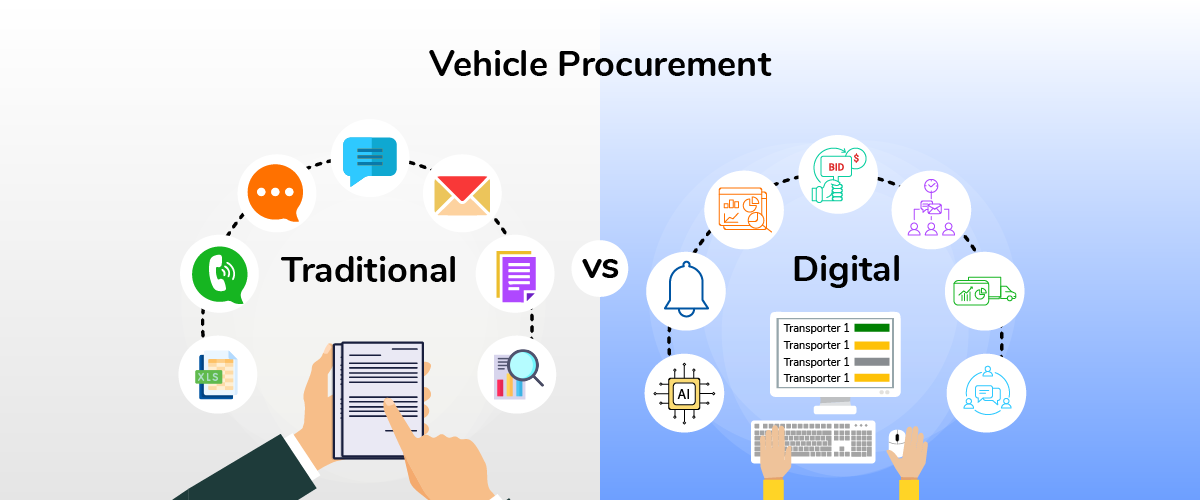 Vehicle procurement has evolved dynamically over the years and supply chain experts believe that strategizing the operation is critical to a successful supply chain. The stage typically involves complex operations like reaching out to carrier partners, freight rate negotiations, managing siloed data and budget planning. Manual execution of these processes affects logistics performance with human discrepancies, delays, budget deviations and sub-par decision-making.
With the rise of digitalization across the logistics industry, manufacturers are investing significantly in building efficiency with digital freight procurement solutions. Automation technology streamlines the processes, providing myriads of value additions like improved carrier-shipper relationships, freight cost reduction, data-driven strategies and competitive advantages.
Automate your freight sourcing and record every vehicle sourcing & negotiation
activities' data in real-time.gets easy access to insights on historical trends, pricing, and bids. SP Freight Sourcing
What factors influenced this shift from a manual to a digital-driven freight sourcing module?
Primitive vs. Automated freight procurement
A traditional procurement module comprises a time-intensive workflow relying on human intervention at every step. In the quest for a 'faster, cheaper and better' operational model, industry experts believe that digital adoption is what the modern supply chain needs.
Let's explore the primary differences between a primitive and digital-driven procurement module:
Differentiator
Primitive
Digital
Reach

Limited reach to a smaller pool of transporters via phone calls, emails, etc.
Time-consuming manual follow ups

Freight e-procurement platform to post load requirements with a few clicks
Reach multiple transporters, eliminating prolonged manual follow-ups

Freight Bidding

Carrier partners revert to the freighters' inquiry via traditional modes of communication
Time-consuming bidding delays vehicle finalization

Real-time alerts to transporters inviting them to submit their freight quotes
Real-time freight bidding bidding resulting in faster vehicle finalization

Freight Negotiations

Time-intensive negotiation process affecting transparency
Siloed activities make it difficult to justify rate escalations
High freight rates

System automation allocates transparent rankings to transporters as per their freight quotes
Transporters can revise their freight quotes, ensuring them an equal winning opportunity & freight cost reduction for shippers
Real-time capture of negotiation activities, enabling easy justification of rate escalations

Data analysis

Manual-driven documentation & insights into transporters' historical data
Sub-par data analysis hindering carrier selection strategies

Real-time dashboards with insights into transporters' historical performance & freight rates
Automation-driven analysis ensures strategic decision-making

Visibility

Sub-par visibility into process stages with manual follow-ups
Limited operational transparency affect execution & risk management

Real-time insights into each process & negotiation stages
Holistic visibility into deviations/ escalations, ensuring strategic execution & control

Collaboration

Coordination gaps with inefficient collaboration model
Communication delays increase vehicle finalization time
Transporters transfer vehicle/ driver's details via emails, SMS, etc.

Seamless communication via one-window collaboration platform
Real-time communication across all stakeholder units
Transporters send vehicle/ driver's details instantly via Electronic data interchanges (EDIs)

Approvals

Manual approvals from the stakeholder units delays subsequent processes

Real-time approvals across all stakeholder units
Automated alerts for pending approvals prevent delays

Freight audit

Sub-par audit cycles affecting overall logistics performance

100% audit compliance enable logistics teams to identify & address prevalent gaps

Transporters' participation

Minimal transporters' participation

Increased carrier participation, improving vendor relationships
Decision-making dynamics: Manual vs. e-Procurement

Decision-making is paramount to logistics operations and strategic freight procurement unlocks many growth opportunities for the organization. Traditionally, logistics managers collected transporters' performance reports and spent hours comparing and determining the most competent one. Manual analysis not only delayed freight finalization but was prone to human errors. Eventually, this resulted in decreased customer satisfaction and inefficient logistics performance in a competitive industry setup.
A digitalized freight sourcing tool offers functional features to empower organizations with data-driven decisions, strategies and roadmaps. They, in turn, leverage a competitive edge with the following benefits:
Improve customer experience
Reports on transporters' previous performances offer insights into their specific communication standards, claims management dynamics, vehicle placement records, responsiveness, OTIF records and efficiency standards. The freighters use this information to compare and choose a suitable transporter for their shipments.
Enhance carrier compliances
Data-backed analysis of transporters' compliance reports ensures informed decision-making. These insights help the logistics team select the best transporter to comply with predefined business policies, Share of Business (SOB), coordination protocols and payment terms, reducing the chances of discrepancies.
Contribute to the bottom line
Real-time data and analytics on carrier rates and rank allocations allow shippers to choose a transporter in terms of pricing parameters. Freight Index tools provide live data on the current freight rate scenarios across geographies, helping shippers evaluate and reduce their freight spending as per industry standards, contributing to the bottom line.
Manage escalations
Data-driven insights streamline the planning stages, ensuring operational transparency. Optimum visibility into the scope of the strategies enables freighters to identify critical pain points and address them effectively. This infuses risk/ escalation management efficiency, preventing significant losses.
Improve stakeholder relationships
Data-driven visibility and real-time analytics build transparency and trust across the multi-stakeholder network. Efficient vehicle procurement strategies bridge prevalent gaps in the shipper-transporter-customer relationships and improve them drastically. This empowers the business with long-term benefits like cheap freight rates, higher vehicle availability and more growth opportunities.
Automate your vehicle sourcing processes from floating a load requirements,
receiving quotes, with automated negotiation using reverse e-auction. SP Freight Sourcing
The journey of freight procurement: From manual to digital
Vehicle procurement operations have come a long way and digital implementation played a substantial role in catalyzing efficiency. A well-defined digital freight procurement tool empowers shippers beyond cost-savings by helping them overcome the challenges in a traditional workflow.
Before digital implementation

Earlier, logistics teams had to undergo tedious administrative and management tasks in silos. Manual documentation and data analysis further added to the complexities, delayed the operational cycles and reduced team productivity. Lack of transparency and visibility into negotiation activities hindered vendor relationships. These challenges affected the logistics budget, agility and performance.
After digital implementation

In contrast, a digital freight procurement solution automates the workflow from posting load requirements to vehicle finalization, expediting the process stages. It eliminates human intervention and discrepancies, ensuring a seamless workflow. Smarter data-driven decisions improve logistics competency and strengthen control. It unifies stakeholder communication via a one-window collaboration platform, enabling better trust-building. Absolute process visibility and e-negotiations empower the freighters with insights into reasons for escalations, enhancing logistics efficiency and budget adherence.