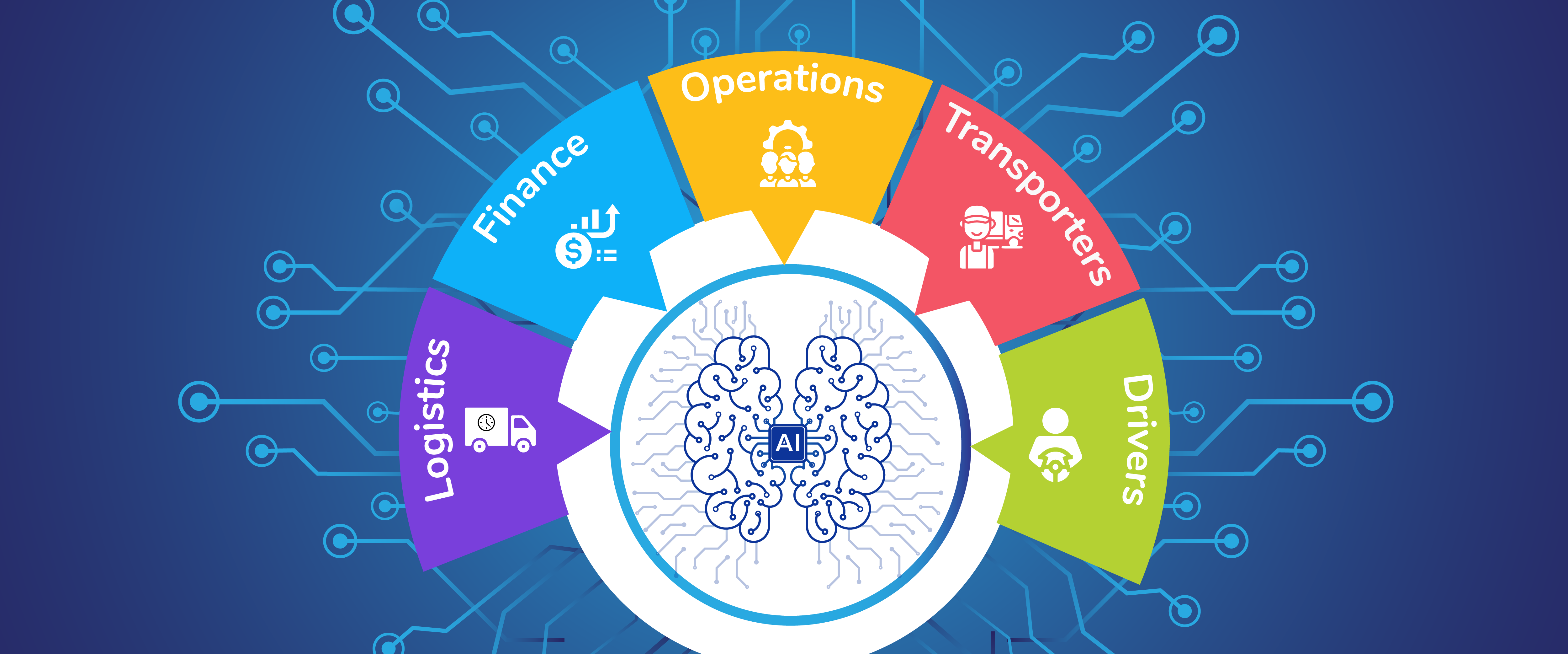 The logistics ecosystem thrives on multi-stakeholder operations. Two key terms that define operational efficiency are trust and shared responsibility among the stakeholders. Real-time collaboration in the supply chain came to play a pivotal role in strengthening stakeholder relationships within and beyond the organization.
The logistics workflow comprises a web of stakeholders working simultaneously and efficient coordination is crucial to the logistics performance in a competitive industry setup. These stakeholders typically include logistics managers, finance teams, operations teams, carrier partners and drivers.
What types of collaboration drive each stakeholder's operation?
Types of collaboration in the supply chain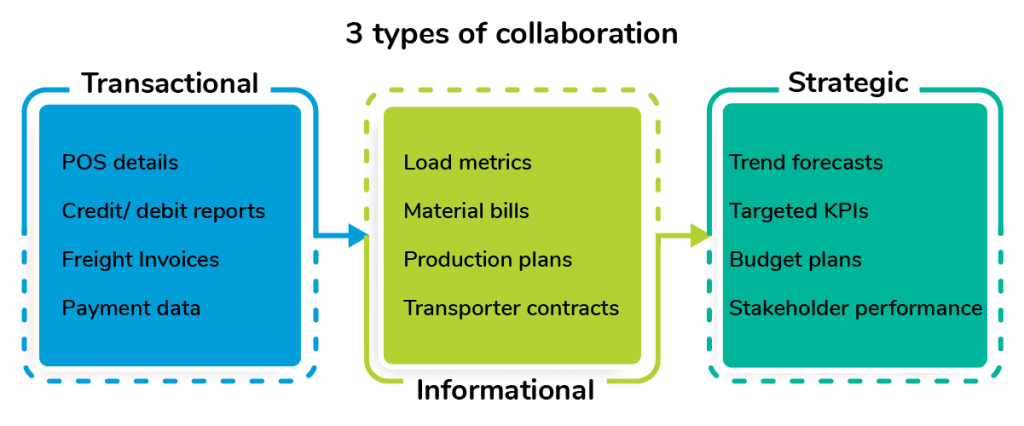 Three types of collaboration approaches drive logistics & supply chain operations. Each one plays a distinct role and complements the other.
Transactional
At this level, the supply chain managers exchange data regarding the day-to-day activities and transactions- Point of Sales (POS) details, credit/debit details, invoices and payment records.
Informational
As the name suggests, the supply chain members share information about each process stage for seamless execution- production & transportation roadmaps, material bills, order reports, manufacturing forecasts, vendor contracts, load distribution metrics, etc.
Strategic
The supply chain managers share data for logistics planning, regulating and addressing the gaps. It involves redesigning risks and reward plans- trend forecasts, relationship highlights, profit metrics, procurement-fulfillment KPIs and budget.
Benefits of real-time collaboration in logistics

Real-time collaboration is paramount to today's logistics environment, where consumers expect performance upgrades from each process. It facilitates instant communication across a complex network to improve the stages and reduce manual follow-ups, empowering the organization with the following optimizations:
Better trust-building
A robust collaboration module infuses transparency across the supply chain. The clarity streamlines communication and ensures that each stakeholder stays at par with the concurrent operations across the logistics network. The insights invite equal participation from the stakeholders, improving trust and relationships. It enables absolute operational visibility into the process stages, reducing manual follow-ups. Collaboration transparency unlocks data-driven assessability of the stakeholders' performances, allowing them to identify and address critical drawbacks.
Improved resilience
Resilience is a critical parameter for supply chain efficiency. Thus, logistics managers aim for management approaches that allow them to identify and respond to potential/ prevalent disruptions, ensuring better control. A resilient SCM workflow enables strategic risk mitigation to prevent significant losses even during market recessions. Seamless collaboration allows the stakeholders to gain real-time insights into process/ in-transit deviations, ensuring better risk mitigation strategies and improvement ideas.
Strategic data management
Real-time data exchanges across multiple stakeholder channels allow stakeholders to instantly share crucial supply chain data like transporters' contracts, vehicle/ drivers' details, load metrics, etc. The strategy eliminates human discrepancies, coordination gaps and operational delays. Electronic data interchanges (EDIs) in logistics empower freight accounting stages by eliminating disputes and evaluation errors. 100% data visibility on transporters' contracts makes it easier to justify rate deviations.
Cost reduction
Seamless collaboration builds efficiency in every process stage. It reduces critical gaps in the operational model and enables quick incident management. It improves each process cycle with faster and more functional execution. The stakeholder teams communicate in real-time, improving escalation management. Alerts and updates on prevalent discrepancies help the concerned team resolve the discrepancies, reducing detention charges. All these efficiencies contribute to higher customer satisfaction, high profitability and competitive advantages.
Joint planning
Collaborative planning and forecasting are crucial components in logistics execution and management. A holistic collaboration module ensures equal stakeholders' participation in the decision-making and roadmap-building stages. Joint planning improves supply chain responsiveness to the industry dynamicity and surges. Stakeholders share and compare data insights on the current logistics scenario, strengthening strategies on substantial processes like freight procurement, indenting and in-transit operations. It optimizes audit cycles, allowing stakeholders to assess their logistics status as per industry standards.
Digital Collaboration to build resilience in SCM

With rising competitiveness in almost every sector, it is difficult to ignore the impact of a digitalized collaboration platform.
Transport Management solutions shall continue to bring about new opportunity scope with holistic, real-time communication, absolute process visibility, cloud-based data management and 100% audit compliance. It sends multi-channel alerts to the stakeholders to help them track & manage escalations, reducing detention costs. The logistics sphere is becoming more complex, with accelerated consumer demands and increasing competition. Digital implementation is the key to operational efficiency, transparency and optimum relationships.