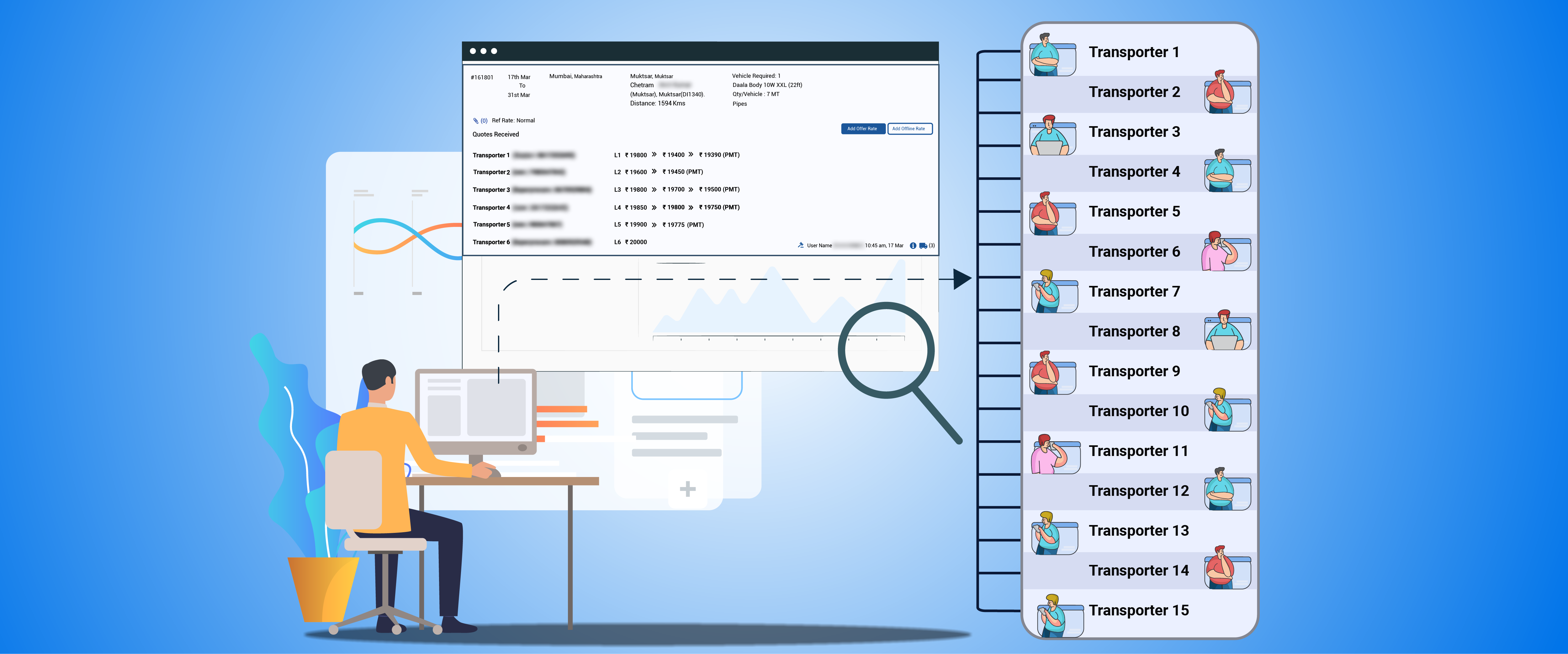 Digitalization of freight procurement operations has led manufacturers with multi-faceted advantages like cost reductions, improved efficiency, faster vehicle finalization and transparent negotiations. Traditionally, freight negotiations were performed in silos, affecting transparency and trust across the stakeholder units. These challenges further delayed the vehicle finalization process and resulted in the loss of opportunities for both shippers and transporters. 

Today, digital freight sourcing solutions are transforming freight negotiations via the reverse auction feature. It unifies the negotiation activities across freighters and carrier partners, encouraging equal stakeholder participation. In turn, organizations leverage the cheapest freight rates for their shipments.
Let's explore how it unlocks the best rates and freight cost savings in the vehicle procurement market. Talk to our Experts
What is a reverse auction?
The reverse auction feature caters to the transporters' psychology of getting the business by revising their freight rates in online bidding. System  automatically allocates transparent rankings to the transporters as per their freight quotes in descending order. They can revise these quotes to improve their rankings, increasing their chances of closing the contract. 
How does it work?
The reverse auction feature involves seven simple steps.
Step 1
Specify the e-inquiry dynamics like auction date & time, requirement date & time, loading/ unloading points, load type, quantity and desirable rates. 
Step 2
The digital freight bidding platform auto-creates a load inquiry. 
Step 3
System automatically updates and invites the transporters to revert to the inquiry via multi-channel alerts
Step 4
They submit their freight quotes on the load requirements as per their availability.
Step 5
Based on their freight rates, the e-auction platform allocates rankings to each transporter as L1…L2..and so on.
Step 6
They can adjust and resubmit their freight quotes to improve their rankings.
Step 7
At the end of the e-auction, the transporter with the L1 rank gets the business.

Types of auctions in e-procurement

The reverse auction feature can be implemented in 6 types of freight auctions. The procurement teams can post an e-inquiry as per their load requirements. 
E-Auction
The e-auction is typically used to procure vehicles for pre-planned shipments. Freighters specify the load requirements for the transporters to revert to their freight rates. The platform allows the logistics team to customize the date & time of the auction, encouraging transporters to bid on the requirement of the mentioned dynamics.
E-auctioning ensures the following:
Strategic online freight procurement operations
Customizable inquiry as per dynamic requirements
Time-bound auctioning expedites vehicle finalization
Data-driven insights into transporters' freight quotes 
Lot auction
The lot auction feature is a strategic choice for loads requiring more than one type of vehicle for the same destination. It allows the freighters to create different types of auctions for multiple freight requirements in a single project. More than one transporter can be selected as per availability. The feature can be used by checking the 'Lot Auction' box on the top-left corner while creating a load.
Lot auctioning ensures the following:
Caters to inquiries requiring multiple vehicles
Cheapest freight rates across geographical regions
Holistic carrier performance analysis for each bidder
Allows freighters to choose multiple auctions 
Live load auction
The live auction feature is used for last-minute vehicle procurement. This feature is a functional choice in case of last-minute cancellations or discrepancies that tend to increase freight costs. This type is not time bound and shippers can continue the auction until they receive the best freight quotes as per requirements. It prevents detention by ensuring on-time vehicle finalization and placement.
Live auctioning ensures the following:
Best freight rates for urgency-based procurement
Last minute strategic vehicle sourcing at best rates
Digital alerts to invite transporters to submit their quotes
No fixed auction duration encourages better cost-savings 
Project load auction
The project load auction is used while procuring vehicles for supplying a product/ equipment of a distinct type. It allows freighters to choose any one kind of vehicle as per their pre-specified requirements. The procurement team must specify the number of pieces or products that need to be shipped, and the transporters can bid on the number of pieces they are ready to carry.
Project load auctioning ensures the following:
Better compliance with distinct load requirements 
Fetches best load and vehicle match for each shipment
Time-bound auction reducing vehicle finalization time
Caters to shipments with specific ventilation requirements 
Contract load auction
This auctioning type enables freighters to procure multiple vehicles on a contract basis. The logistics managers can specify crucial dynamics like vehicle type, quantity per vehicle (kgs) and the number of vehicles required to transport the load. The available carrier partners can offer freight rates to cater to the contract requirements.
Contract load auctioning ensures the following:
Best contract rates from a larger pool of transporters
Improves transparency in procurement dynamics
Sourcing multiple vehicles from the same transporter
Strengthens trust in shipper-transporter relationships
Bulk load auction
The bulk auction can be used to procure vehicles for bulk shipments. Regardless of the number of loads, shippers can post their requirements digitally to find suitable transporters. They need to specify essential details like loading & unloading point, number of vehicles and product type. The transporters will digitally start bidding on the e-inquiry. 
Bulk load auctioning ensures the following:
Holistic procurement for bulk loads- 50, 100 or 200
Customizable as per dynamic requirements 
Data-driven visibility into each transporter's quote
Transparent and faster vehicle finalization 
Significance of E-Auction in freight logistics
Digital auction is a powerful optimizer for freight procurement operations. I t streamlines complex activities like freight bidding, negotiations and performance analysis, improving the overall process efficiency with the following: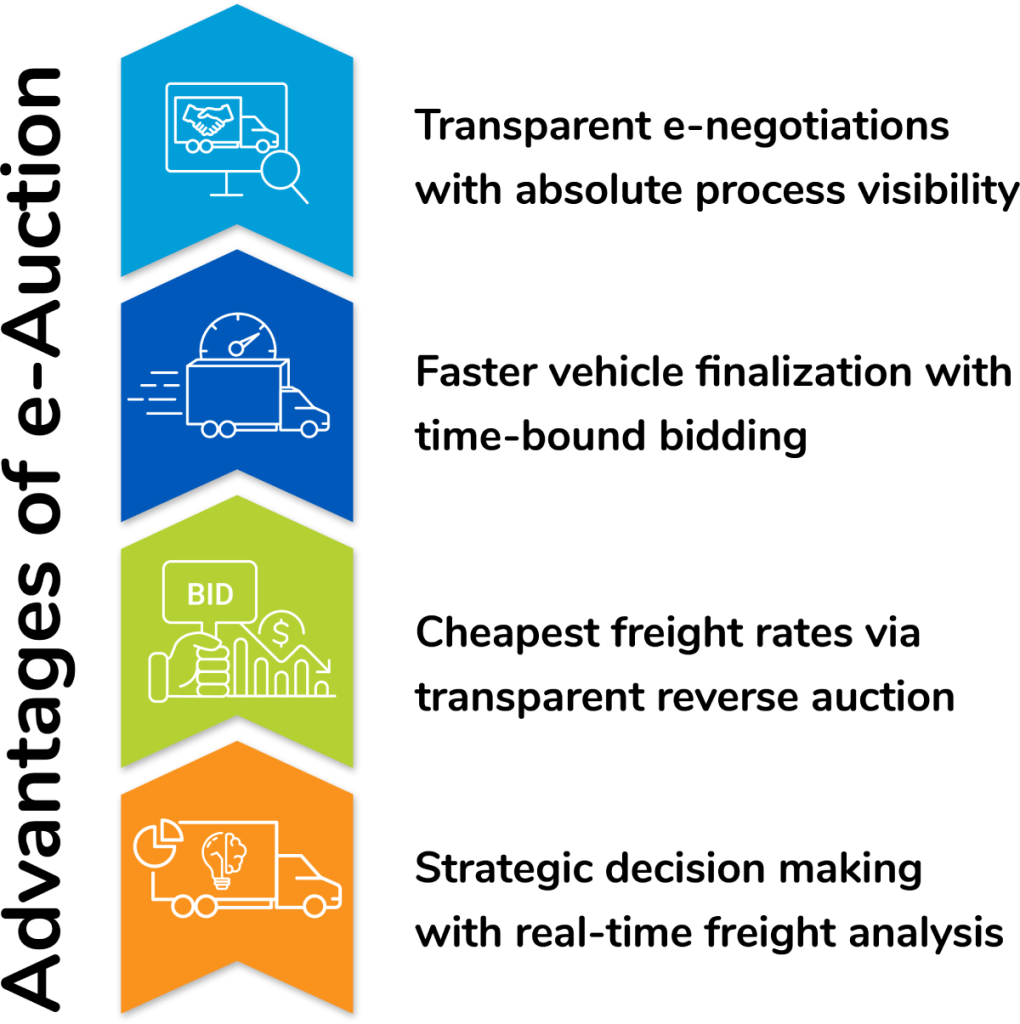 Transparent negotiations
Real-time bidding and auto-capture of each negotiation activity build transparency and trust across stakeholder operations. It increases transporters' participation in logistics, enhancing their overall experience, and absolute visibility facilitates easy justification of rate escalations.
Time-bound auctioning
The bidding process is time-bound, i.e., transporters must submit bids on the floating inquiry within a specified time. It expedited the bidding process, ensuring faster vehicle finalization for all requirement dynamics.
Best freight rates
Unlike a manual-driven module, E-procurement solutions allow shippers to reach multiple transporters digitally. Increased transporters' participation and transparent reverse auction enable the cheapest freight rates in the spot market.
Strategic decision making
Automation-driven procurement allocates real-time ranks to transporters as per their freight rates and historical performance. These data insights and analytics empower the logistics team with strategic decisions.
Diving into the freight Procurement Process
The freight market in India is a hub of opportunities waiting for thorough optimization. Besides obtaining the best freight rates, Industrial competitiveness demands improved transporter performance, optimum OTIF and higher team productivity. TMS-based e-negotiations and reverse bidding improve freight sourcing & management processes, catalyzing business growth.