The Fast Moving Consumer Goods (FMCG) logistics is complex and demanding in nature. The FMCG industry is driven by dynamic lifestyles, consumer expectations and competitiveness. These factors have surged a need for seamless logistics to cater to the global market standards.
India's FMCG logistics can catalyze multi-modal growth strategies by overcoming the critical roadblocks and proactive roadmaps. Industry experts are set to redefine their supply chain operations with lucrative opportunities, growth-focused approaches and flourishing profits. Leading businesses are gradually shifting their focus to a technologically-driven logistics module with holistic control.
Diving into FMCG logistics
According to a recent report, India's FMCG sector is expected to grow at a CAGR of 14.9% to reach 220 billion USD by 2025, from 110 billion USD in 2020.
FMCG businesses require an agile logistics workflow due to its high turnover rate, which is driven by three factors:
Time-bound industry set up
Perishable goods
High market competitiveness
Added to this, FMCG products have a specific set of storage, safety and transportation guidelines that need optimum compliance.
India's FMCG logistics is highly fragmented and the volatile demand-supply scenario requires high responsiveness. Moreover, it involves strategic warehousing and management, to prevent overstocking/ stock outs. The supply chain operations require data-driven forecasting, performance analysis and shipment traceability to cater to the consumer expectation parameters.
Nonetheless, manufacturers in the industry are investing notably in maximizing logistics efficiency, contributing to the bottom line. The prime focus here is to ensure a seamless on-time delivery of perishable goods by bridging prevalent gaps.
Roadblocks in FMCG logistics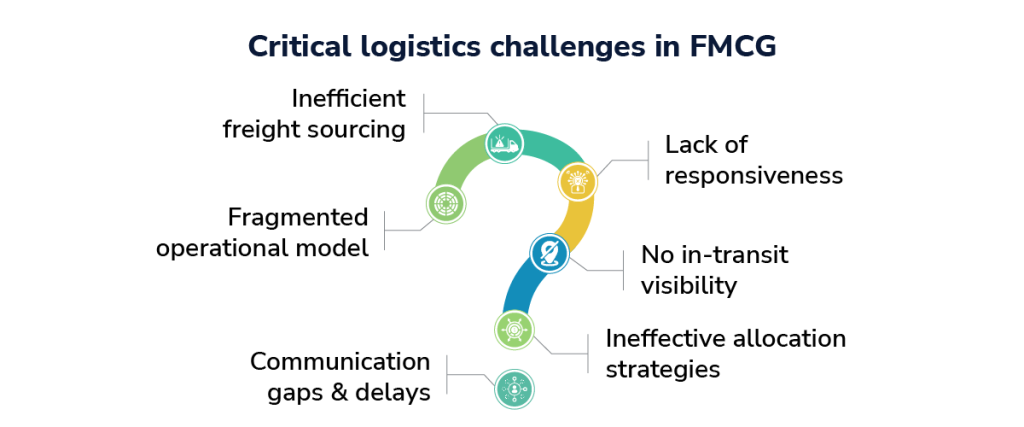 The FMCG industry is one of the fastest growing verticals in India, however underlying bottlenecks in the logistics value chain continue to affect its performance and cost dynamics at a global level. These challenges restrict a manufacturer's scope of expansion amidst the industry volatility.
Some of the critical challenges faced by logistics managers across his sector can be listed as follows:
Unorganized workflow
A fragmented logistics workflow with siloed operations prevents FMCG businesses from meeting their set objectives. Process execution and management is challenging across multi-stakeholder units. These roadblocks might result in critical gaps, reducing shipper, transporters and customer satisfaction.
Lack of procurement strategies
Vehicle procurement is a pivotal pillar in FMCG and choosing the right transporter drives a seamless shopping experience. A primitive procurement model with manual performance analysis does not meet accuracy standards and are prone to human discrepancies. Transporters often demand high freight rates for ad hoc freight requirements.
Low responsiveness
Time-bound nature of FMCG products requires optimum logistics responsiveness to overcome critical gaps that might delay the shipments. Inefficient forecasting and predictive analytics hinder supply chain strategies, hindering operational capacity to identify and address existing or potential threats to the supply chain.
In-transit discrepancies
Manual-driven in transit monitoring restricts stakeholders visibility into discrepancies and delays. No transparency across justified reasons for deviations might increase detention costs, delay deliveries, affect shipper-carrier relationships and reduce customer satisfaction in the long run. These roadblocks affect market share and profitability.
Non-strategic load allocation
Inefficient load distribution and indenting results might obstruct shipment efficiencies and increase cost incurrences to the company. In a traditional module, logistics managers often fail to understand the vehicle's capacity, resulting in inefficient allocation. It leads to SOB deviations and increases costs in case of last minute cancellations.
Inefficient collaboration
Traditional collaboration via prolonged phone calls, emails, WhatsApp, etc. curbs operational transparency across all process stages. FMCG logistics comprises a complex network of stakeholders who communicate and share data for a sleek execution. Absence of a holistic collaboration platform increases cycle time, human discrepancies and operational gaps.
FMCG Industries are benefiting through Digital Transformation in their Logistics operations. Find how
Mitigating roadblocks via digital roadmaps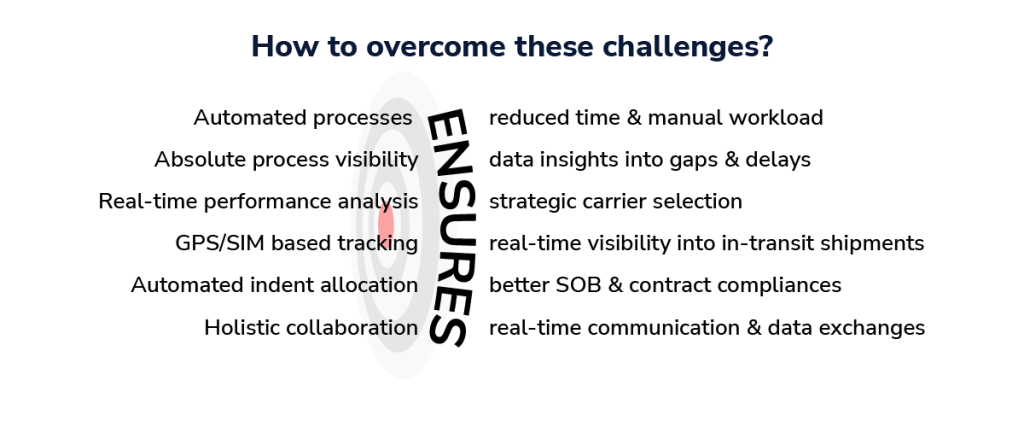 Technological implementation across the FMCG supply chain is expected to enhance resilience, flexibility, speed, agility and sustainability. Leading businesses in this domain are adopting digital solutions to identify and address the pain points with growth-focused benefits like:
Automation-driven process stages reduce time-consumption, human discrepancies and manual intervention
100% operational visibility enables insights into deviations, delays, process gaps and performance parameters
Data-driven procurement improves carrier selection strategies and freight saving dynamics
GPS/ SIM-based tracking of in-transit shipments facilitate real-time monitoring, quicker gap redressals and justified penalty clauses
Strategic indent allocation in compliance with distribution metrics, contract guidelines and Share of Business (SOB)
One-window collaboration via real-time communication and EDIs improves operational transparency
Optimizing FMCG logistics with SuperProcure
Companies in the FMCG sphere are aiming for strategic digital optimizations to cater to tight shipment deadlines, fluctuating inventory levels and traceability standards. SuperProcure's SaaS TMS solutions empower the FMCG supply chain with holistic management, better ROI, strategic planning, centralized control, quicker escalation management and proactive decision making. It aligns data-driven insights with the optimization strategies, ensuring a resilient, agile and 100% audit compliant logistics module.
Beyond the prevalent complexities, FMCG logistics upholds a promising future that shall contribute substantially to India's economy. Collective approaches in digital-driven supply chain optimization shall mark its onset.