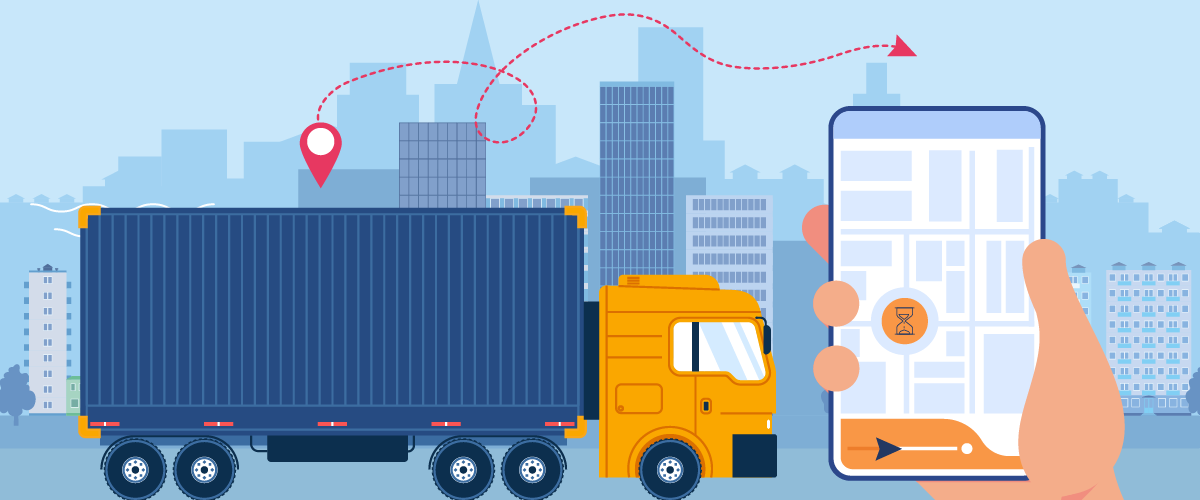 Customers seek faster and transparent deliveries in today's competitive and fast-paced industry. They tend to have better relationships with businesses that adopt solutions to improve their in-transit TAT, ensure 100% tracking visibility and offer real-time data analytics.
These digital solutions build transparency, reduce costs and enhance reliability across transit operations with live ETA updates.
Delivery Reliability and Transit TAT

Delivery reliability plays a pivotal role in the success of B2B sales, serving as a cornerstone of trust and partnership between businesses. In the B2B landscape, where transactions often involve significant investments and long-term commitments, consistent and dependable delivery of products and services is paramount. 
Transit TAT is a critical component of the delivery commitment made to customers. It's the period during which the customer expects the shipment to be in transit before arriving at the destination. Meeting these commitments is essential for building trust and maintaining customer satisfaction. 
Delays in in-transit TAT can result in missed delivery deadlines, damaging the customer's perception of reliability as they often plan their operations around the expected arrival of goods or materials. It directly affects their ability to manage their inventory and business schedules.
Hence, Transit TAT is often a key performance metric used to assess the effectiveness of logistics and transportation operations. Monitoring and improving in-transit times can lead to overall supply chain optimization and higher customer satisfaction.
How SuperProcure Helps Improve Customer Satisfaction by Monitoring Transit TAT

Record Standard Transit TAT and set benchmarks for Delivery
This enables continuous monitoring and comparison against targets. Targeted improvements, process optimization, and data-driven decision-making can be implemented by identifying inefficiencies. This systematic optimization process ultimately leads to improved Transit TAT, ensuring timely and efficient deliveries.
Tracking of Transit Vehicles
SuperProcure can track vehicles via GPS, SIM Tracking, and FASTag. Live location feeds are captured and plotted on the maps against each dispatch. This enhances communication and creates complete transparency across stakeholders.
Automated Smart ETA Calculation
Utilizing real-time location data and predictive algorithms to accurately estimate arrival times. Automated ETA calculation empowers businesses to make informed decisions, optimize routes, and manage resources efficiently. By enhancing visibility and reducing uncertainties, it plays a crucial role in ensuring on-time deliveries.
Real-Time Alerts on Delays and Deviations
Real-time alerts on delays and deviations provide instant visibility into delivery disruptions, allowing prompt corrective actions. It enables timely intervention, re-routing, and communication, minimizing potential setbacks.
Visibility to Customers
Providing accurate information about in-transit TAT to customers enhances transparency. If there are any unexpected delays, clear communication allows customers to adjust their plans accordingly and can help maintain their trust in your business.
Ready Analytics and Performances Matrices
Regularly monitoring TAT KPIs and vendor performances contributes to a more resilient supply chain. It ensures timely deliveries, enhancing customer satisfaction.  Regular reviews of transport vendor performances enable them to identify reliable partners. This ensures that vendors align with the company's delivery standards and contributes to a dependable supply chain.
Auto-Provisions Penalties and Recoveries
Implementing automated penalties and recoveries for transit delays incentivizes vendors to uphold delivery commitments. It fosters accountability, improves efficiency, and ensures adherence to contractual terms. Swift penalties discourage subpar performance, while recoveries offset losses, creating a fair process.
Strengthening Stakeholder Relationships with Digital Pillars
Visibility and data transparency are vital components in the modern supply chain landscape. Businesses that have opted for digital initiatives leverage better buyer-supplier relationships. A technologically competent TMS solution enables GPS/SIM-based insights into in-transit vehicle status, their movements across geographies, deviations, penalty clauses and recovery strategies. 
These transformational benefits improve transparency, strengthening trust and supply chain relationships. Thus, it paves a way to stay competitive and accelerate growth in the industry.