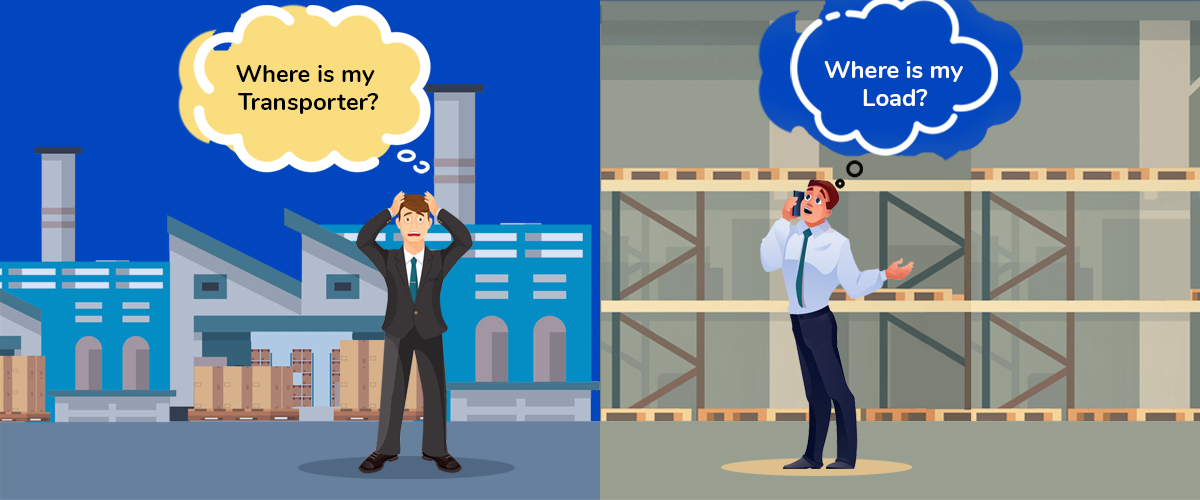 What if something like this happens to your customer?
Your team is ready with all the work done on your part to deliver the goods. But the transporter cannot place a vehicle against the contract (just like the delivery agent not being available). Wouldn't your customer be frustrated as well?
But in a manual vehicle sourcing process, a lot has to be done to find another transporter. The team has to get ready with another transporter in almost no time to ensure there isn't a delivery failure.
The above case might happen with you regularly wherein you are left in a spot of panic and an unending loop of work of sourcing out the replacement vehicle immediately. Let us ponder a few challenges one might face while doing the whole process manually.
Challenges
Case 1: Sourcing the replacement vehicle from another contracted transporter
Going back to your excel sheet to find details of the other contracted transporters, reaching out to them via phone or email for vehicle availability & waiting for the confirmation – all the while, you are stressed about the time crunch.
Best case scenario – you get confirmed vehicle placement from one of the contracted transporters after coordination and manual follow-ups.
But the next day, you must go back to your excel sheet, update the changes, and reset your calculations to ensure budget adherence.
Case 2: Sourcing the replacement vehicle from the spot market
Sourcing vehicles manually from the spot market results in delayed reallocation. You have to manually contact 6-7 different transporters from the spot market to follow up with them, and the availability of vehicles is always a question, so on-time vehicle placement & delivery becomes a 50-50 chance.
Adding to the mix – is a need for real-time data visibility.
Another essential aspect that can cause trouble is that there needs to be real-time visibility of the vehicle placement or any other logistic process, for that matter, when done manually.
But if you had this data –
It would help you & your logistics team to track the performance of the transporter
Help you spot bottlenecks in the entire order-dispatch cycle to know where the delay occurs.
From strategizing new lanes to giving you data analysis to adding new transporters, it is crucial to keep a tab on everything. You can reach your desired KPIs & contribute positively to your company.
Now that we know the challenges you may have or may be facing, what can improve these things and help you levitate your logistic game?
SuperProcure understands your constraints and provides you with a platform to overcome the above challenges and win with on-time vehicle placements every single time.
Know our process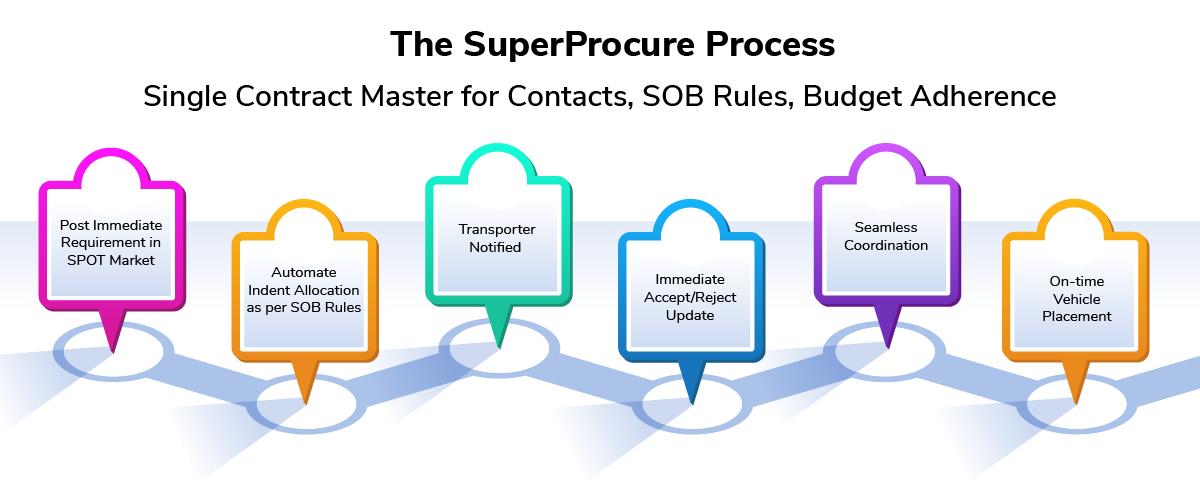 With SuperProcure, you create one single digital contract master that keeps track of all your contacts and rules, like a share of the business, helping in automated budget adherence.
Based on your business rules, we have automated indent allocation for loads against the contract. Once the indent is placed, automatic notifications go to transporters, time-saving accept/reject option which gives you quicker confirmation/no-availability of vehicles – effortless coordination with transporters & On-time vehicle placement.
Auto & on-time reallocation of vehicles from the spot market or other contracted transporters depending on your business rules. With our indent allocation, you can immediately post your requirement on the spot market & automate this entire process & get instant confirmation on vehicles – no more stressful ping-ponging between transporters.
Do you wish to have 360° real-time data visibility of the entire vehicle allotment process? Our solution also gives you 360° visibility, and you can keep a tab on all the activities across all the branches and plants.
With this 360° real-time data visibility, you can now:
Track your transporter's performance and make data-backed decisions
Spot the bottlenecks in your entire order-dispatch cycle & know where the delay is occurring – reduce your order dispatch time by 20-25%
Want to learn how automation can regularly help you with on-time vehicle placement and budget compliance KPIs?
Benefits
Superprocure gives you a whole package where you have
75-85% reduction in vehicle placement process time for each indent
20-25% reduction in order dispatch time
100% audit compliance
Automated budget and planning adherence
Data-driven carrier selection
50-60% time saved while risk buying from spot
Improve your customer service
On-time vehicle placement
300% improvement in employee work efficiency
So what are you waiting for?
Upscale your logistic game by removing all the hindrances and redundant tasks caused by a manual setup. Beat the battle of vehicle placement failure with our Indent allocation, and your vehicle will be placed just on time. Now you can satisfy your customers and save room for yourself to levitate your logistic strategy.